Angel Investors Change Lives with Love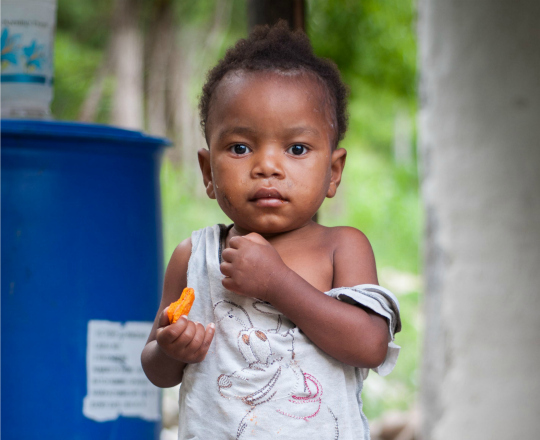 Being born into extreme poverty is hard enough, but for motherless children in the developing world, life is even more precarious.
Without access to breast milk, many of these babies don't survive. Infant formula is expensive and in many remote communities, simply unavailable. In desperation, grandmas and aunties' only choice is to offer these tiny babies sugar water. It's all they have.
Kevin is one of these orphaned children. He never got the chance to know his mother's love. At only 2 years of age, extreme hardship and deprivation are all Kevin knows. Kevin's mother died from complications during delivery just hours after he was born. He spent the first six months of his life at the hospital, where he received critical care and formula that saved his young life.
Kevin never got the chance to know a mother's love.
Without a mother to raise him, Kevin went to live with his grandparents in a remote community in southern Haiti. Kevin has brothers and sisters, but they had to be split up to live with various relatives and friends. His grandparents could not afford to take care of them all. They can barely provide for themselves. Their house is basic and very small with no running water or electricity. They have no income.
After a visit to check on Kevin, our community health worker in Haitisent an urgent message:
"I am very concerned about Kevin's health.  He hasn't seen a doctor for a check-up in months or received any kind of healthcare at all. He's fallen behind on critical vaccinations.  His grandparents cannot afford the cost of transport to the clinic and it's just too far for them to walk. Their lack of resources also means that they struggle to provide a nutritious diet for Kevin, and at his age, the implications are life threatening. He is already showing signs of malnutrition."
While his grandmother and grandfather were doing everything they could to take care of Kevin, they knew it would never be enough.  Like many vulnerable families living in poverty, they were just trying to survive day-to-day, praying that God would provide.
And He did.
Thousands of miles away in the United States, Darryl saw a photograph of Kevin's sweet face and read his story. For a long time, Darryl had known that he wanted to make a difference in the world, but he wasn't sure how.  He was moved by Kevin's plight and made a commitment to support Kevin with food and safe water by becoming an Angel Investor.  CMMB launched the Angel Investor program to connect people like Kevin and Darryl. It's an opportunity to help real people living in extreme poverty by providing access to basic human needs: nutritious food, safe water, healthcare and education. In the short-term, Angels like Darryl alleviate suffering, like making sure that Kevin gets enough food to eat and clean water to drink so he can start to thrive. In the long-term, Angels like Darryl ensure children like Kevin can realize a better future, giving them a chance to break the chain of poverty that can hold families back for generations.
Kevin and his grandparents are extremely grateful to Darryl for answering their prayers. His generous commitment is changing Kevin's life by providing:
Food, like rice, beans and oil every month
Access to water purification sachets to help ensure Kevin has access to clean water on a regular basis
A small allowance so Kevin's grandmother can buy fresh produce
Regular visits from our community health workers to check on Kevin's health status and overall well-being
Support to programs that benefit Kevin's entire community
We know that real, measurable change and healthier lives takes a long-term investment.
CMMB has been bringing healing and hope to people living in poverty in Haiti for more than 100 years, and we're not leaving. Kevin is just one of thousands of children who need help now. They're counting on generous people like you and Darryl to bring change, one family at a time.
In just a few days, we will be celebrating the start of 2017. As you reflect on what you've accomplished and what you still hope to achieve, please consider becoming an Angel Investor. Make a New Year's resolution to be the change someone needs to rise up. Share the opportunity to lead a better life.
---