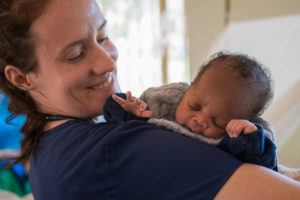 Sarah Rubino, a CMMB midwife volunteer, has spent the past year serving at St. Therese Hospital in Nzara, South Sudan. While she helped welcome hundreds of babies into the world during her service, she also witnessed the extreme, and sometimes fatal, challenges mothers and newborns face in this impoverished, war-torn country every single day.
Sarah is now back home and we are excited to share that she is expecting her first baby this summer! In honor of her journey to motherhood and her inspiring service to mothers and babies, we are sending Baby Bundles to South Sudan.
The Baby Bundles will provide:
A Receiving Blanket
Soap
Sterilized Gloves
Alcohol Prep Pad
Diapers
Baby Hat
And More!
Our goal is to package and send 1,000 Baby Bundles to support healthy and joyous deliveries at St. Therese Hospital and other facilities.  Any additional funds we raise will go towards medicines and medical care for expectant mothers and newborns.
Donate Today!