Learn More About Dr. Tom Catena
Dr. Tom Catena is an internationally recognized humanitarian, lay Catholic missionary, and our longest serving volunteer. Originally from Amsterdam, New York, Dr. Tom has called the war-torn Nuba Mountains in Sudan home for over a decade.
From New York to Sudan
Tom is one of seven children, born and raised in a big Italian family in upstate New York. He attended Brown University where he played college football and was named an All American. After earning his undergraduate degree in mechanical engineering, Tom turned down a lucrative job offer in search of something different. He recalls a conversation where he told one his brothers he was considering medical school, "I remember him looking at me like I was crazy and saying, 'but you're an engineer."
Tom went on to graduate from from Duke University's School of Medicine on a U.S. Navy scholarship. After completing an internship at the Naval Medical Center San Diego, he joined the U.S. Navy for four years serving as a flight surgeon. It was shortly after spending time in Kenya that he realized that he would dedicate his life to missionary work.
When asked why he, a doctor educated in one of the top medical schools in the United States, chooses to live under these challenging and sometimes dangerous circumstances, Tom responded:
My decision to stay here was a simple one. I could not leave in good conscience. Also, as a lay missionary, I felt it was very important to show the presence of the Church in this time of need – that the Church does not abandon her people when a crisis arises.
The Nuba Mountains
The Nuba Mountains are located in South Kordofan, Sudan and are home to the indigenous ethnic groups known collectively as the Nuba peoples. Since June 2011 a war has raged between the Government of Sudan and the Sudanese People's Liberation Army-North. The suffering of the Nuba people is beyond comparison. Their lands have been scorched, their villages have been bombed, their children and mothers and fathers have been killed, and those remaining have been forced into the mountains to live in caves without food, water, or security. New York Times, Pulitzer Prize winning columnist, Nicholas Kristof called it the worst atrocity you've never heard of.
Sudan's decades-long civil war has claimed the lives of more than two million people and left another two million homeless.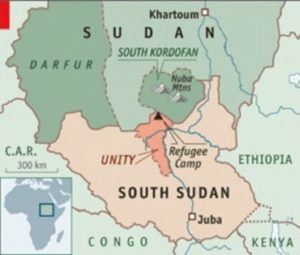 This is the backdrop in which Dr. Tom Catena serves. Some days Catena treats as many as 500 patients a day and is on call 24 hours a day, seven days a week, delivering babies, performing surgeries, and treating injuries.
Recognition of a Life of Service
Dr. Tom first came to CMMB in the 1990s as a short-term volunteer, spending one month in Guyana and another in Honduras. After completing his residency back in the US, he was placed at Mutumo Mission Hospital in Kenya for two years.
We do have an obligation to look after our brothers. Every single person can make a contribution, somehow. – Tom Catena
In 2008, his dedication to providing medical care to the most vulnerable brought him to Sudan where he helped establish the Mother of Mercy Hospital in the Nuba Mountains.
Tom has been recognized for his exceptional courage and commitment to bringing lifesaving care to the most marginalized.  He was named one of Time Magazine's 100 most influential people in 2015, and in 2017, he was awarded the prestigious Aurora Prize for Awakening Humanity for his courageous work; a prize that seeks to empower modern-day saviors to offer life and hope to those in urgent need of humanitarian aid and to continue the cycle of giving internationally.
More recently, Dr. Tom has taken on the role of Chair for the Aurora Humanitarian Initiative, joining the organization during a period of significant growth. In this role he is responsible for engaging key humanitarian stakeholders, working with global partners, and overseeing Aurora's educational and outreach projects.
How You Can Help
We once asked Dr. Tom to tell us how people's donations make a difference to his patients in Sudan. Here was his response:
"I just completed a surgery on a young woman. The operation succeeded only because of contributions. All the equipment in the operating room, the ultrasound machine that we used in diagnosing, all the drugs, all the supplies, even the training of our anesthetist in a very good school in Kenya, were because of donors. Most of these donors are unknown to me.  They are certainly unknown to the patient. But it is because of their generosity that she lived through this day. And that's just one example from the last hour of how donors make our work possible."
Watch the trailer for the award-winning documentary, The Heart of Nuba
All gifts are tax deductible to the fullest extent allowable by law.
About CMMB – Healthier Lives Worldwide
CMMB (Catholic Medical Mission Board) is a global humanitarian organization with more than 100 years of experience in delivering the best possible health solutions to women, children, and communities living in poverty.
Donate Today!