Delivering care and comfort with speed and efficiency
Emergency response addresses serious situations – often dangerous – that arise unexpectedly and require immediate action. From conflicts to natural disasters, the paramount fact about emergencies is that one can occur anywhere and at any time. Working in collaboration with our global networks and partners, we are able to quickly respond to global emergencies in three key practices:
Deploy donated medicines, health commodities, and medical supplies to trusted local healthcare partners in emergency areas
Volunteer deployment including medical personnel in times of emergency
Directly respond to emergency needs through CMMB-supported health facilities and community interventions, focusing on emergency health and nutrition services, water, sanitation and hygiene, child protection, gender-based violence and other areas as needed
CMMB is also exploring ways in which to leverage its volunteer program to deploy qualified medical personnel to crisis areas.
In October 2016, Hurricane Matthew uprooted trees, blew away tin roofs, decimated homes, destroyed gardens, and resulted in the death of more than 800 people. Damage to the island totaled more than $1 billion. In remote Côtes-de-Fer, every resident was affected. Flooding and strong winds from the category four storm damaged shelter, water sources, and water systems. Diseases like cholera threatened residents. Already-vulnerable families were pushed to desperation. At the storm's height, we opened the doors to the Bishop Joseph M. Sullivan Center for Health though it was still under construction. Built to withstand hurricanes, the hospital provided emergency shelter to nearby families whose homes were destroyed.
Post-hurricane relief for 5,000 families in Côtes-de-Fer and affected communities included household kits with food, water purification tablets, and hygiene supplies. Families were also supplied with wood and corrugated metal sheets to rebuild homes.
Hurricane Matthew destroyed our house. After the storm, my husband, our four children, and I were living in a tent. The children were sick. We don't earn more than a dollar a day. We didn't know how we could ever save enough to rebuild. We were blessed to be part of CMMB's emergency project in Côtes-de-Fer. We received wood and metal sheets and my husband built a new house. It does not solve all our problems, but it makes my family feel better. We are thankful to CMMB and pray for those who sent help to us in Haiti.
—Dieunise, CMMB beneficiary
When we arrived in Côtes-de-Fer the town was devastated; homes were either flattened or without walls or roofs. We provided immediate relief to those most affected and together, we will find our way out of this disaster. We are so blessed that the new hospital survived with minimal damage, and actually provided shelter and safety during the storm for families from the community whose homes were destroyed by the storm.
— Dianne Jean-François, MD, MPH, CMMB Country Director, Haiti
Between January and March 2016, as the violent conflict in South Sudan's Western Equatoria State worsened, thousands of women, children, and families fled their homes and fields to seek safety.  Displaced women and children made up 80% of those seeking help. CMMB responded to the dire situation by supporting emergency aid for 50,000 people including safe water, food, healthcare, medicine, and help tracing missing family members.
When I arrived at the compound, I was terrified.  My husband was killed during the fighting. I delivered my baby here. I don't know what's going to happen to us, but I am glad CMMB was here to help.
—Talia (left), CMMB beneficiary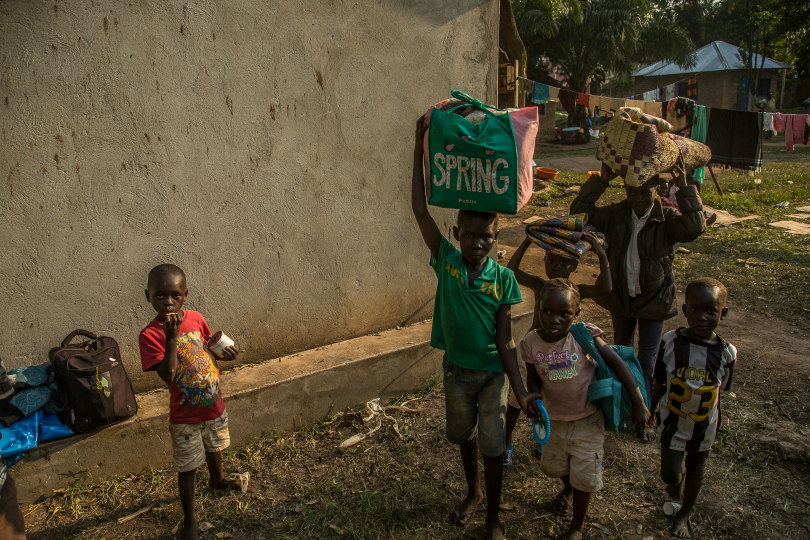 We were suddenly faced with the urgent needs of frightened families without food, HIV patients without medicine, and mothers with newborns. We set up an emergency response team to make sure that skilled healthcare providers were on hand, and worked with trusted partners to quickly deliver medicine.
—Benson Wakoli, Program Director, CMMB South Sudan