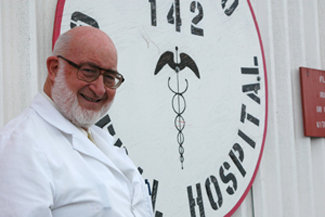 Dr. Harry Owens
Home: A little cabin on the McKenzie River, located in the Willamette National Forest, a short distance from McKenzie Bridge, Oregon.
Education: Medical degree from St. Louis University, Masters in International Management from Thunderbird Graduate School of International Management.
CMMB Volunteer Role: Medical doctor at Mother of Mercy Hospital in Sudan.
Interesting fact: He spent many years working in family and emergency medicine and international health first in the Alaskan Arctic with the Eskimos and then extensively overseas in remote developing world countries like Brazilian Amazon and jungles of Africa.
Follow Dr. Harry's Journey:
View Blog