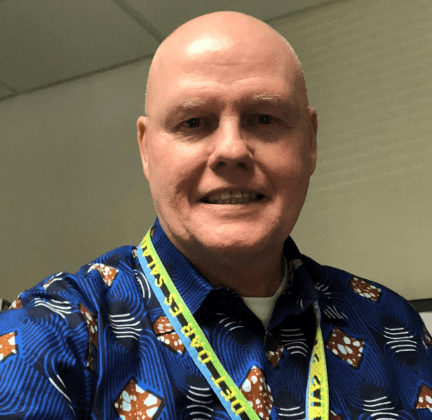 I first learned about the importance of kindness and giving back, charity as she called it, from my maternal grandmother. I can remember the placement of her hand on my knee to keep me still during the sermon at Sunday mass, and her telling me that I should share part of what I had with those less fortunate when the offering basket was passed. There are people that need it more than you, she would always remind me. Of course, growing up in the mid-1950s in rural western Kentucky was nothing like it is today, so parting with even a few pennies felt like a huge sacrifice since that was my candy money, and not easy to come by in those days. She reminded me that my few pennies were a blessing that came from being good and helping-out around the house, and not as payment for staying out of trouble and mischief as I had thought. So, under her watchful eye, I reluctantly shared part of my blessing with those less fortunate. Thanks in large part to those lessons I learned very early, the importance of prayer, staying humble, being kind, finding a way to give back, and trying to help those less fortunate has always been an important part of my life.
"At the end of the day, it's not about what you have or even what you've accomplished… it's about who you've lifted up, who you've made better. It's about what you've given back." – Denzel Washington
My 35-year career in global public health began with my service as a Peace Corps Volunteer from 1976 to 1979 in Chad and Liberia. This experience served to focus my interest on global public health, equity, and most importantly, giving back, service to others, and trying to make a positive change.
After completing my service with the Peace Corps, I worked for a company in the private sector and an international nonprofit organization before returning to school and obtaining my Master of Public Health (MPH) degree in Health Behavior and Health Education from the University of North Carolina at Chapel Hill in 1988.
In 1989, I joined the U.S. Centers for Disease Control and Prevention (CDC), as a Public Health Advisor. Over the course of my career, I was fortunate to have worked in 44 different countries and served in eleven different positions at CDC. More importantly, I was honored to have served alongside and worked with some of the finest public health experts in the world, including at CDC Headquarters, and many of CDC's Locally Employed Staff, and collaborating partners around the world.
Throughout my career, I have continuously worked to develop and strengthen my public health skills and have developed technical and program expertise in HIV Prevention, tuberculosis prevention and control, TB/HIV, malaria, humanitarian and emergency response, refugee health, and immunization.
After a successful career with CDC, I retired as a Senior Public Health Advisor at the end of 2019 with a plan to take a few months off, then to hopefully work part-time as a global health consultant or as a contractor with an international faith-based or non-governmental organization. I was looking forward to a change of pace, less stress, being able to choose the work I wanted to do, and the places where I wanted to work. This had been my plan for a long time, and I still had the desire and motivation to continue working on public health issues in resource-limited countries, to give back, help those less fortunate and make a positive change.
I know the plans I have for you, declares the Lord, plans to prosper you and not to harm you, plans to give you hope and a future. (Jeremiah 29:11)
It goes without saying that the emergence of COVID-19 as a global pandemic in early 2020 changed things in a dramatic way. The resulting lockdowns, stay at home orders, schools, businesses and restaurant closings, the curtailment of international travel, and the general sense of uncertainty quickly changed not only my plan, but my life in general.
Although not initially apparent, what turned out to be a disappointment, actually worked out to be a positive change in direction. I've always believed that God has a plan for my life, and I kept telling myself that the pandemic was part of the plan for me.
Believing that God had put a dream in my heart to be of service to others, waiting was the most difficult part, but it turned out to be the most rewarding. Accepting that what was happening was beyond my control and learning to wait quietly and patiently presented an opportunity for reflection, prayer, and spiritual growth. Although my plan to volunteer was delayed, it opened a door to new opportunities to give back and help those less fortunate in my local community of Tucker, Georgia.
"If you ever need a helping hand, it is at the end of your arm. As you get older you must remember you have a second hand. The first one is to help yourself. The second hand is to help others." – Audrey Hepburn
After trying to learn Swahili online for several weeks, I heard about a volunteer opportunity in my local community and ended up volunteering 14 months (April 2020 to June 2021) with the NETWorks Cooperative Ministry food pantry to pre-pack bags of food to distribute to needy families, children, and the homeless facing hunger.
In July 2021, I began volunteering with the Friends of St. Martin de Porres Food Pantry at Holy Cross Catholic Church where I attend. This ministry operates a large food pantry, feeds families in crisis, the homeless, and provides nutritious food items to school children in need.
Although these volunteer experiences were not part of my original plan, they have given me the opportunity to work alongside other motivated volunteers (while wearing masks and trying to practice social distancing), packing and distributing food, sharing stories, laughing a lot, and most importantly, giving back and helping those less fortunate who truly need assistance.
For I am about to do something new. See, I have already begun! – Isaiah 43:19
As the pandemic continued, in early 2021, I was online searching the Catholic Volunteer Network database for international volunteer program opportunities and discovered the Catholic Medical Mission Board (CMMB). I had never heard of CMMB, but the more I learned about them, the more excited I became with the realization that this was the organization I wanted to work with as a volunteer. I had been searching for a faith-based NGO that has the vision, mission, core values and was implementing the kind of programs that are important to me. CMMB checked all the boxes!
During my career whenever one of those days happened when the wheels fell off, nothing went right, and I was forced to deal with competing priorities, unreasonable demands, and expectations, I would always joke with my colleagues that whatever I was dealing with was preparing me for my next job!
I realize now that all the things I've gone through, the highs and lows, the accomplishments and disappointments, have all prepared me for the next chapter in my life. Now, I'm looking forward to my next job as a volunteer with CMMB! Although it took longer that I expected and the waiting was not easy, I believe that everything happened the way it did for a reason.
My upcoming volunteer assignment with the CMMB Kenya Country Office is the type of work I want to do, in a place where I want to work, and where I'm needed. The dream that God put in my heart all those years ago is still alive and well, and I know without doubt that this is another part of His plan for me and what I was called to do.
Volunteering with CMMB will be a dream come true for me and I am extremely grateful for the opportunity they have given me. I hope to use my background and experience to give back and help make a positive contribution. It would be a privilege to share the skills and diverse professional experience in multiple technical and program areas that I gained over a 35-year career to serve others, and help the poor and vulnerable, particularly those most in need. I'm looking forward to working on the front lines again with the CMMB Kenya teams in the field to build and strengthen locally sustainable healthcare solutions so that women and children can lead healthier lives worldwide.
Finding a way to give back and help those less fortunate was always part of my plan.
Donate Today!