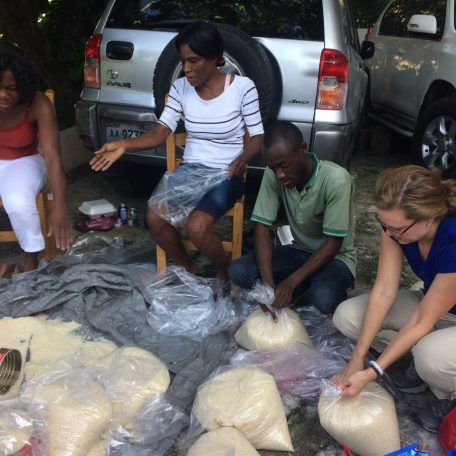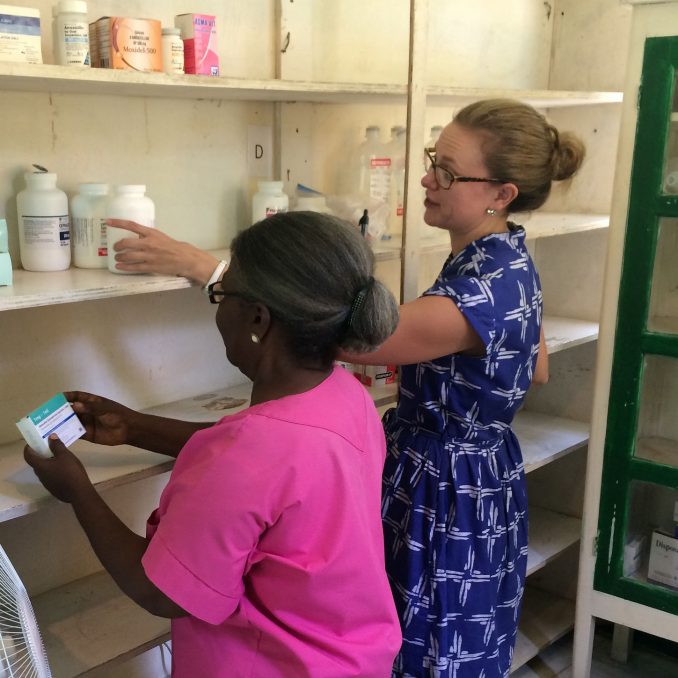 Any questions?
We are sure you have questions. You've come to the right place.
Choosing to volunteer is a great decision, but determining who to volunteer with requires a lot of time and research. We have collated the frequently asked questions about our program and included answers to them here.
Recruitment
What roles does CMMB recruit volunteers for?
CMMB recruits licensed healthcare professionals, public health specialists, and other non-clinical volunteers, primarily from the US, to serve in CMMB's country offices, CHAMPs  communities,  and local health facilities supported by CMMB and partners.  These positions are for 6 months or longer and while the openings vary by country, we regularly recruit for the following roles:
Medical/Health
Physicians: OB-GYN, Pediatrics, Internal Medicine, Family Medicine, General Surgery and Registered Nurses
Nurse Practitioners
Physician Assistants and Physical/Occupational Therapists
Speech Therapists
Pharmacists
Allied health Professionals
Non-Clinical
Public Health Professionals
Communications /Journalism
Photographers / videographers
Finance
Research
CMMB recruits volunteers on a rolling basis through a variety of methods. Volunteers are generally deployed two to three times a year, but where there is a high need they can be placed based on country demand. Final placement is always dependent on program needs and alignment of volunteers' specific skills
Quick Summary:
Each international volunteer who serves 6 months or longer receives a round-trip ticket to their placement site, housing, a monthly stipend, insurance coverage, fundraising and storytelling training, and the opportunity to contribute to vital community development initiatives for underserved populations while building a longstanding legacy for the community.
What are the CMMB requirements for selection for the international volunteer program?
To be considered for the international volunteer program, you must be at least 21 years old, with professional skills relevant to global health and/or clinical practice in resource-limited settings.
Clinical professionals must be licensed and in good standing with the licensing authorities.
Volunteers must make a commitment to fundraising $5,000 for their volunteer placement with a minimum of $3,500 prior to departure.
Be able to attend a 3-day orientation in the New York City prior to departure. Volunteers are required to cover travel costs to attend the orientation, but accommodation and some meals will be covered.
(NOTE: All volunteers from the US and Canada are required to participate in person. For volunteers based outside of the US and Canada virtual and self-paced options for orientation are available.)
Volunteers are required to share photos and stories both prior to and once in the field. The content shared will be used to highlight volunteers, our beneficiaries and our programs in action. (Expectations will be clarified in a training session with members from the communication team)
Are there language requirements to volunteer with CMMB?
It depends on the placement site.
Spanish fluency is required for placements in Peru.
French fluency is required for placements in Haiti.
There are no language requirements for placements in Zambia, Kenya, and South Sudan.
What is the required minimum length of stay for a volunteer participant?
We look for a commitment of six months to one year from our volunteers. Exceptions to the six-month minimum are made on a case-by-case basis for highly qualified physicians, specialized project-based placements, and partner-based programs.
Time commitments for domestic volunteers in our New York City office and those working remotely are more flexible and tailored to the volunteers' availability and the requirements for the role.
Does CMMB have opportunities for volunteers interested in serving locally in their country of residence? 
Yes, we accept local volunteers in our New York City Office.  If you are currently residing in any of the countries where CMMB has programs (Haiti, Peru, South Sudan, Kenya, and Zambia) and interested in volunteering locally, we encourage to contact the local country office.
Domestic (e.g. New York City internships) volunteers do not have to meet the international age, licensure, or financial contribution requirements, and do not receive program benefits outlined above.
How does the application process work?
Begin by completing a preliminary application for one of our current openings. If you are selected for further consideration, you will be contacted by a member of our team to schedule a screening interview via phone or Skype. If your skills and experience match one of our positions, you will be scheduled for an interview with our Country Office staff.  Some placement sites require a 3rd interview with partners or other leadership. If accepted into the volunteer program, we will run a background and reference check as part of the final screening process. Finally, prior to your departure for your field placement, you will join other volunteers at an orientation session in New York City.
How many volunteers does CMMB place in a year?
Last year, CMMB recruited and placed 41 long term volunteers, who:
Provided direct care and services to over 10,700 patients.
Delivered over 250 babies.
Trained over 740 health professionals and over 700 community health workers.
In addition, we supported the work of over 400 short-term and alternative site volunteers who delivered vital services, supplies, and support in dozens of sites.
What is the timeline for reviewing applications, scheduling interviews and accepting volunteers? Does it depend on the availability of a position in particular countries?
Applications are reviewed on a rolling basis and the placement process is based on the needs and capacities of the participating facilities and/or programs.  There are two interviews and a longer form application that qualified applicants are asked to complete.
In general, the interview process, acceptance, and preparation for deployment takes a minimum of 3 months in total.
Are volunteers required to raise funds?
In order to sustain the volunteer program, CMMB asks volunteers to raise funds for their missions. The estimated cost of supporting a volunteer for one year is ~ $15,000. Volunteers are asked to fundraise $5,000 prior to deployment to help cover a portion of the cost of their experience. A minimum of $3,5000 must be raised prior to departure and the remaining $1,500 can be raised while serving in the field.
I see that we need to raise $5,000 to help fund our stay in our host country. Is this mandatory and have other volunteer participants been able to successfully raise this amount?
Yes, that is correct. Volunteers are asked to fundraise $5,000 to help offset the cost of their placement.  The amount is mandatory, but you are only required to raise a minimum of $3500.00 prior to departure. Training is provided from our NYC fundraising experts.  They will share tips and tricks and help you develop compelling messages to engage your networks.
We also have a small grant program for approximately four volunteers per year who are highly qualified, but unable to raise the full $5,000.
How can my organization or institution get involved with the CMMB volunteer program?
We would love to work with you on various aspects of the program such as offering volunteer opportunities for your employees or students or developing joint programs. Please see our Partnership page and email us at volunteer@cmmb.org to begin the conversation.
Where can I read stories from CMMB volunteers?
You can read our volunteers' stories on website.
How can I support CMMB volunteers currently going to the field?
Thank you for considering supporting our volunteers.
Placement
What will determine the decision on placement location?
CMMB will take into account your geographic preference in the interview process and your specific language skills. However, each candidate's placement involves a careful consideration of their talents and skills and the needs outlined by our country offices.
Can I volunteer in the New York office?
We accept a number of volunteers and interns in our New York City office. NY volunteers work in person on a part-time, or full-time basis, or remotely.
What support do volunteers receive?
Volunteers who serve a minimum of 6 months receive
A roundtrip ticket to placement site
A monthly stipend ($350US)
Housing near the volunteer placement site
Insurance (emergency medical, evacuation, hazard, and liability/malpractice)
What type of training or orientation do volunteers receive prior to departing to their assigned country?
Prior to departure volunteers attend a three-day orientation in our NYC office. The orientation provides an overview of CMMB and our work worldwide.  It is also a chance for volunteers to meet each other, our alumni, and members of the CMMB staff, and understand how their role integrates into CMMB's broader mission.
Upon arrival in the country, volunteers receive an in-country orientation before the commencement of work
Do you cover the costs of attending the pre-departure orientation?
You are financially responsible for your travel to and from New York City.  CMMB will provide accommodation for two nights and most meals during the orientation program.
What expectations do you have of volunteers in regards to storytelling and evaluation?
All CMMB volunteers are required to share stories both before their departure and once in the field. A detailed training will be offered to all volunteers detailing the requirements and the different ways they can share their stories.
Volunteers are also required to complete a monthly survey outlining their activities and outcomes.
Can I get an overview of availability and work in each of the field offices?
A full job description and site profile will be provided to volunteers after the first screening interview and when the available positions suitable to their skills and interest have been established.
In the field
How many days of leave are volunteers entitled to while in their placement? What is the work schedule?
Volunteers are entitled to one week (5 days) of leave for every 3 months that they work. The work and holiday schedules vary by country and role.
Do volunteers stay with a host country family or are they provided housing through CMMB? Also, are participants generally by themselves or will there be other volunteers/staff on site for support ?
Accommodation depends on the placement site.  However, most volunteers are in shared apartment style housing.  Clinical volunteers at partner facilities usually live in a housing compound on-site or adjacent to the health facility with other hospital and/or CMMB staff.  Public health and other non-clinical volunteers usually live in urban style apartments near the CMMB country office. Most volunteers will have their own bedroom but bathrooms, kitchens and living areas are usually shared.  Accommodations are modest but they have electricity, water, and internet access (where available).
CMMB believes in supporting sustainable health systems and as a result, we do not place more volunteers than are needed.  Some facilities only have the need for one volunteer and therefore only one person will be placed there, while others require several volunteers.  When more than one volunteer is placed in a country, they will often live and work together.  Public health professionals primarily work alongside CMMB staff.
How does CMMB manage safety and security?
In all of the countries where we work, CMMB follows the rules and guidelines of the UN and therefore decisions around evacuation or other security protocols are based on these standards and recommendations. In addition, CMMB provides International SOS insurance coverage to all staff and volunteers.  International SOS has a range of experienced emergency professionals to help coordinate CMMB's response.  All volunteers are under the purview of their placement site, whether CMMB or a partner facility, in regards to decisions on a local level.
CMMB volunteers will be briefed on general security and safety guidelines for their placement through the volunteer guidebook and pre-departure orientation.  As situations and practices vary for each site, specific guidelines on security protocols will be provided upon arrival to each country.
What if I am injured or become ill? What insurance is provided?
CMMB provides medical insurance, including coverage for medical evacuation if necessary. In addition, local partner hospitals can treat minor injuries or illness, and refer to a higher level of care if needed.
CMMB provides accidental and sickness medical insurance for up to $100,000 per illness or accident and death or dismemberment.