Community Health Workers Deliver the Promise of Health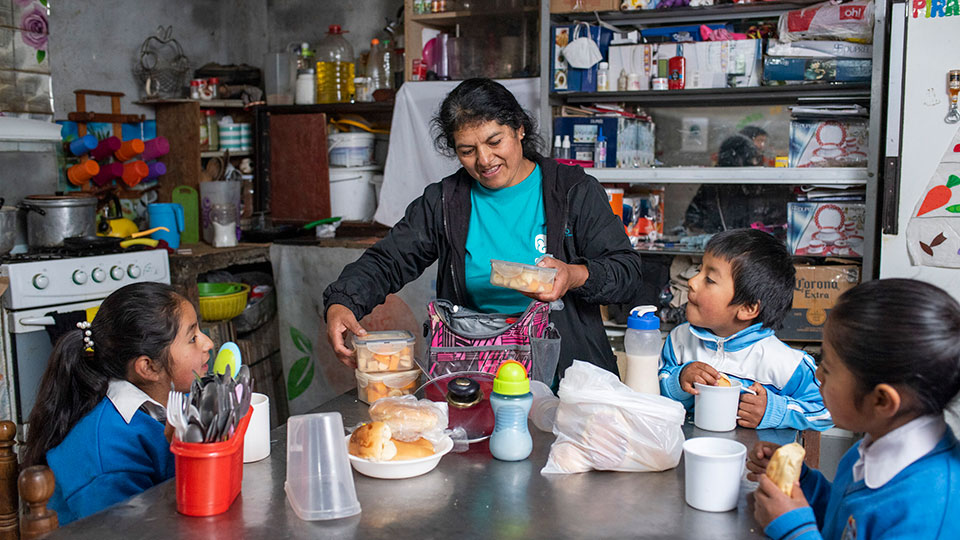 Celebrating World Health Worker Week
This World Health Worker Week (April 3 -7), All of us at Catholic Medical Mission Board (CMMB) celebrate community health workers like Angélica. Every day they deliver on the promise and potential of health in their communities around the world, with life-changing results.
But they can't do it without the support of our global community. Thanks to our faithful supporters, CMMB invests in community health workers, because they invest in the health of their communities.
Mom on a mission: Angélica's story
In Peru, 40% of children under age 3 have anemia, which can mean needless suffering and serious developmental delays. This tragic statistic is even higher for children in rural communities like Huancayo, one of the areas around the world where CMMB trains and supports community health workers like Angélica.
Angélica is a mom and community role model committed to stopping childhood anemia and ensuring every child is nourished. In the rural neighborhoods she serves, lengthy dirt roads connect small, crowded, and often makeshift homes. Most of the families that make up these close-knit communities are living in poverty. This impacts every aspect of life, including access to quality health care.
Angélica and other community health workers help to bridge this gap. They deliver health care directly to homes in their neighborhoods, ensure those who need hospital care receive it, and provide counseling on healthy habits that prevent threats like anemia.
Angélica first learned about malnutrition when her daughter was born with anemia. CMMB connected her to a community health worker named Clarita, who regularly checked in on Angélica and her new daughter at home.
"I liked being a mom supported by CMMB," says Angélica. Not only was Clarita kind and respectful, she was knowledgeable. She helped Angélica learn how to keep herself and her family well-nourished, with advice on improved eating habits and balanced meals. Clarita also provided iron supplements for her daughter.
Angélica was inspired by the impact Clarita had on her family. She wanted to do the same for other mothers in her community.
Today, Angélica is a community health worker herself. Trained by CMMB in lifesaving nutrition, she makes daily journeys to share her knowledge and care skills with 25 moms in her community—all with the same kindness and respect she was shown as a CMMB mom.
"CMMB has taught me a lot," says Angélica. "To grow as a person. To strengthen me as a woman. To value myself. To love myself."
The impact of community health workers like Angélica
Thanks to community health workers like Angélica, and the commitment of our partners and supporters, the prevalence of anemia in CMMB-supported communities of Peru has declined by more than 20%. Still, our work is not over—and neither is Angélica's.
Watch the video below and join Angélica on one of her daily journeys as a community health worker. Then invest in other health workers around the world.
See the Frontline Health Worker Coalition's Top Policy Recommendations to Invest in Health Workers.