World Bicycle Relief to Honor CMMB with 2023 Trailblazer Award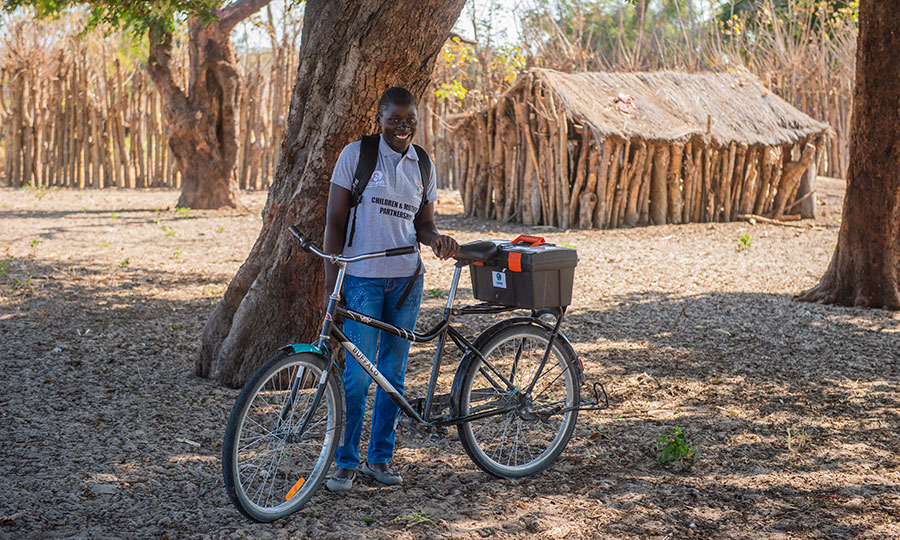 CHICAGO, ILLINOIS, (NOV 2, 2023) – World Bicycle Relief, a global non-profit social enterprise dedicated to providing access to education, healthcare, and economic opportunities through the power of bicycles, is pleased to announce that it will honor global health organization CMMB (Catholic Medical Mission Board) with the prestigious 2023 Trailblazer Award at its "Communities on the Move" benefit in Chicago on November 9th. 
World Bicycle Relief's Trailblazer Award recognizes organizations and individuals who challenge conventional thinking in the fields of transportation, poverty alleviation, social justice, and access, and whose innovative and bold ideas have the power to transform millions of lives.
CMMB works in partnership globally to deliver locally sustainable, quality health solutions to women, children, and their communities. World Bicycle Relief partners with CMMB in several countries to support a network of trained community health workers in delivering "last-mile" health care with purpose-designed, heavy duty Buffalo Bicycles. A community health worker in a rural area may walk up to 20 km (12 miles) to reach vulnerable families living on the outskirts of care. Equipped with bicycles, and aided by a network of mechanics and spare parts, community health workers experience increased productivity enabling them to reach more households, more quickly and extend basic medical care.
"CMMB is an extraordinary organization doing amazing work to support and reshape healthcare systems in countries where access to basic care is often limited or non-existent. Their dedication to healthcare and community development aligns perfectly with World Bicycle Relief's mission. Together our interventions aim to support communities with access to resources to help families live healthy, dignified lives," says Dave Neiswander, CEO of World Bicycle Relief. 
"We are proud to partner with CMMB and their community health workers who are the lifeline of their communities. Our Trailblazer Award recognizes their commitment to improving lives in rural areas of the world," adds Neiswander.
"When I think about the power of a bicycle, I think of the lives being saved," says Mary Beth Powers, CMMB President & CEO. "World Bicycle Relief does more than provide reliable transportation, they connect people to healthcare. It's an honor to accept this award from a partner that joins CMMB in our mission to deliver hope, health, and dignity in some of the most challenging places on earth."
Powers will receive the 2023 Trailblazer award at World Bicycle Relief's "Communities on the Move" benefit on behalf of her organization. The fundraiser will be hosted by lifelong cyclist and self-taught chef Biju Thomas from Colorado, and will feature World Bicycle Relief's Irene Thokozani Mulujwana from Zimbabwe who will give more insights into the work that World Bicycle Relief does in rural Africa and South America. The ticketed event taking place in Chicago's trendy West Loop will also feature a cocktail reception, delicious dishes and drinks inspired by World Bicycle Relief's program countries, live auction, and more. It is open to the public and will be limited to 200 people. More information is available here.
About World Bicycle Relief:
Since inception in 2005, World Bicycle Relief has distributed more than 750,000 life-changing bicycles to students, health workers and entrepreneurs in developing countries to help them conquer the challenge of distance, achieve independence and thrive. World Bicycle Relief promotes local economies and long-term sustainability through an ecosystem solution of local assembly, over 3,000 trained mechanics and supply chain of spare parts through a network of over 70 Buffalo Bicycle outlets.  
World Bicycle Relief is a registered nonprofit in the USA, Canada, U.K., Germany, Switzerland and Australia, and has assembly facilities in Colombia, Kenya, Malawi, Uganda, Zambia and Zimbabwe.  For more information, visit www.worldbicyclerelief.org. 
About CMMB:
CMMB (Catholic Medical Mission Board) provides immediate and long-term medical and development aid to communities affected by poverty and unequal access to healthcare. Inspired by faith, and with a special focus on women and children, CMMB delivers sustainable health services in Haiti, Kenya, Peru, South Sudan, and Zambia. The organization also distributes medicines and medical supplies through local and national partners in challenging settings. Over the last 10 years, CMMB has distributed more than $5 billion worth of medicines and medical supplies to 83 countries across the globe.
For media inquiries, please contact:
Leah De Vos, World Bicycle Relief, Communications Specialist
Ldevos@worldbicyclerelief.org
Emma Pontillo, CMMB, Communications Specialist
communications@cmmb.org