Life After Volunteering in Zambia
By CMMB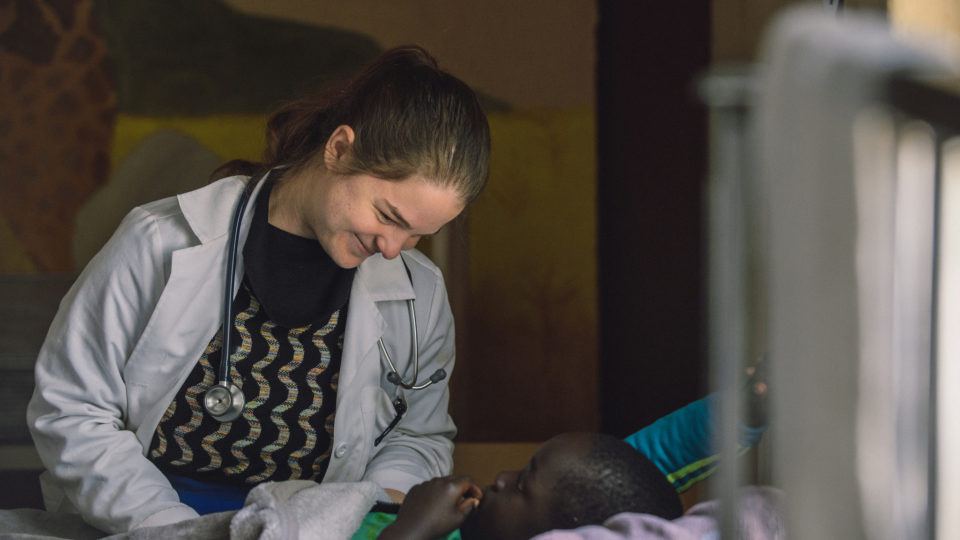 Stephanie Summa served with CMMB as a Physician's Assistant at Mwandi Mission Hospital in Zambia. During her experience, she became a valued staff member at the hospital. Her patients and fellow staff members speak of her compassion and dedication to the community – an impact that will last for years to come.

Stephanie has since returned home and continues her work providing care to others. We recently caught up with Stephanie and she reflected on her journey to CMMB, her time in Zambia, and what's next.

---
How did you originally learn about CMMB? 
I had been working for about four years and was always interested in medical mission work. I wanted to find an organization that considered my values and the goals of my faith. When I discovered CMMB, it seemed like a good fit so I continued with the application process. It was nice to have an already established volunteer program, with a whole team committed to placing volunteers in areas with real identified needs. I like that they place volunteers based on the actual needs on the ground.
When you first arrived to Mwandi, what surprised you the most?
In the United States, we tend to hold a lot of stereotypes about Africa. It isn't uncommon for people to think of the continent as a country! But beyond that, too often when we think of Africa, we tend to think of impoverished, uneducated, starving people. Traveling to Zambia was a wake-up call for me. I quickly learned that just like in every country, Zambia has a wide range of people in terms of level of economics and education.
It was an important reminder in the sense that within Zambia, my volunteer work focused on supporting people who are impoverished. But, at the same time,  the government and citizens are already working to decrease the gaps in education, health, and the economy. It emphasizes the fact that CMMB's work in Zambia is supporting systems that are already in place to work.
Describe your role at Mwandi Mission Hospital? What was your day-to-day like?
I am a physician assistant. It falls between a nurse and a doctor. In Zambia, they refer to people in this role as clinical officers. While I was in Zambia, I'd see and treat patients – adults, children, mothers in labor of all ages and demographics – who were hospitalized. And then I did what medical professionals would do anywhere –  I would work to diagnose their health issue(s) and, in consultation with other members of staff, develop a treatment plan. The real differences emerge as a result of a lack of trained health workers and limited resources, including medicines and diagnostic equipment.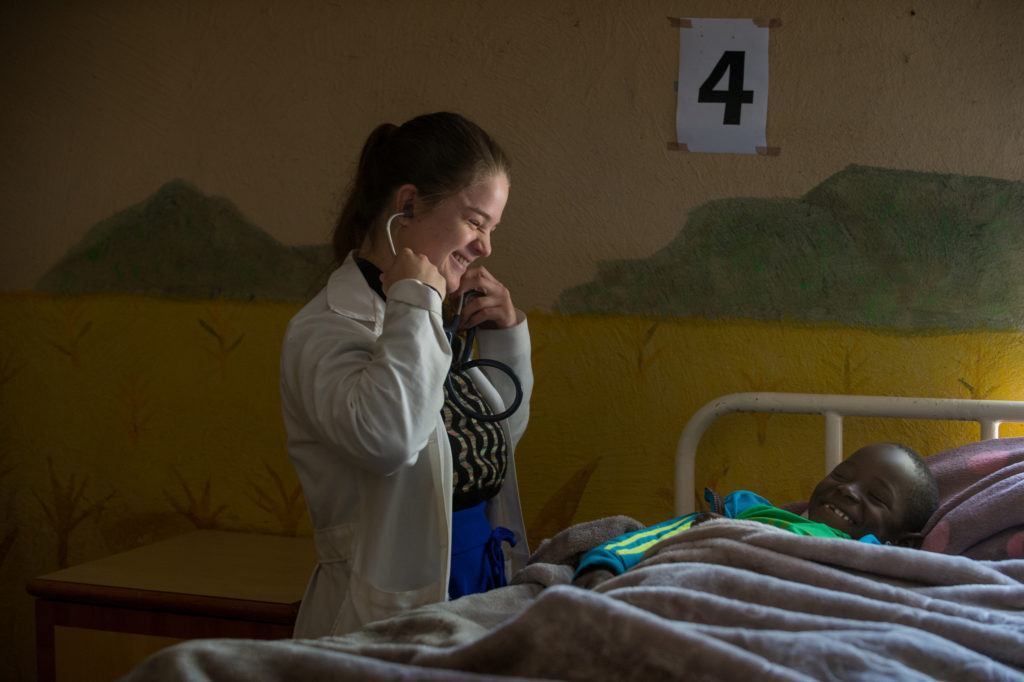 Is there a story about a patient or community member that stands out as someone you will never forget?

There are a couple. It is hard to choose just one!
There was a patient, a 16-year-old girl, and she came to us as a burn patient. She had a seizure while standing near a fire and fell in – a very common occurrence. Her story impacted me for a couple of reasons. One, I learned that because of her frequent seizures she had to drop out of school; her illness kept her from receiving an education. This was really tough for me to hear.
The second thing was that she was at the hospital for a really long time. Her condition brought attention to some of the deficits our hospital and Mwandi operated with. Burns are very painful and unfortunately, there just are not a lot of good pain medicines in Mwandi. The treatment of her wounds caused a lot of pain and distress. This is something that I will always carry with me.
The good news, however, is that we got to see her wounds heal and witness as she regained her strength. It was wonderful to see her get out of bed on her own, and eventually to return to her home, returning for follow-ups.
I remember she was always accompanied by her mother. Seeing their relationship and the care they had for one another really touched me. I will always remember that patient.
In terms of the community, you need to read about the mission trip volunteers who came and brought their compassion to the women and men in a care home just next to the hospital. It will make you smile for sure.
Could you describe the biggest challenges?

The biggest challenges were around access to medicines. There were some medicines that were out of stock. Sometimes we could substitute for them and things would be okay. Other times, there was no suitable substitution. That was tough. And in Mwandi, you can't just go to a different pharmacy or hospital to find the medicine because they don't exist.
Without equipment, I cannot properly diagnose people; without a diagnosis, I cannot provide care; and without care, people don't recover and sometimes they die. – Dr. Zola, former doctor at Mwandi Mission Hospital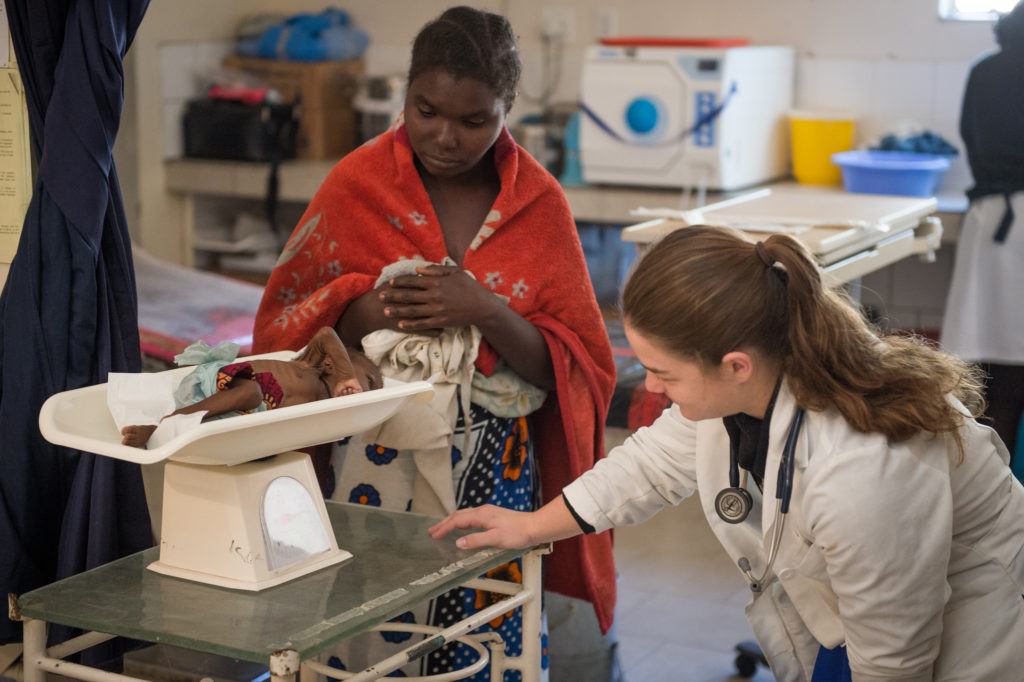 Then there were all the services that we take for granted here in the U.S. For example, things like blood products needed for transfusions. Sometimes we have them, and often we do not. This was something that really frustrated me. Blood is essential to human life and it is possible to replenish it. But, we have had patients die because of the lack of access to it.
How do you think your professional life will change as a result of this experience? 
I think going forward, I will continue to try and take volunteer opportunities to help local healthcare workers. In the future, I hope to participate in more education programs for medical professionals. It was great that I was able to be in Zambia for a year and help fill the gaps in terms of personnel. But, I also think it would be a really great opportunity to start doing things that are more sustainable, like teaching new techniques or habits to improve health overall. In doing so, the local health professionals can continue to provide help even when the mission teams have left.
What's the highlight from your time in Mwandi? 
I think the thing I am most loved being part of was supporting the neonatal resuscitation program. Neonatal mortality rates, especially in developing countries, are extremely high.
Globally approximately 7,000 newborns die every day with about 1 million dying on the first day and close to 1 million dying within the next 6 days. – WHO
One of the leading causes of neonatal mortality is asphyxia, or low oxygen levels at birth. That can happen for a variety of reasons, but what some researchers found is that sometimes when babies are born and not breathing, they are mistakenly declared dead. In reality, that baby is alive it just needs that little help to take that first critical breath.
That little help is achieved with really simple techniques. Like, drying off the baby can often stimulate that first breath! But if you don't know, you don't do it. But when they're taught and practiced, neonatal mortality actually decreases!
The Making Babies Breath program targets nurses that have worked in rural health facilities and teaches them these life-saving techniques.
We were really fortunate that the mission team was coming and had the skill set to teach the techniques. Also, they were generous enough to bring the equipment with them, as well. Not only were we able to give local nurses the skills but also the tools to actually make it common practice. Within the weeks following the training, we were already hearing stories about babies born not breathing, saved because of these techniques. These techniques are just simple measures — two days of education can really decrease infant mortality.
You should totally read about health worker, Patrick and mom, Rebecca. A week after Patrick received the training in Helping Babies Breathe, he put his training into action and saved Rebecca's life. One week later!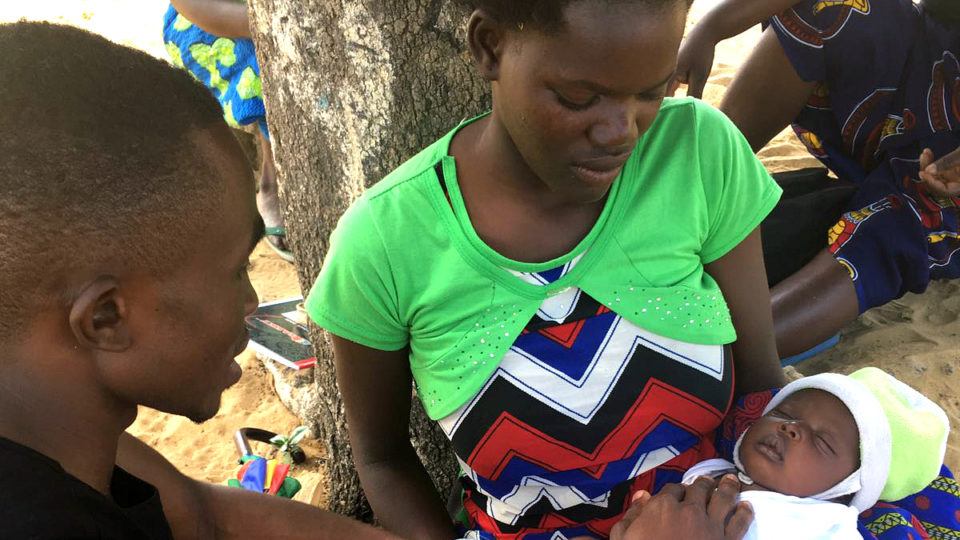 What about staff members? Is there a particular person you worked with that left a long-lasting impact?

There's a lot of people at the Mwandi Mission Hospital who were so welcoming and open to me. They were all so willing to share their culture, practices, and knowledge with me. I have a profound respect for each and every one of them who come to work every day with undeniable odds and are still making a difference in innovative ways.
I really enjoyed working with a Mr. Sam Uli, a medical associate (a role falling between a physician assistant and a doctor). They can do surgeries and diagnose patients. Mr. Sam Uli was very thorough with all of his patient assessments. He was a great teacher for medicine and you could call him at any time or any hour and he would be there. He had a great passion for medicine and for the patients. His wife was a midwife, so learning and working with her on birth, was a really meaningful experience.
What are some of the challenges of coming home?
I miss the sun and the warmth. In Zambia I had developed a very close sense of community where I worked with the same 20 people every day, six days a week. On my day off, I would still run into them going to church or the market. You have this very set sense of community and very close circle of friends at every moment. It was hard coming back and not having those close friends immediately available, just right next door. Having that different sense of community back home took time getting used to it. It had felt more isolating being home than I had in Zambia.
If you had to define your hope for Mwandi, what would you say?
My hope is basic. I hope that they always have full bellies, that they won't need to worry where their next meal is coming from. I hope they have access to good medical care and economic opportunities and that they continue to find the love and joy in each other that's already there.