Happy Mother's Day – Your Weekly Reflection from CMMB
A Catholic Meditation on the Gospel
Today we celebrate Mother's Day, one of the most beautiful days of the year. Pope Francis tells us that "Where there is motherhood, there's life, there's joy, there's peace."
Motherhood is a very high calling.  It would be difficult—some might say nearly impossible —to imagine a relationship that could ever replace the love of a mother or a grandmother. Mother's Day gives everyone in our CMMB global family an opportunity to reflect on this beautiful role, and to realize that the love, guidance and influence that mothers and grandmothers provide is distinct and invaluable.
"Where there is motherhood, there's life, there's joy, there's peace." – Pope Francis
On the day we celebrate mothers, we want to share some very good news about our fundraising campaign to build a new maternity ward. Our CMMB global family has been incredibly generous, and we've reached 75% of our goal. We're so close! If you've already donated to our Mother's Day Match campaign, thank you! If you haven't, there's still time—but only if you donate now. Today is the last day to double your donation.  If everyone does their part, we can truly make a difference in the lives of pregnant women and newborns, in Kenya, and around the world.
Today's celebration reminds us that God is love.  In the spirit of love, please accept a very special Mother's Day card from CMMB. It is formatted to download and print on your home computer, in color or black and white. We hope that you will enjoy and share this card, and God's love, on Mother's Day.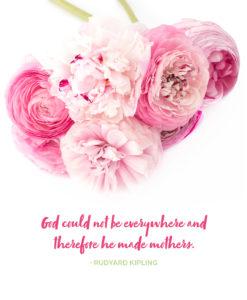 CLICK HERE to Download Your Free Mother's Day Card
Happy Mother's Day from everyone in the CMMB global family!