Rosemary Moynihan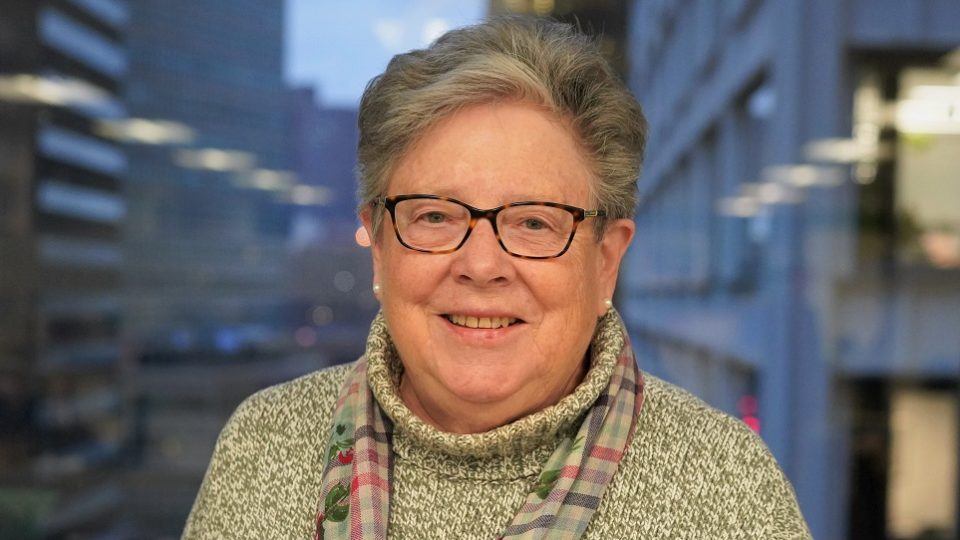 Vice President, Mission Integration, Trinitas Regional Medical Center
At Trinitas, she is responsible for the integration of an organization-wide mission plan as well as serving as a clinician in the Adult Outpatient Mental Health Clinic.
From 2011 to 2019 Sister Rosemary served as the General Superior of the Sisters of Charity of Saint Elizabeth. Under her direction several efforts were developed and implemented including a Congregation sustainability plan, a structure to expand the responsibility for Sponsorship of Congregational Works to lay women and men, and growth of the Congregational ministry in Haiti.
Prior to that, Sister Rosemary served as Director of Ecology and Global Ministry for the Bon Secours Health System in Marriottsville, Maryland, where she was responsible for their international HIV/AIDS outreach programs to Haiti, Peru, and South Africa as well as enabling the health system to go "green." She has also served on the Catholic Hospital Association's International Outreach Committee. Her ministry history includes several years as Manager of Community Mental Health at St. Joseph's Regional Medical Center in Paterson, New Jersey, working with those affected by HIV/AIDS, and 16 years in Social Work and Social Work Administration at Memorial Sloan-Kettering Cancer Center in New York City. From 2011 to 2019 she chaired both the Board of Trustees of the College of Saint Elizabeth in Morristown, New Jersey and the Trinitas Regional Medical Center in Elizabeth, New Jersey. She continues to serve on the Board of Directors of the Yale New Haven Hospital in New Haven, Connecticut. Sister Rosemary holds a Bachelor of Arts Degree in Sociology from the College of Saint Elizabeth, a Master of Science degree in Social Work from Columbia University, and a PhD in Clinical Social Work from New York University.
Sister Rosemary joined the CMMB Board of Directors in 2016 and served as the Chair from September 2018 to December 2021. She currently serves on the Governance & Nominations and Programs Committees.