Meet Matthew Jones: Our First Aurora Fellow
November 28, 2017 •
South Sudan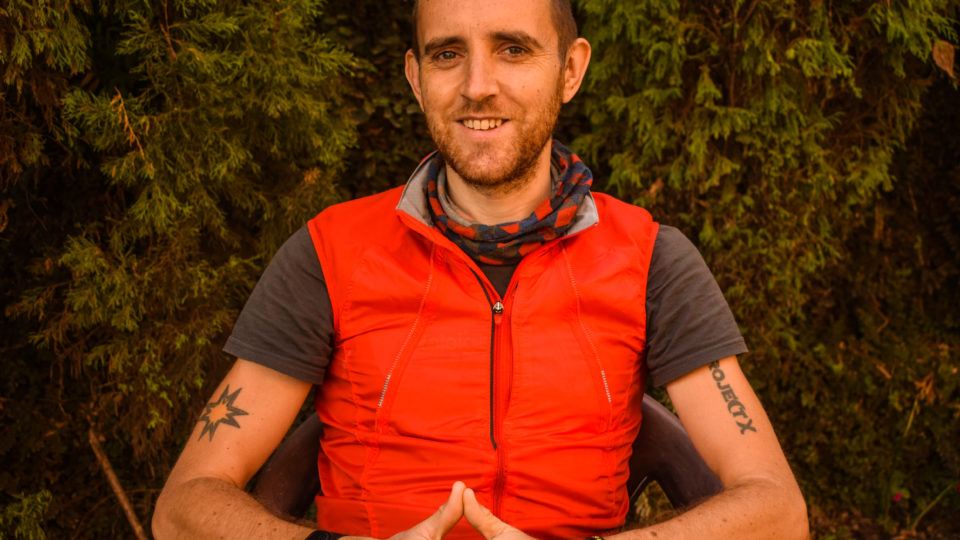 Matthew Jones is CMMB's first Aurora Fellow! He is a doctor who will be serving at Nzara Hospital in South Sudan starting in early 2018.
Born in Cardiff, Wales (UK), Matthew's path to CMMB has been a windy and inspiring one. Medicine wasn't always in his plans. He first studied History at Cambridge and then law in London. After that, Matthew trained and qualified as a corporate and banking lawyer in 2007, working in London, Moscow, and Muscat (Oman) for two and a half years. But he never felt satisfied by this career and decided to take a break to consider his options. During this break, Matthew spent 12 months studying Arabic in the Middle East (Jordan, Morocco, and Syria) and then started a teaching training qualification back in England. But again, he felt uncertain about teaching and began looking into medicine as a career. He spent one year working as a nursing auxiliary to gain insight into hospital life. It was that experience that convinced him to apply to medical school and he spent the next four years studying medicine at Newcastle University. When asked, why South Sudan, Matthew responded:
"I have been lucky enough to have so many amazing opportunities in life. First to go to Cambridge, to become a lawyer, and then to become a doctor. I have a powerful sense that it has all been building towards this experience – this great adventure. This really feels, in a nice way, like it's payback time. The point at which for all these amazing opportunities, for all the people who have believed in me and have invested in me, in a really holistic sense this is my chance to contribute back. As if there is a design at play, where various people have covertly come together to design a series of life experiences for me such that I can find myself one day in possibly one of the most impoverished countries in the world and offering something."
Matthew Jones recently responded to a series of questions to help us get to know more about him. Read on to find out who inspires Matthew and what world problem he would most like to solve.
---
Home: Cardiff, Wales, UK
Education:
Cambridge University, History
BPP law school
Southampton University, Education
Newcastle University, Medicine
CMMB volunteer position: 6 months in Nzara, South Sudan
Sum yourself up in two words: Passionate, energetic
Why CMMB? I was immediately drawn to CMMB's combination of practical, hands-on work and spiritual/religious values. I think values and beliefs should sit at the core of development and charity work and we should not be afraid to express these values. I first encountered CMMB through an article on Dr. Tom Catena and was inspired by his story to contact CMMB. I do recognize a little of a calling in this encounter.
Tell us a little be more about you:  During my time as a medical student, I developed multiple outdoor interests. I spent two stints in La Paz, Bolivia, climbing up to 6500 meters on two occasions, whilst also working in a mobile consultation unit with a medical team. I arranged three charity bike rides, raising over 30,000 pounds, including a 1000 mile ride across Britain for 15 fellow medical students. I qualified as a doctor in 2014 and worked in Middlesbrough for 3 years, which included experience in the emergency department, intensive care unit, cardiology, and the undergraduate teaching department where I worked with medical students. I took up long distance running during this time and completed 13 marathons, with a best time of 2.26 hours! I also finished Marathon des Sables, a seven-day ultra marathon across the Sahara desert, covering 260 km. I am currently working for 3 and a half months in Nepal with Raleigh International, providing medical care to Nepali and UK volunteers at project sites. I am a keen photographer and have worked in this capacity for Raleigh in Nepal at the same time. I enjoy writing, both blogging and fiction.
What are you most proud of? I am most proud of my desire to always keep searching for meaning and connection to the world. I don't seek material comfort nor simple, personal achievement, but rather a set of experiences that develop me as a person and bring me closer to other people.
Imagine you are stuck in an elevator. Who would you most like to be stuck with? And why? I am fascinated by what it is to chose a difficult path, at your own material expense, to help others and engage more closely with reality. I am drawn to a certain personality type as a result. I would perhaps choose James Foley, the American photojournalist who was killed in Syria in 2014, and ask him what compelled him to seek out a connection with reality and the suffering of others to the detriment of his own safety. The bravery he showed is truly humbling.
You are featured in the NY Times. What's the headline? Always Wandering, Always Wondering
What would your theme song be? 
Imagine if you were an animal, which would you be and why? I think I would be a cat. I am independent, a little prickly, affectionate, and always on my own little mission. I love home comforts and to sit in front of a fire of a winter evening, but something draws me outside into the dark and cold!
What is your hope for your experience volunteering with CMMB? I would like to come closer to humanity and experience a simpler way of life, based on caring for others. I hope to make some wonderful friends and connections and at the end of the experience, whenever that it is, to know that I tried my best to contribute to a better world. But I think above all, I hope to continue my journey to being a little humbler, a little kinder, a little gentler and a little less self-centered.
Favorite quote: "He will wipe every tear from their eyes. There will be no more death' or mourning or crying or pain, for the old order of things has passed away." – Revelation, 21:4
What book should everyone read? Why? 1984: a true masterpiece of the power and abuse of power of language; prophetic, insightful and overwhelming.
Who would you like to play you in the movie of your life? Christian Bale (he's from South Wales too)
What is your hope for the future? I hope that we can all rediscover the pleasure and joy of living together in shared values, moving away from materialism and isolated existence.
Favorite speech: The ending to Abraham Lincoln's first inaugural address:
"I am loath to close. We are not enemies, but friends. We must not be enemies. Though passion may have strained it must not break our bonds of affection. The mystic chords of memory, stretching from every battlefield and patriot grave to every living heart and hearthstone all over this broad land, will yet swell the chorus of the Union, when again touched, as surely they will be, by the better angels of our nature."
If you could solve one world problem, what would it be? Nationalism. I think it is still the most corrosive, divisive force on the planet.
What are the three things you are most grateful for? 
My sisters and brother and their families.
The bond with my parents.
To be alive now
Who is your biggest inspiration? Why? My sister; she is strong, tough, caring, and principled. I always know she is near in my heart.