Update from Construction Site in South Sudan
By Martin Rubino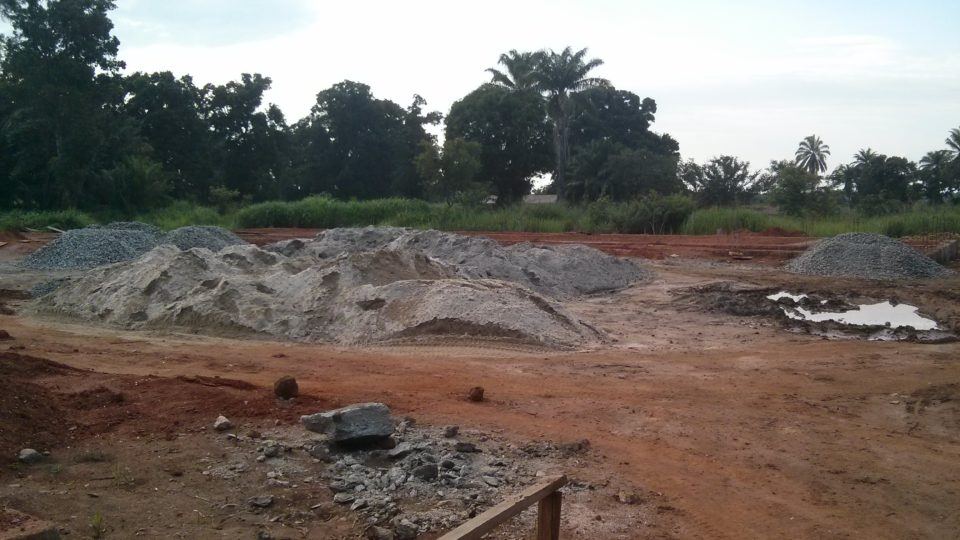 Aurora Fellow, Martin Rubino, is back with another update about the expansion of St. Theresa Hospital in South Sudan.  This crucial project will add an operating theater, maternity ward, and blood bank to the current facilities, increasing the hospital's capacity to provide quality healthcare services for locals. 
Martin is using his skills as an engineer to serve communities in South Sudan.  In this update, Martin explains what makes this project unique from work done in more developed areas. He also highlights the blessings that persist in spite of difficulty.  
---
Update: May 28 – June 3
Warning: Lots of technical terms used below. Scroll down to the bottom for a handy glossary of terms
This week, the tedious but critical step of compaction continued at the maternity ward, surgical ward, and operating theater. Compaction is done manually (with timbers) as well as with a mechanical jumping jack. This machine often needs to be brought back to life by the mechanic, and it is shared in turn between the three building sites, which isn't ideal, but gets the job done. Actually, it's something to be grateful for. I can't imagine how much harder it would be to get this work done without it!
The astonishing fact is that this hospital is being built almost entirely with hand tools and muscle power. The only time the sound of a motor overpowers the blows of pickaxes, scraping of shovels, and squeaking of wheelbarrows is when the jumping jack or concrete vibrator are being run. We hope, albeit with hedged expectations, that a new voice will be added to the chorus: that of a concrete mixer! It is anticipated to be on site in time for pouring the concrete slabs, columns, and beams.
Overview:
The remaining foundation wall for the veranda of the operating theater is being completed. The main activity for this week consists in back filling and compacting the murrum soil. This task is critical because it must be satisfactorily completed before the concrete slab can be poured.
The mechanical compactor had to be sent to Yambio for a day to be repaired, which, along with heavy rains, has hindered progress (the rains, though slowing down the work, are very good for compaction, a blessing in disguise). Substantial deliveries of sand and aggregate came in on truck in anticipation of the large quantities of concrete needed for the slabs, beams, and columns.
Maternity Ward
Surgical Ward
Operating Theater
Glossary of Terms
Aggregate – Various rocks, gravel, sand, and other minerals that are harvested and used as construction materials, often for mixing concrete.
Back fill – Process of re-filling excavated foundations/trenches with soil to ensure proper protection and stability.
Compaction – Process of compressing soil to remove small air pockets in order to create a stable foundation and prevent later displacement and swelling from water absorption.  (As noted by Martin, rain can actually aid this process by making the soil easier to compress.  e.g. molding wet sand vs. dry sand).
Murrum soil – A type of soil common in equatorial zones that draws its reddish color from a high concentration of iron oxides.  This soil is well suited for construction because it can be easily compacted into hard surfaces.