Caring for Caregivers: Improving Mental Health in Peru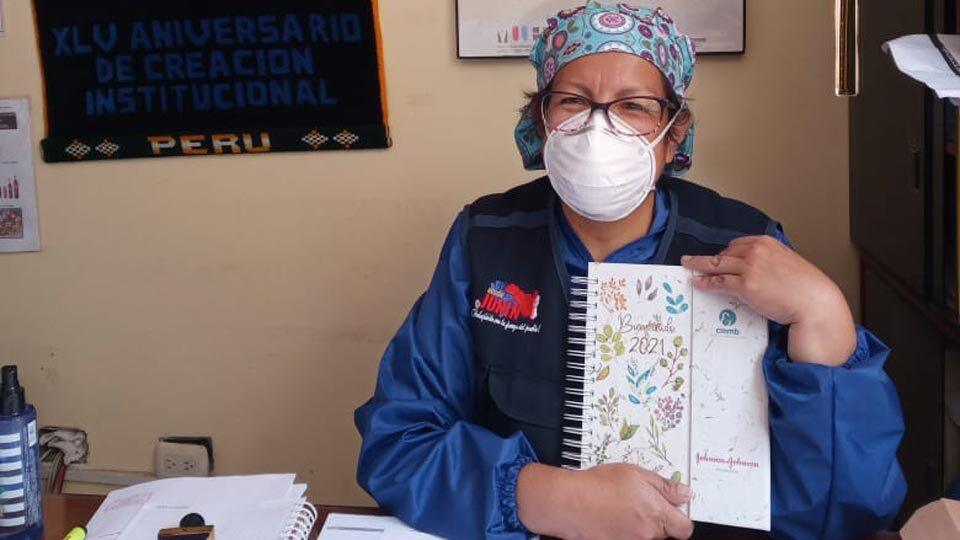 The COVID-19 pandemic has placed extraordinary levels of physical and emotional stress on clinicians, caregivers, and other frontline workers.
In Peru, nurses and midwives especially have a high burden of responsibility within the healthcare system. This is often not recognized by health leaders, directors, or managers in the system, which results in increasingly unmanageable workloads. Communication channels to express stress and emotional wellbeing are also inadequate.
Prior to the pandemic, the mental health of health care workers in Peru was rarely addressed in appropriate depth. Yet, workers' mental health is critical to both ensuring quality health care is provided to patients and to prevent burnout.
Partnering with Johnson & Johnson to Address Mental Health
CMMB Peru and Johnson & Johnson Foundation partnered through the project "Health careers building different futures for Peruvian families" in the urban areas of Huancayo and Trujillo. The project aimed to generate positive changes in the health of individuals, families, and communities by focusing on frontline healthcare providers and improving their capacity to respond to the constant challenges that the health sector is facing.
Assessment and Active Listening to Health Care Workers in Huancayo and Trujillo
In the first quarter of the project's implementation, CMMB Peru conducted an assessment study through focus groups and in-depth interviews with health professionals and community health workers. This study identified the needs and topics of interest for health professionals and community health workers.
The assessment also utilized the Maslach Burnout Inventory questionnaire, the leading measure of burnout. 119 healthcare providers completed the questionnaire — 59 nurses and 60 obstetricians. The findings included:
38% expressed the feeling of spending too much time on work
37% professionally fulfilled, felt they can positively influence their patients
23% expressed not achieving satisfactory or important accomplishments related to their profession
10% experienced feeling exhausted from work activities and conditions
8% developed distant emotional attitudes towards other people, especially patients
3% presented burnout
The qualitative research also uncovered the self-care practices that were lacking in the health care workers. The assessment found that many community health workers had difficulty coping with adversity, a hard time managing their emotions, had not developed tools for stress management, had inadequate sleep habits, did not meet their daily hydration needs, and did not have a dedicated time for themselves within their habits.
Workshops to Focus on Resilience, Stress Management, and Self-care
In response to the findings, CMMB Peru established soft skills strengthening workshops to improve health care workers resilience, emotions management, stress containment tools, time management and daily habits. During the project, CMMB conducted 10 workshops – (9 online and 1 in-person) with 244 participants. An additional 12 workshops were conducted especially for community health workers with 124 participants. The workshops also allowed health care workers to share their strategies for solving challenges. It provided a space for empathic listening and the opportunity to express and discharge the stress they had been accumulating.
Following the workshops, health professionals signed agreements to put learnings from the workshop into practice. The CMMB team followed up with workshop participants to offer support and ensure the implementation of the agreements through video-phone calls, WhatsApp, and emails.
Improving Caregiver Mental Health and Service Delivery to Patients
After the workshops, the health professionals expressed feeling more resilient with new support systems and tools to manage stress, pain, and grief — especially in the context of the pandemic.
Health managers also saw this difference. After observing the mental health improvements and its positive impact on service delivery to patients, many health managers committed to continuing and further developing mental health programs for their staff. In addition, after seeing results of the project, regional health authorities expressed interested in replicating the experiences with other groups of professionals.
Through the project, healthcare workers recognized the importance of creating healthy habits to care for their mental health and saw its positive impacts on their personal development. CMMB Peru continues to advocate for the prioritization of mental health and the well-being of healthcare workers.