Catholic Medical Mission Board President and CEO Mary Beth Powers Named to Forbes 50 Over 50 List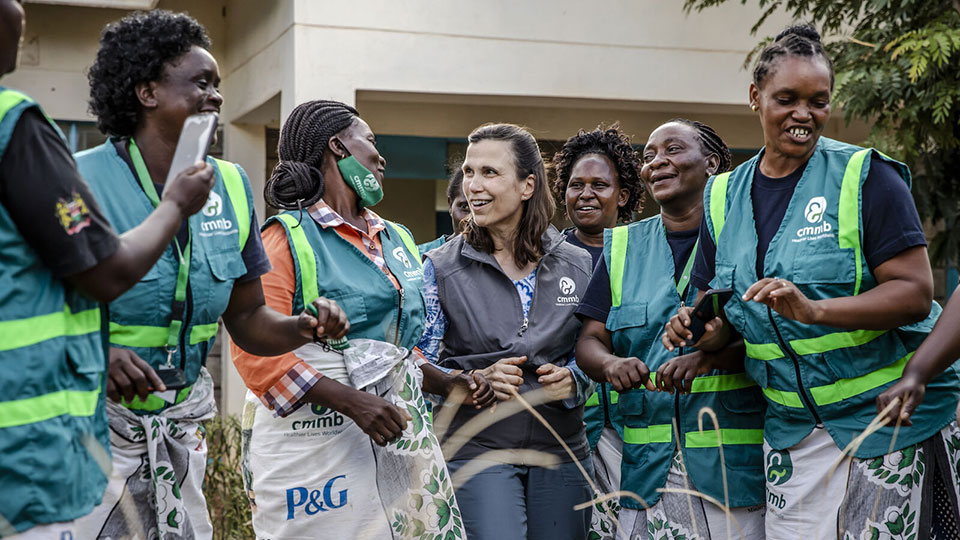 Powers recognized as first female President in CMMB history
NEW YORK, NEW YORK (August 3) – Catholic Medical Mission Board (CMMB) President and CEO Mary Beth Powers has been named to the third-annual Forbes 50 over 50 Impact List. This prestigious list celebrates 50 trailblazing female leaders who are building a better world. Notably, Powers is the first woman to lead CMMB, a faith-inspired global health non-profit, in its over 110-year history.
"It's a tremendous honor, and I'm humbled to be listed among such exceptional women, some of whom I've long considered heroes of my own," said Powers. "My hope is that this recognition inspires more women to take on leadership positions, especially in faith-based organizations like CMMB, which primarily focuses on the needs of women and children."
This year's 50 over 50 spotlight highlights Powers' 30-year career at the helm of innovative global health programs, throughout which she served as an expert and policy advocate for maternal and child health. She spent much of her career at Save the Children, serving as Chief of the Child Survival Campaign and Founding Chair of the Frontline Health Workers Coalition—a group that continues to elevate the role of community health workers today.
Just prior to joining CMMB, Powers served as Vice President of Programs at Dalio Philanthropies, a private foundation that has given $1 billion to a variety of high-impact programs. At CMMB, she leads the organization's distribution of an annual $400 million worth of medicines and medical supplies around the world. Using her vast development experience, she also supports CMMB's community-led programs that strengthen access to health in places around the world where resources are unacceptably scarce. Partnering with other Catholic organizations, she served on the steering committee of the Catholic Cares Coalition which campaigned for vaccine equity.
Powers has supported health programming in over 25 countries, and credits her passion for service and social justice with her parents' desire to make a difference through civil and community service, and her training at Georgetown University's School of Foreign Service, a Rotary Fellowship at the University of the West Indies in Kingston, Jamaica where she studied development economics, and public health studies at the University of Michigan.
For more information on Forbes 50 Over 50, click here. For more information on CMMB's work, click here.
Catholic Medical Mission Board (CMMB): CMMB provides immediate and long-term medical and development aid to communities affected by poverty and unequal access to healthcare. Inspired by faith, and with a special focus on women and children, we deliver sustainable health services in Haiti, Kenya, Peru, South Sudan, and Zambia. We also have partners on the ground delivering healthcare in some of the world's most challenging settings. For over a century, we have worked to strengthen and support communities through the distribution of medicines and medical supplies, the development of healthcare programs and initiatives, and the placement of skilled volunteers. Over the last 10 years, thanks to generous supporters, CMMB, through our Medical Donations Program, has distributed more than $5 billion worth of medicines and medical supplies to 83 countries across the globe—ensuring the promise of healthier lives worldwide.
Photo: Community health workers and CMMB President and CEO Mary Beth Powers attend a groundbreaking for a newborn care unit at a hospital (Kenya), Luis Tato/Getty Images for CMMB. 2022.