CMMB CEO Mary Beth Powers Receives Honorary Doctorate Degree from Fairfield University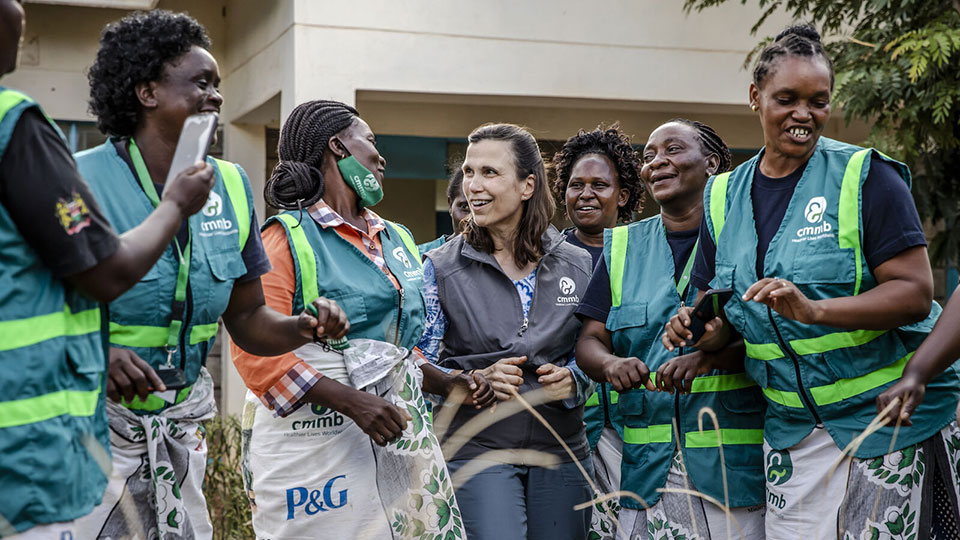 Powers recognized for her outstanding leadership and contributions to global health
FAIRFIELD, CT (May 25, 2023) – Catholic Medical Mission Board (CMMB) President and CEO Mary Beth Powers was awarded a Doctor of Laws Honorary Degree at Fairfield University's 73rd commencement ceremony on May 21, 2023. Powers is recognized for her leadership and advocacy to drive impact in global health, along with the faith-inspired perspective she brings to her field.
"I am deeply humbled to accept such an honor, especially from a university that exemplifies the very values that were instilled in me in my family and as an undergrad." says Powers. "I have always been concerned about inequities and that has motivated my work and my career."
For the past 30 years, Powers has staunchly advocated for health equity and dedicated her career to ensuring the voices of those facing health challenges remain at the forefront of solutions. Powers spent much of her career at Save the Children, during which she served as chief of the U.S. Child Survival Campaign and founding chair of the Frontline Health Workers Coalition, elevating the role of midwives, community health workers and nurses who serve in last mile facilities. At CMMB, she leads a diverse team of experts to distribute around $400 million of medicines and medical supplies annually to people in need around the world. As a maternal, newborn, and child health expert, she continues to push CMMB to develop community-first programs that strengthen access to health in communities where resources are unacceptably scarce around the world.
Powers, who stands out for her exemplary leadership and deep sense of social responsibility, was selected from a shortlist of honorary degree nominees by Fairfield University President Mark R. Nemec, PhD.  Additional honorary degrees were awarded during the University's two-day commencement ceremonies to Marcela Orvañanos de Rovzar, founder of New York City-based Qualitas of Life Foundation; Geoffrey Canada, president of the Harlem's Children Zone; and Charles MacCormack, PhD, senior fellow for the NGO Futures at InterAction.
More information is available here.
###
Catholic Medical Mission Board (CMMB): CMMB provides immediate and long-term medical and development aid to communities affected by poverty and unequal access to healthcare. Inspired by faith, and with a special focus on women and children, we deliver sustainable health services in Haiti, Kenya, Peru, South Sudan, and Zambia. We also have healthcare partners on the ground in some of the world's most challenging places. For over a century, we have worked to strengthen and support communities through the distribution of medicines and medical supplies, healthcare programs and initiatives, and the placement of skilled volunteers. Over the last 10 years, thanks to generous supporters, CMMB's Medical Donations Program has distributed more than $5 billion worth of medicines and medical supplies to 83 countries across the globe—ensuring healthier lives worldwide. 
Photo: Community health workers and CMMB President and CEO Mary Beth Powers attend a groundbreaking for a newborn care unit at a hospital (Kenya), Luis Tato/Getty Images for CMMB. 2022. 
* Ceremony photos available upon request.