Combating Child Malnutrition with Goats
By Paola Lopez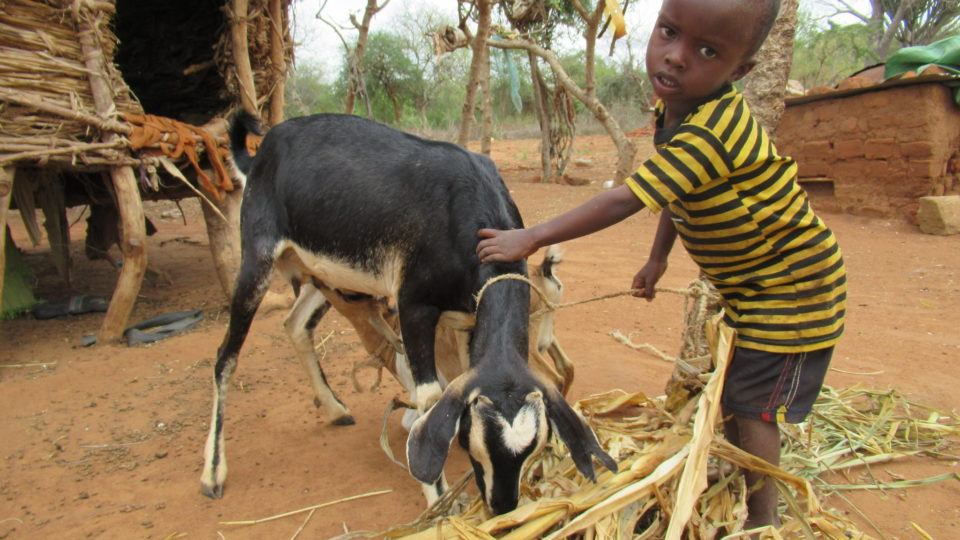 CMMB Zambia is improving the nutrition and livelihoods of vulnerable households in Zambia through a project that provides goats to families with children under five-years-old who had experienced malnutrition.
By supporting families with goats, community health workers saw a decrease in malnutrition and a new stream of income for this rural, poor community.
Community Health Workers Lead Project
The goats project was born from local community of health workers in Zambia, who recognized the problem of malnutrition and saw a unique solution. Their first goal was to improve the nutritional status of children suffering from malnutrition, but the project became something larger along the way.
Mwauluka Mwauluka, CHAMPS coordinator in Mwandi, Zambia explains how goats represent a source of income for impoverished families, which are often most affected by malnutrition.
"Goats are quite a lucrative venture. They can be kept with minimal care and be used in various ways by the vulnerable households who receive them," said Mwauluka. "The families can increase their numbers, drink their milk, sell one and so on."
Engaging the Community and Local Committees for Sustainability
After a number of engagement meetings with CMMB community health workers, the community became proactive in the project and came on board to ensure that project prioritized the poorest families who had not previously been engaged.
In order to ensure that project would be sustainable, CMMB Zambia worked in coordination with the Livestock Committees and Community Livestock Workers to provide five goats to 20 beneficiary families. "We want this project to be well managed in such a way that it is a sustainable project," said Mwauluka. Both the committee and the beneficiary families received training: how to keep a goat, the types of diseases typical of goats, and how to identify them.
The project's goal is for 60 households to receive goats by the end of September 2021.
Why Goats? A Food Source and Income Source
Goat rearing can feed more malnourished people in low-resource countries, especially when compared to other farm animals. Goat's milk is highly nutritious and contains essential vitamins and minerals. It contains more calcium, protein, and various essential A and B vitamins compared to cow's milk.
Goat rearing also offers the opportunity to provide a stream of income for poor, rural communities that have been greatly affected by the economic consequences of the pandemic. Approximately 55% of Zambia's population lives in rural areas. Many Zambian farmers have taken up goat rearing to provide a new source of income to their families.
"Goats are quite a lucrative venture. They are low maintenance and can be used in various ways by the vulnerable households who receive them."
Just last year, the UN Development Program mobilized a coalition to help mitigate the pandemic, as well as the effects of climate change change, on small-scale farmers in Zambia. Raising goats is relatively easy, they reproduce quickly and eat just about anything, which makes them the perfect animal for small farmers.
Malnutrition and Food Insecurity in Zambia during COVID-19
Malnutrition is still a prevalent concern for families in Zambia, with 9% of children having a birth weight of less than 2.5 kg (5.5 lbs). Low birth weight is often a result of maternal malnutrition. According to UNICEF, only 44% of children aged 6-24 months in Zambia are fed the minimum acceptable diet. This is a jarring statistic: more than half of children under two years old in Zambia do not have enough to eat.
Zambia continues facing high levels of acute food insecurity. With the onset of the COVID-19 pandemic and the government's measures to reduce the spread of the virus, both urban and rural areas have been affected. The increase of prices for food commodities, the country's economic decline, and the rapid increase in unemployment have all contributed to a growing number of households being food insecure. Our team believes and hopes that goats will help alleviate this food and economic insecurity for particularly vulnerable families.