Embrace Challenge — Your Weekly Reflection from CMMB
By CMMB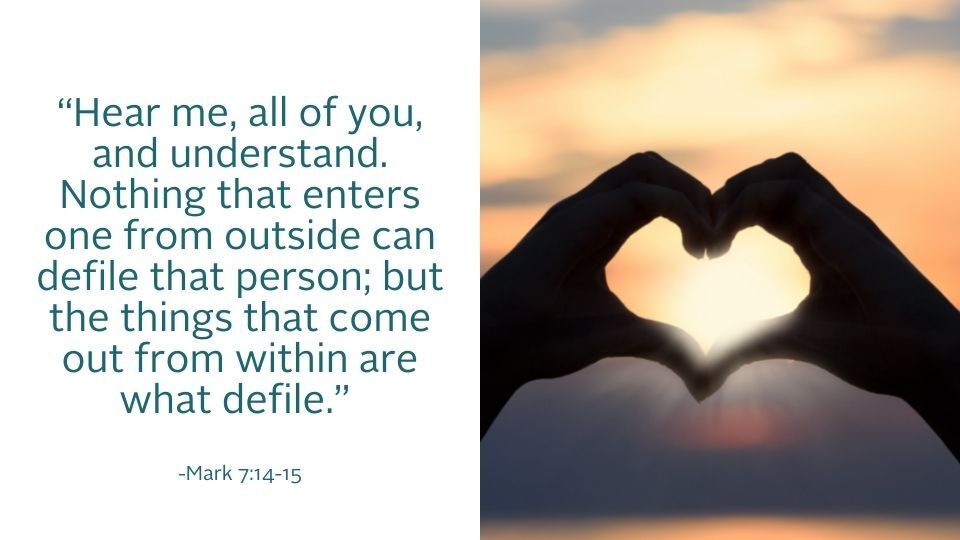 Subscribe to CMMB Weekly Reflection podcast on Apple podcasts and Spotify — and please leave us a rating and review. Sign up here to receive reflections straight to your inbox.
---
In today's reading we depart from John's Gospel to read excerpts from chapter seven of Mark.  In the sections we read from today Jesus makes a distinction between traditional Jewish practices and Christianity.
Jesus and his disciples are met by a group of Jewish Pharisees. Disturbed to see the disciples eating without cleansing themselves, they confront Jesus. According to the Pharisees, cleansing before a meal was a sign of purity and a necessary tradition.
The Pharisees identify holiness not from the word of God, but through the physical purity traditions of the elders. Jesus argues that the opposite should be true.
Jesus challenges them by saying, "But what comes out of a person, that is what defiles."
In other words, malicious thoughts, unwise decisions, or unfair acts come from within a person. They can't be avoided based on human practices or traditions.
But the core lesson of today's Gospel is one of embracing challenge. This is not the first time that Jesus' words challenged people to accept a new perspective and find their faith.
It can be said that Jesus challenges us today too, in more ways than one. At CMMB, we are challenged to uncover the true causes of health disparities. Often what appears to be the primary source of hardship is a secondary cause of societal inequalities.
We recently had the opportunity to interview Elizabeth Mubukwanu, the manager of our Kusumala projects in Zambia. Together with her team, she oversees a series of interventions to support children with appropriate care, including several initiatives to address an ongoing issue in Zambia's under-resourced communities—child separation.
Many of us are fortunate enough to never have to consider sending our children away. Many of our children are fortunate enough to remain with our families until they are well suited to build ones of their own. And yet, in Zambia, far too many children find themselves at childcare facilities instead of at home.
It's a challenge to understand what leads a mother or a child to make such a decision. The death of a parent, limited economic opportunity, and poor food resources are all contributing factors. But the most prevalent is one that you may not think of immediately. And that's a lack of education for children. We understand this only by being on the ground, questioning our assumptions, and listening to the people we serve. It's not easy, and yet, people like Elizabeth persist.
We will conclude today's reflection with an excerpt from our conversation with Elizabeth. In it, she describes why she feels called to this type of work, despite the challenges she faces.
You just keep going because you know that you're changing lives. You know you're reaching out to the poor and to the vulnerable. You're giving hope to the hopeless and to the helpless.
If you're interested in hearing more from Elizabeth on the incredible work of her team, you can do so on our blog by clicking here.
In grace and peace,
CMMB