Haiti Amputee Coalition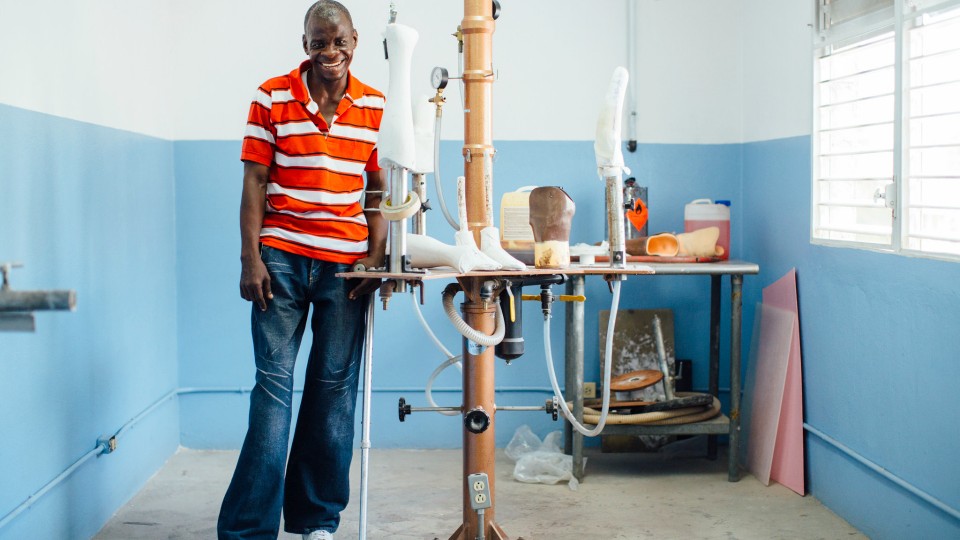 Six years ago today, a massive earthquake struck Haiti, leaving 300,000 people injured, including countless Haitians who lost limbs. Quick to respond, CMMB and six other partners immediately founded the Haiti Amputee Coalition, providing prosthetic limbs, physical therapy, and rehabilitation services. The Coalition, centered at St. Vincent Center of Handicapped Children in Port-au-Prince has served nearly 1,800 earthquake victims in its first two years.  While St. Vincent is still serving those patients even today, they also serve the local community of Port-au-Prince.  And that's where Magna's story begins.
When she was 14, Magna lost both her legs at the knee in a car accident.  A once active teenage girl believed her life was now limited by a wheel chair.
"I was sad because I had lost my legs," she says. "When I needed to do something, I couldn't do it."
When Magna's parents heard about the opportunities for handicapped children at St. Vincent, they took Magna to the center as soon as possible. Magna's accident occurred before the Haiti Amputee Coalition was founded, so Magna traveled to the U.S. where doctors fitted her with new prosthetic legs.
When Magna returned home to Haiti, she started attending school at St. Vincent's, part of their program for handicapped children.  Magna's family was struggling financially.  When her parents could no longer afford her school fees, Magna had to drop out, a reality that is all too common for students in Haiti.
Today, Magna is a shy and reserved young lady. She speaks softly when asked questions about herself, but she doesn't  hesitate to talk about the impact St. Vincent and the Amputee Coalition have made in her life.
"St. Vincent is my life. Without St. Vincent, I wouldn't have my legs," she says.
During the check-ups that were part of her recovery, Magna was befriended a volunteer working at St. Vincent who was so moved by her story and determination, that she committed to sponsor Magna's education.  Magna was going back to school!  This financial support is allowing Magna to begin studying Computer Science – an opportunity Magna has been waiting for.
"I need to learn something. With that something, I can take care of myself," Magna says.
Magna depends on her braces and physical help, but she also depends on the support and encouragement from the staff and volunteers at St. Vincent.  These dedicated people are a constant reminder to Magna and many other amputees that even though they have lost a part of their physical selves, opportunity is just a step away.
CMMB in Haiti
CMMB has been working in Haiti for nearly 100 years, which allowed our staff and volunteers to launch an immediate response after the earthquake struck in 2006.
Today, our portfolio of programs in Haiti includes delivering HIV/AIDS care and treatment, malaria prevention and treatment, and improving mother and child health. We also recruit and facilitate the placement of licensed medical volunteers, and deliver shipments of pharmaceuticals and medical supplies to our local partners. CMMB is also building a new health center, named in honor of our late Board member, Bishop Joseph M. Sullivan.
Learn more about CMMB's work in global health.