HAITI: Celebrating resilience 5 years after the earthquake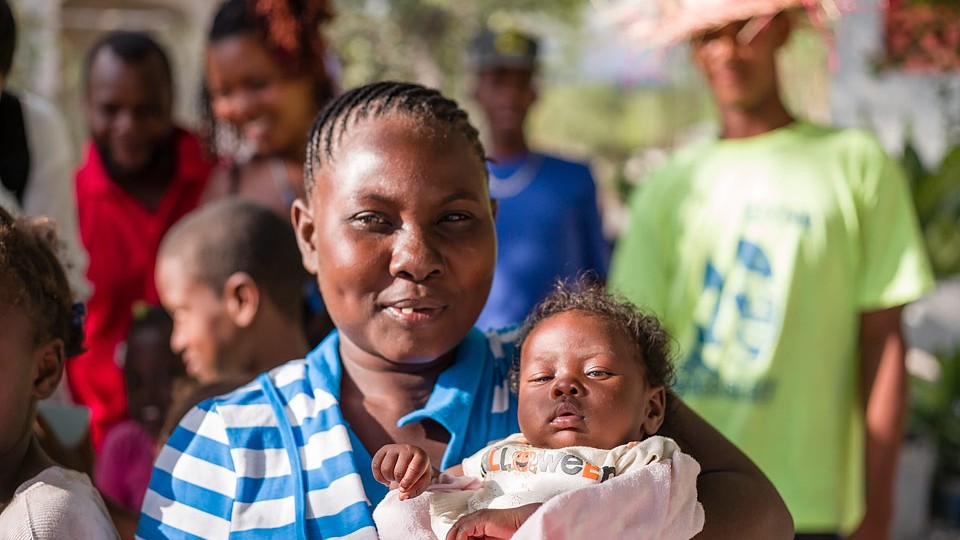 Catholic Medical Mission Board (CMMB) joins the people and government of Haiti—and our global peers—in solemn commemoration of the fifth anniversary of the January 12, 2010 earthquake that killed an estimated 160,000 people and left 1.5 million homeless.
Today, we offer our most heartfelt condolences and prayers to the families of the disaster victims. CMMB salutes the resilience of the Haitian people and celebrates the tremendous faith and courage they have displayed in the wake of great loss.
Five years after the almost unprecedented disaster damaged almost half of the nation's primary schools and destroyed many of Haiti's municipal government buildings—including the Ministry of Education and the Ministry of Finance—Haiti has moved from recovery to longer-term development. The Haitian people and the Haitian Government have worked in partnership with the international community to reach major milestones: rebuilding infrastructure and strengthening institutions; increasing access to healthcare services, water and sanitation, long-term shelter, and education; and stimulating investment. Of the 1.5 million people displaced by the disaster, 1.4 million have now been successfully relocated from temporary camps to safer housing. The political situation in the country has been relatively stable, and the Haitian economy has been recovering since the earthquake, with evidence of modest growth and no major inflation.
[1] Per most recent data from the Haitian government.
LOOKING BACK: CMMB'S RESPONSE TO THE DISASTER
CMMB has been working in Haiti for nearly 100 years, which allowed us to launch an immediate response directly after the earthquake struck.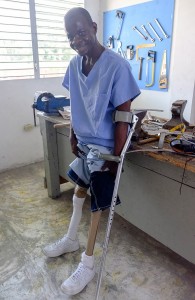 In 2012, CMMB:
Shipped 521 tons of urgently needed medicines and medical supplies, worth $47.1 million, to local and international partner organizations in Haiti. These medicines and supplies reached an estimated 1 million people.
Distributed 500,000 meals and 20,000 hygiene kits to earthquake survivors
Founded the "Haiti Amputee Coalition"—in collaboration with six other partners—which provided prosthetic limbs, physical therapy, and rehabilitation services to nearly 1,800 earthquake victims with traumatic injuries (as of December  2011)
Upgraded a major medical distribution warehouse in Les Cayes and supported the upgrade of Immaculate Conception pharmacy
With partner International Relief Solutions, provided a medical laboratory to Haiti's largest hospital in Port-au-Prince, which serves more than 500,000 people
Helped provide psychosocial support to 100 children in Jacmel who suffered trauma as a result of the earthquake
LOOKING AHEAD: CMMB'S CURRENT PROGRAMS IN HAITI
Our current portfolio of programs in Haiti includes delivering HIV/AIDS care and treatment and malaria prevention and treatment; providing victims of traumatic injuries with prosthetics and physical therapy; and improving maternal and child health. CMMB also recruits and places licensed volunteer healthcare professionals in much-needed positions in healthcare facilities in Haiti, and delivers shipments of pharmaceuticals and medical supplies to local partners.
CMMB has also recently launched a comprehensive, 20-year initiative called Children and Mothers Partnerships (CHAMPS), which aims to save the lives of the most vulnerable by tackling the major causes of illness and death. Our first CHAMPS program in Haiti is in Côtes-de-Fer, where we are building a new health center, named in honor of CMMB's late Board member, Bishop Joseph M. Sullivan.
FRANCK ORIOL: A STORY OF COURAGE AND GRACE

On January 12, 2010, Franck Oriol, a CMMB Haiti staff member, left the office in Port-au-Prince toward the end of the day to drop off some colleagues in the neighborhood of Petionville. As he was driving, he began to feel and witness a commotion: "All of a sudden, I didn't know what was happening. I had never been in an earthquake . . . A hospital ten meters in front of the car totally cracked in half: it just crumbled."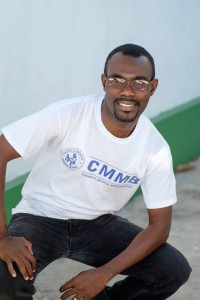 As Franck realized the gravity of the disaster, he tried to make contact with family. He remembers, "I didn't have any news of my wife, my daughter . . . I felt so desperate when I went home and couldn't find anyone there. I went to my daughter's school, and I found my wife and daughter there–safe. But our home was destroyed. We had to live in a temporary camp, in temporary shelter for four months." That didn't stop Franck from remembering the needs of others in his country and community. Every day, he accompanied CMMB Haiti Country Director, Dr. Dianne Jean-Francois on visits to hospitals. He says, "Every day we went, giving them medicine and supplies that had been donated to CMMB.  We worked every day to help people."
The generous support of CMMB donors enabled Franck and the entire CMMB team to be there for thousands of children and families, providing lifesaving assistance and support in their very darkest hours. CMMB is committed to the recovery and development of Haiti's most vulnerable now, and in the long term.