Inspiration Gallery

We have curated a special collection of motivational and inspiration quotes that reflect our work and values. We believe words are a powerful way to inspire action. When we act with hope we can create a wave of love throughout the universe. Click on an image and feel the love!
May these words and prayers bring you peace, joy, and hope.
---
Receive Weekly Inspiration In Your Inbox

---
Special Booklets
These special booklets will add a little inspiration to your day. Simply click to download your free copy.
2021 Lent Calendar
February 17th, 2021 is the start of the Lenten season – a season of repentance, prayer and fasting. We created this Lenten calendar – filled with beautiful reflections and important reminders –  to guide you as you make your way toward the joy and hope of Easter.

Mother Teresa
Mother Teresa lived her life in service of others. Her journey on earth brought healing and hope to thousands of people who were left abandoned and hopeless. This booklet is filled with some of Mother Teresa's most inspiring quotes. We hope these words will fuel your faith and fill your heart with peace.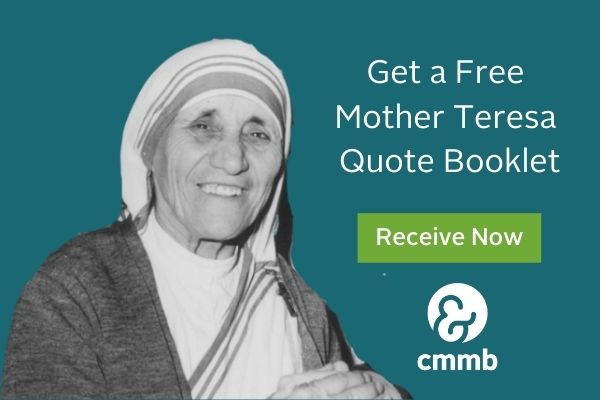 Pope Francis
This book contains 52 inspiring reflections for every week of the year that explore universal values with Pope Francis. Each page includes original photography of the mothers, children, and families that CMMB serves, along with a quote from Pope Francis that illuminates an essential value of our shared global community. This e-book is a perfect tool for reflection and discussion. Click to receive download your free copy.
Guardian Angels
We all need some guidance sometimes. This booklet is filled with simple and beautiful prayers for your guardian angel.  A prayer for friendship in good times and bad, encouragement in times of doubt, joy in times of sorrow, wisdom in a time of uncertainty and hope. All of us have an angel who watches over us. Your guardian angel is a travel companion, helping you navigate life's journey. Remember that you never walk alone.