Our Medical Donation Program: At the Distribution Center with Ralph Barberio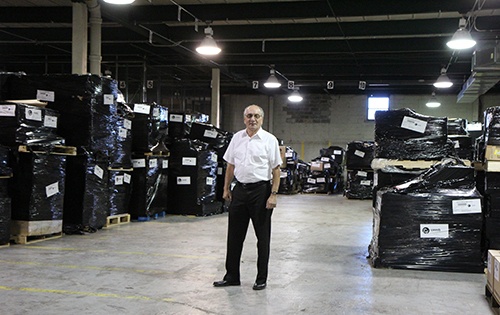 Behind the Scenes of CMMB's Medical Donation Program
CMMB has been committed to sending medicine and medical supplies where it is most needed for over a century. By 1931 – when CMMB would send $50,000 worth of medicines and medical equipment to overseas missions –  the effort that has become a mainstay of CMMB's work—the medical donations program—was well underway. In 2018, we have shipped more than $500 million worth of medicines and medical supplies to 35 countries. 
Today, and for the past 20 years, Ralph Barberio has been the 'man behind the curtain' at CMMB's distribution center, located in Long Island City, New York. His role as the manager of the center means he's in charge of making certain that life-saving medicines and medical supplies get to the places and the people who need them most.
After 20 years at CMMB, Ralph will step down as manager and begin his well-earned retirement. But, with two decades of knowledge we couldn't let him leave without sharing some of his secrets to success. In the interview below, Ralph (very humbly) explains what he does, how he came to do it, and why it's so important that we continue responding to the needs of the less fortunate. 
---
What brought you to CMMB?

I started at CMMB in November of 1998. I was working in Manhattan as the director of security for the Jewish National Fund, another non-profit organization and heard there was an opening.  So, I came in for an interview and got the job!
I was in shipping and receiving from 1998 to 2000, and then became the warehouse floor supervisor. In about 2002 the warehouse manager left, and they started the search for his replacement. I had been running the warehouse for previous two years, knew my way around the place, and they thought I would be a good fit for manager and I've been in the role ever since.
Can you describe your current role as the manager of the distribution center?
First and foremost, I manage all the amazing staff at the distribution center (DC). I've always treated CMMB like a family type of operation. There are only seven of us, and we all work together well. We know that we are only as good as the people around us. We can't do this work alone.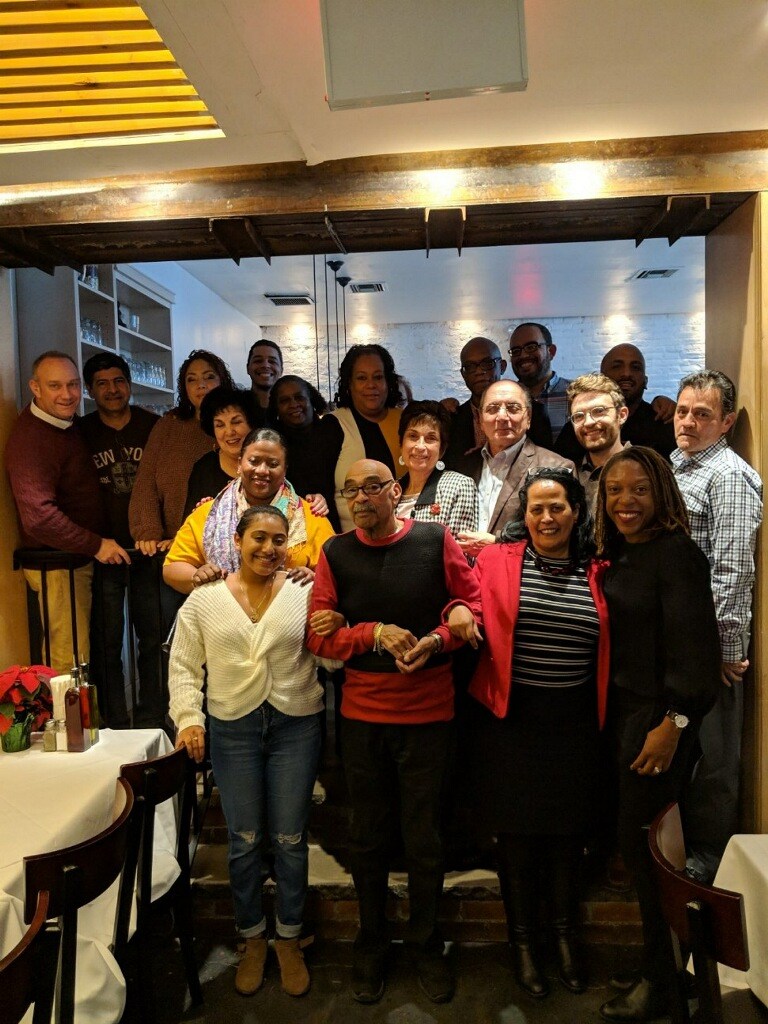 As for the other part of my job – I make sure that the medicine comes in, gets processed correctly, goes through the system, and then travels to the intended country within a 90-day period. Right now, we're averaging about 26 days between the time the medicine arrives at the warehouse to when it's shipped out. The main objective – get the medicine in and out as fast as possible.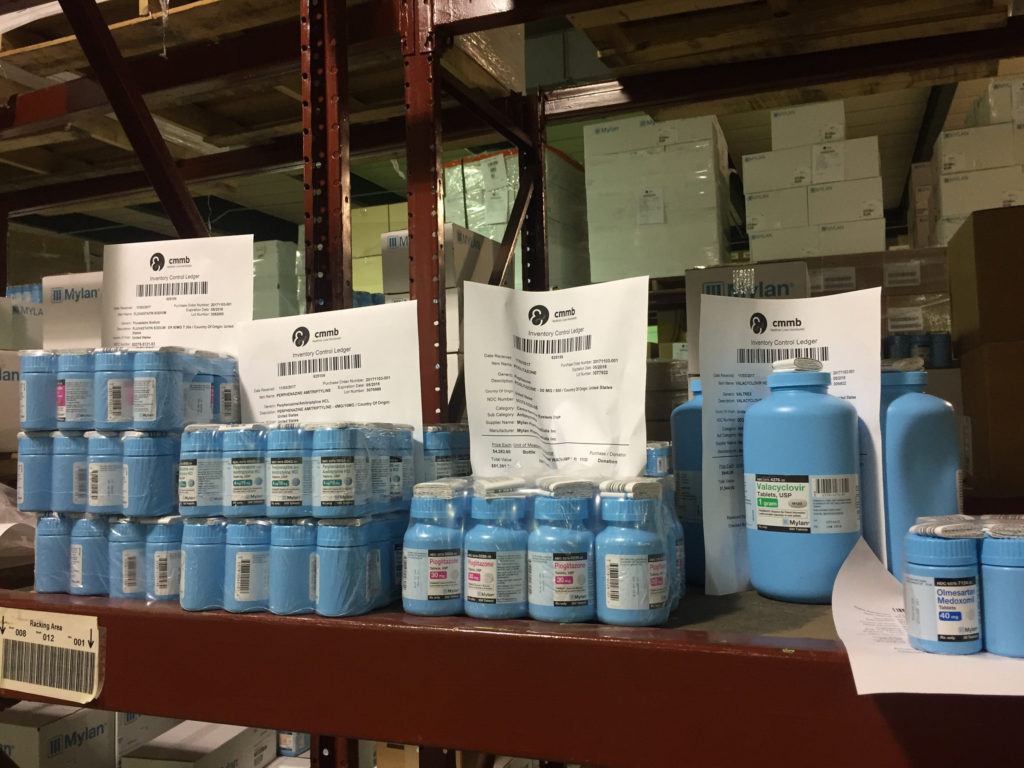 Is it difficult to get medicine into the places where it is needed most? (share some of the requirements).

There are a lot rules and regulations and every country requires different things. You can't just ship anything, anywhere. Take Kenya. Most of the time Kenya will only accept medicines with at least a one-year shelf life.
How often do you ship? 
We ship over 100 containers a year, usually between 20-40 cubic feet.  In fact, our average is about 105 containers a year which is pretty good in the industry. Then, on top of that we ship a lot of smaller truck loads.
You were a police officer for many years before moving into the nonprofit sector. What skills or knowledge from your days as a police officer have served you well in your role as manager at the DC? 
Well, the biggest thing I brought with me was the importance of following procedure. The reason we call it "the distribution center" and not "the warehouse" is because we distribute the medicine, we don't warehouse it. Everything has its procedure from when the donated product first arrives at the DC to when it is shipped out. And if you follow all the rules and regulations, it works out.
You have very little turnover at the distribution center. Why do you think the staff stick around so long?
This is the best job I've ever had thanks to the people I get to work with. In addition to our DC team, we also get lots of visitors – doctors, the nurses, all the people that come in  looking for medicine to bring on mission trips. They are dedicated people like doctors and nurses. They give up their time and effort for free. It's difficult work at the distribution center you know – standing up packing boxes or working the shrink wrap machines. It's not easy stuff. It's very physical. But, we make sure that everyone enjoys coming to work. That's why I've been here 20 years.
I'm going to turn 70 in January and I'm leaving because I want to enjoy my retirement time. But, I love it here at CMMB and the people are a big part of that.
You mentioned the team and you mentioned the people who then donate their time and bring medicine. Is there anything else that you love about this particular job that makes it stand out?
It is just fulfilling. When I go home at night I feel like I've contributed to something. I always think about how many lives we've been able to save by medicine. On my tour I always say that my favorite thing is this circle of life idea.
When the medicine comes in the door, it goes around the distribution center and when it gets all the way around, it goes right back out the door and starts it's most important journey of all; into the hands of the most vulnerable. And, it's all life saving medicine.
Ever face any challenges at the distribution center?
Of course. Challenges are part of life. There are challenges when you are dealing with the logistics of the operation. It can be very difficult just getting a shipment from one place to another within a certain time period because sometimes things happen, like a truck that breaks down en route to the DC or unexpected weather. There are some things within our control and other things we can't control.
Another challenge is if there is a power outage at the DC. A lot of medication requires refrigeration. What do you do? Well, you have contingency plans. That's why procedures are so important. So, when electricity goes out, I have a place I can call and they will send a refrigerated truck over to me. We load all the medicine into the refrigerated truck until the power is restored. There are different things you have to do, it is never the same problem. I tell everybody that the majority of my job is fixing things.
Do you know how much medicine you have delivered since you started?
Oh wow – I don't know that number offhand. I mean this past year alone we've shipped over $500 million worth of medicines and medical supplies. When I started we were doing about 50 to 60 million a year. So there's been a lot of growth over the 20 years I've been here. And the growth is because we made things more efficient.
Imagine all of your time working at the distribution center. What is one moment that you will never forget?

This is a tough one but I guess it would be my first trip to the field. I went to Dominican Republic (DR).  An organization called the Batey Relief Alliance was trying to create a warehouse in the DR. I was asked to visit the site and help them get the warehouse up and running. The organization served a population of people who were originally from Haiti, now living in the DR. It was a big group of people; people without food or money.
When I agreed to go, I remember Jack – the CEO at the time – said, "This is your first time going to country? It's going to change you." I think I responded saying something naive like, "I've been around the block. I am not a kid. I've seen a lot of things in my life, how bad could this be?"
Well he was right. It changed so much for me. I had never seen anything like that. I mean I have seen poverty in New York but, I never saw it the way I did there. I met two doctors treating people out of a trailer! There was devastation and poverty all over. I remember thinking how people in the states don't realize how good we have it.
When I came back, I wanted to make everybody pack more medicine and I became a crusader for making people aware of what went on out there.
Have you had contact with beneficiaries who your work is supporting?
My office and the DC are filled with things from our beneficiaries. I have all sorts of trinkets from different countries. I get a lot of letters from people thanking us. All of our pallets say packed with love and the name of the person who packed it. So, we will get letters asking us to "Thank Juan for sending the medicine!", or "Tell Napoleon this is a great thing." and that means a lot to the team at the DC.
What will you miss the most?
I'll miss CMMB. I mean it has been my life for the past 20 years. I'll miss the action and the team and knowing that our work makes a difference in the world.  It's nice to leave on such a high note – this being our most successful year ever! It's like going out after you win the Superbowl.
But I am also ready for the next chapter of my life. My plan is to just enjoy myself.
Any words of advice for the next manager of the distribution center?

Good luck! You have a great team here and once all the automation comes in, there will be nothing stopping you!
Other organizations doing the kind of work we do at the DC have teams of 20 or 30 people working. We are a smaller, but look at how much we have done. Our gains are because of personnel. It's the people at CMMB who work hard and get the job done. It is something I value from my time at CMMB and something I will miss very much.