Pat Winkler's Story – A Lifetime of Serving Others
By CMMB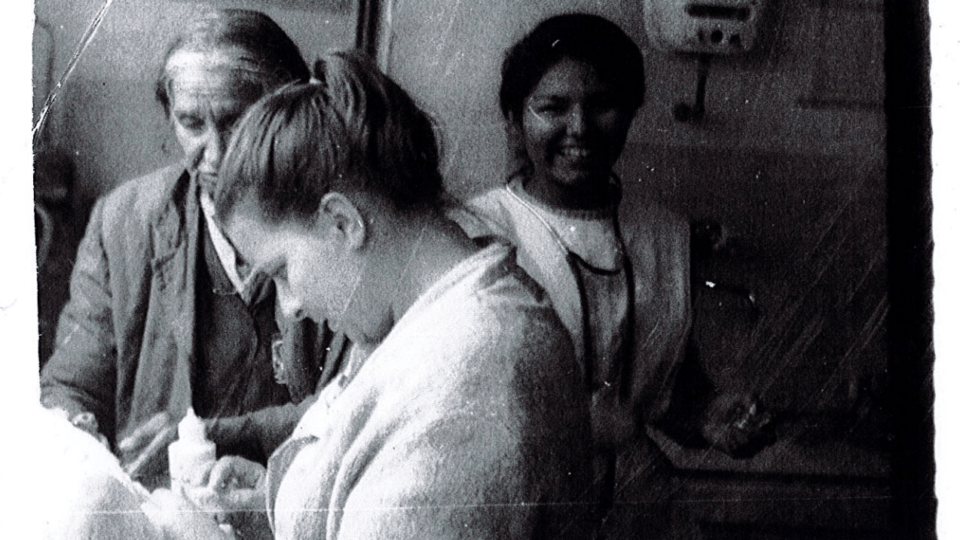 Patricia ("Pat") Winkler is a longtime supporter of CMMB who has devoted her entire life to helping others. At its very core, Pat's story is one of faith, family, and gratitude. We are honored to have the opportunity to share it with you today—from the very beginning.
Pat was born and raised in Toledo, Ohio, surrounded by the love of her parents and seven siblings. As a child she attended Catholic grade school and fondly remembers the long walk to and from school.
Pat's dedication to helping others surfaced in 1st grade when a priest spoke to her class about mission work and helping those who are less fortunate. That very day, at the age of 6, Pat came home from school and shared with her mother the direction that her life would take.
And that it did. Pat went on to attend the Mercy School of Nursing in OH and later moved to Chicago for obstetrics training. Then, her journey took her to Puerto Rico where she learned to speak Spanish in preparation for her first mission trip to Comas, Peru in 1965—she was just 22 at the time.
A Life Changing Experience
Peru is where Pat's faith came to play another formative role in her life. It was here where she met Stefan, the love of her life, witnessed the great need of Peruvian mothers and children, and discovered the impact she could have as a volunteer. Both Pat and Stefan were devoted to their faith. They knew that it was God who led them to Peru to find one another and to serve together.
Peru is also where Pat first became aware of CMMB, as at the time, the medical donation program was providing medicines and medical supplies to the health clinic where Pat served. The great impact those donations had on her ability to provide care remains a powerful part of her time in Peru.
Pat speaks of those she served as welcoming, humble, and desperately poor. Families lived in huts made of bamboo and straw and slept on mats. The winter months were cold, and most had nothing but newspapers to keep warm. At times, Pat says she would treat up to 100 patients a day, alongside the six other women who lived in an apartment above the clinic.
Pat went on to see extremely high instances of tuberculosis and malnutrition. She remembers desperate mothers watering down their formula supplies in an effort to make them last longer. But the water they used was often unsafe and led to additional complications like waterborne illness.
Lessons for a Lifetime
Pat's faith, experience in Peru, and legacy of Stefan remain her greatest guides in life.
Devoted to her church, Pat continues to carry and share beloved traditions instilled in her at an early age. Pat, her five children and eight grandchildren, enjoy traditions like saying part of the rosary at Christmas time and singing Silent Night. Her husband, who passed away suddenly, is the inspiration behind her selfless giving.
In the words below, she shares a message for us, for our volunteers, and for all those we serve.
To CMMB:
Shortly before my husband died, my daughter was assigned to ask her father certain questions for school. And one of the questions was: If you had a million dollars, what would you do with it? One of the things my husband said was to send money to missions, to help others in need. So, I made that a point to do myself.
I remembered how helpful CMMB's medical donations had been in our clinics in Peru, and so I thought, this is the organization to support. They're doing the job on the ground and they're doing good things.
Today, it's the overall picture of CMMB's work that continues to inspire me. I see the reports that are made and I'm very happy about that. I know you do good work and I know that I can trust it.
To Our Volunteers:
Stay humble and be there for the people you serve. Give whatever you can to them, give yourself. Although what you're experiencing is very difficult, it may be the best time of your life when you look back on it. I'll never forget those three years I spent serving in Peru and how wonderful that experience was—even though it was hard sometimes. It was a wonderful experience.
Don't be afraid.
To Those We Serve:
I'm here with you and for you, whatever you need. Even if it's just for a prayer. I have so much to give and I ask for nothing back.