Increasing access to quality medicines for the most vulnerable
The World Health Organization estimates that one-third of the developing world is unable to receive or purchase essential medicines on a regular basis. Clinic shelves are often bare, but even if they were stocked, low incomes make medicine unobtainable for many. Over the last ten years, CMMB's Medical Donations Program has deployed more than $4 billion worth of medicines, health commodities, and medical supplies in 120 countries.
Cost is among the top barriers to proper healthcare for children, women, and communities in the countries we serve. In partnership with leading pharmaceutical companies and trusted local partners on the ground, we are delivering medicine free-of-charge to the most vulnerable people in the world. The need to improve the availability of safe, high quality medicine to the poor is well known and an important part of our goal to support healthier lives worldwide.
In 2018: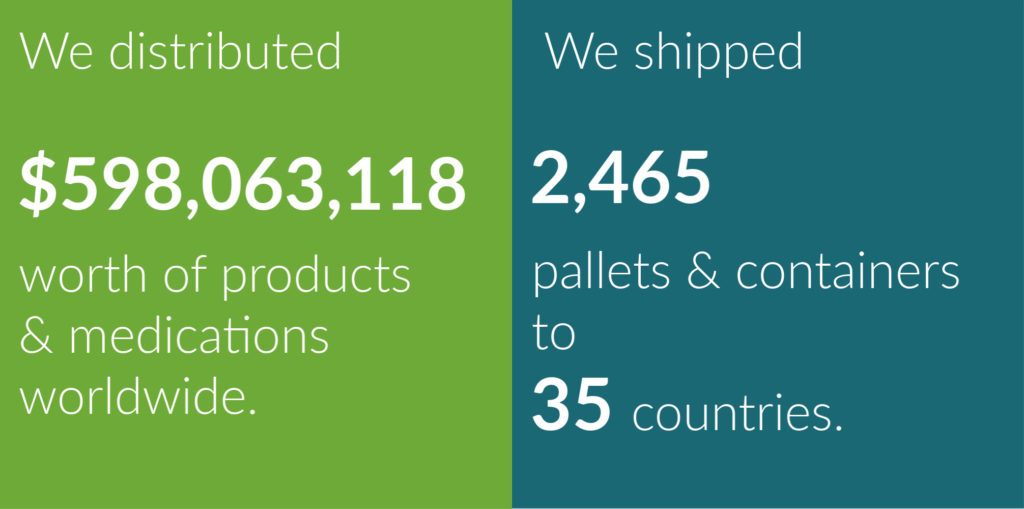 Ways to Give
Donate Now:
Stock a Clinic for a Year with Essential Medicines
Donate Product:
Manufacturers interested in product donation, contact us by phone at 718.928.2836 or by email at mdpoffers@cmmb.org.
CMMB Large Capacity Consignee Application:
Health facilities (non-US) and international NGOs working with health facilities that are interested in applying for CMMB medical donations, email us at donationrequests@cmmb.org to learn about the CMMB application process and to receive required forms. Please be sure to include the following information:
Name
Organization name
Organization primary contact (if different from above)
Brief description of your program/s
CMMB Hand Carry Consignee Application:
Medical Mission Teams and medical practitioners interested in applying for CMMB medical donations click here.
Explore Our Reach
Click on one of the options below and discover CMMB's global reach by exploring our interactive map.