Scott Kobler Joins CMMB Board of Directors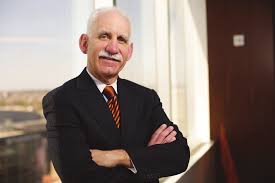 We are pleased to introduce Scott Kobler, one of the newest members of our board.  Originally from Philadelphia, Scott attributes God with placing him in Newark, New Jersey, which has been his professional home for nearly 40 years.  Scott is a prominent transactional lawyer at McCarter & English, specializing in significant and complex health care and non-profit matters, and an active philanthropist, currently serving as chair of board of New Jersey's public television station and a trustee of the New Jersey Performing Arts Center.  He has been involved with the Newark Alliance, a nonprofit dedicated to the city's ongoing revitalization since its founding in 1999, and is a life trustee of the New Jersey Symphony Orchestra.
We recently had the opportunity to speak with Scott about what inspires his philanthropic work, why he joined CMMB's board, and what he hopes to achieve during his time with CMMB.
---
Why do you think you are the person you are today? 
I am a product of the people in my life… the people whom I have cared for most and those who have cared for me.  I would not consider my parents to have been "philanthropic leaders", but they were good people with kind hearts.  I teased from them a profound respect for equality and fairness, notably during turbulent times in our country.
I am very consequentially supported by my wife, who possesses her own charitable passions. Her support has afforded me the opportunity to do things beyond simply being a provider.  Collectively, these experiences have given my life much more texture.  I have observed that our charitable DNA has been imparted to our daughter, who one day, I have no doubt, will give of herself more than my wife and me.
I have also been inspired by great historical leaders and am somewhat of a student of the work of Dr. Martin Luther King Jr. I have toiled in the City of Newark for almost 40 years — a city that is probably in the top five most socioeconomically-challenged in the country.  Rather than deflecting from the challenges of Newark, I have embraced improving the city's "life cycle" as remarkably enriching.
How did our board chair, Sister Rosemary, convince you to join our board?
Sister Rosemary and I have known each other for years and I have witnessed her invaluable leadership through the mission of The Sisters of Charity of Saint Elizabeth.  Occasionally you meet people such as Sister, in whom you transpose and trust your judgment as if your own.  When Sister Rosemary asked me to consider becoming a board member for CMMB, I investigated CMMB and recognized its remarkable history and results, as well as the very high qualifications of the board.  I am enormously honored to have been asked to join.
Is there something about CMMB's mission that attracted you?
CMMB is a "needle mover." CMMB is a network of people of great accomplishment who could all be doing other things, but are devoting their time and industry in a collaborative way to improve the lives of the most vulnerable in among the neediest spots in the world.  It is a bit of a pivot for me.  Most of my interest over decades has been in the arts and public media, domestic health care delivery or the rhythm of an American city.
I have only just participated in my second board meeting with CMMB, but I have attended other events prior to joining the board.  Through those events and subsequent conversations, I have observed an extremely notable and high level of staff passion and enthusiasm.  I keep coming back to the word "passion".  In addition to the longevity of the organization and its benefactors, I am impressed by the passion of the people who know the most about CMMB.
What do you hope to bring to CMMB as a board member?
There are lots of things that a board member can deliver.  A board member can bring financial resources and that's great and that's necessary. But if that's the limit to which a board member performs, then they might as well not join. It is not enough.
A board member should bring sound judgement from all of his/her collective experiences to governing, shepherding, and molding the contours of an organization.  I like to view myself in some measure as a collector of relationships.  New Jersey is America's medicine chest and an enormous component of CMMB's work is the delivery of pharmaceuticals to our partners. I hope to use my relationships to open doors, to let people on our staff explain what we do at CMMB, and to position us to receive greater goods that will benefit our ultimate end users.
What are the things that you hope to accomplish or to contribute to during your time serving on the board? 
What struck me about my second board meeting was just the incredible warmth that I have feel in being welcomed into CMMB.  Listening as a board, allows us to compliment, complement and benchmark the great work of the people who are really doing the job. It's more than that, but that's really the most important thing — that board members are also there to offer guidance and sensibility.
I've been on so many boards where the representation has been corporate rather than personal. That is not the case with this board.  I'm glad to be part of our organization and that I am recognized as the kind of person that can dive in and try to do something constructive.
Have you ever been to any countries where we work?  
I have not, but it is something I would like to do soon.