The Law of Love – Your Weekly Reflection from CMMB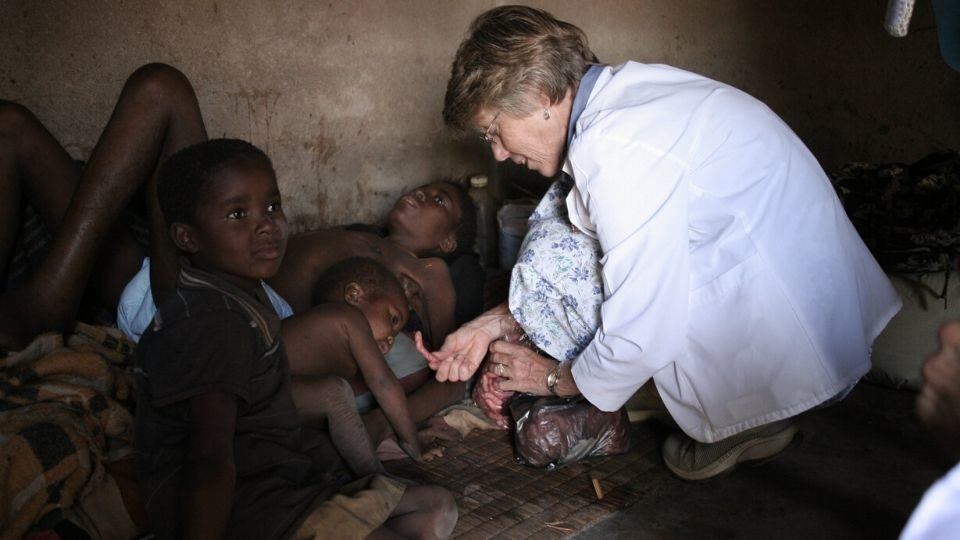 "Whoever obeys and teaches these commandments will be called greatest in the kingdom of heaven."

—Matthew 5:19
In today's Gospel, Jesus talks about following God's Law in a new, more sincere way. In his Sermon on the Mount, he pointed out that the old Law required people to do the minimum. He has come to teach us how to go beyond the minimum requirements of the Law by adding love in our hearts for our fellowmen. It's not enough to honor God through exterior acts. The value of service comes from the inside, from a genuine intention and a will to please God. This is the new Law—Christianity.
Jesus had not come to abolish the Law of Moses that the Jewish people had been following for centuries. He came to give it new life by asking his followers to respond with love in everything they do.
Longtime CMMB volunteers, Kathleen and Al Hartmann have dedicated much of their lives to bringing love and dignity to the people of Swaziland.  Kathleen is a registered nurse and Al is a medical doctor who met while they were both working at St. Vincent's Hospital in Manhattan. Now retired, they spend six months out of every year providing home-based medical and palliative care in poor, rural communities devastated by HIV/AIDS, cancer, and a host of other illnesses. Together with a team from the Good Shepherd Mission Hospital, they administer medications, treatments, and human kindness as well as advocating for those whose voices that are so often unheard.
It's been 17 years since Kathleen first traveled to this small African nation, marked by its northeastern border with Mozambique and stretching down to South Africa. It was here that she helped to establish the medical team that brings much-needed love, care, and compassion to those living too far from the essential healthcare they so desperately need.
Along the way, the Hartmanns have built extraordinary connections. Kathleen describes the enduring bond that developed after an encounter with two young boys, Sphamandla and Thobani.
I took a long walk up this hill with a group of children. As the sun was setting I said to them, "What a beautiful sun you have in Africa!" and this little boy, Sphamandla, came over and tugged at my skirt and said, "Mage (means mother), I think it is the same sun everywhere." I said, "Thank you Sphamandla!" He was so bright right from the beginning. A very gentle soul. Spha was the type of child that would watch over the littler ones; when I offered candy to the children he was never the first one to grab it.
Thobani was born with spina bifida. He didn't have full use of his lower extremities and would drag himself from the mud hut where they lived around the homestead. As a result, his legs were constantly getting infected because he would scrape the skin off. We had been busy giving him medicines, antibiotics, wrappings, and teaching his mom how to take care of the wounds. One day I asked him if there was something else we could do to make him feel better. He said, "I just want to go to school and wear a uniform." His wish had nothing to do with his sores—he just wanted to be a normal kid. I told the other boys about Thobani, that he was in the hospital and needed a friend. I asked if they would visit him once in a while. That's how he and Sphamandla met.
Seventeen years later, they're now 27 years old and they're very good friends. Sphamandla is a radiographer and Thobani, who got married last year, is an award-winning wheelchair basketball player and works for the non-profit Operation Hope. I can't picture life without either of them. They're part of who we are. My grandchildren, our children, our friends all know them. There are pictures of them along with our own children and grandchildren around our house. We've watched them grow and overcome incredible hardships. I can't tell you how many times Thobani has been knocked down. He just finds a way to come back up. All our lives have been enriched just by knowing each other and being with each other. —Kathleen Hartmann
The boys feel equally grateful for the Hartmanns:
You have been a mother and father to me and I am here today because of the love you showed me. I wish that everything you touch, everything your family touches, will succeed." —Thobani 
"I am glad that I met you at a very early stage in my life because I have since learned to care about other people. I am thankful for all the support and the love you continue to give me." —Sphamandla
The Hartmanns have touched so many lives and changed them for the better because of the love that entered their hearts for the people of Swaziland. That's where true, genuine service begins—in the heart. Let us pray for God's grace to keep our hearts open to love, today and every day.
In grace and peace,
CMMB/Healthier Lives Worldwide
*Parts of this article were inspired by Loyola Press Sunday Connection.