CMMB Endorses Declaration on Ethical Global Health Engagement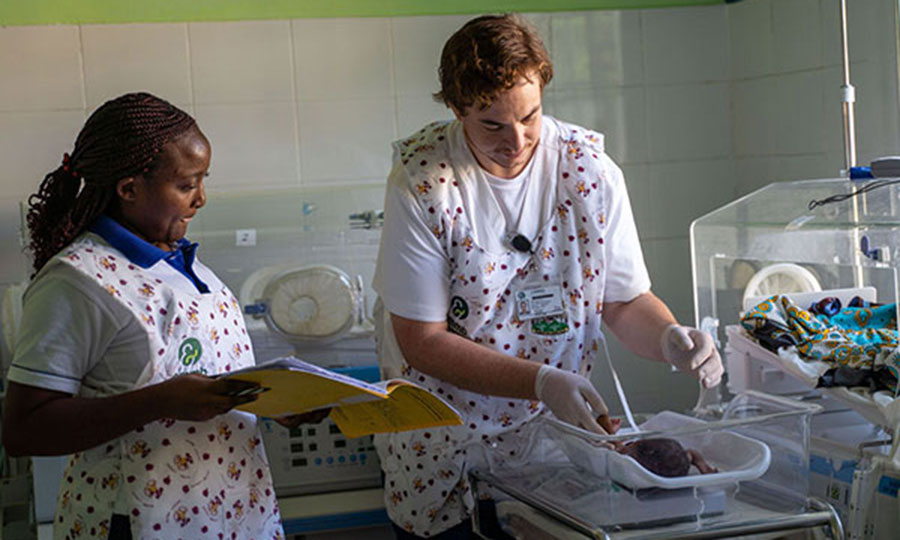 Since 2018, CMMB has contributed to important discussions organized by Advocacy for Global Health Partnerships (AGHP), a multidisciplinary coalition that connects global professionals of diverse backgrounds in nursing, dentistry, medicine, public health, and more. Coalition members hail from across academia, public health organizations, faith-based and secular healthcare NGOs, and other healthcare associations.
A shared recognition unites these experts: Global health partnerships between the Global North and the Global South may not be sufficiently regulated or coordinated to ensure the best use of resources and the most sustainable impact on communities served. CMMB's Volunteer Program Manager, Marcia Grand Ortega, participated in conversations aimed at addressing this important recognition.
The result was the Brocher Declaration. Finalized in 2020, it's a statement of ethical principles designed to guide policy for short-term global health engagements and urges health professionals and organizations to prioritize mutual respect, solidarity, and social justice.
The Brocher Declaration
"The Brocher Declaration applies to a range of short-term global health activities, including clinical and other educational exchanges, student and trainee research projects, and medical mission trips. It outlines six principles/conditions that should guide these programs, including:
mutual partnership with bidirectional input and learning;
empowered host country and community-defined needs and activities;
sustainable programs and capacity building;
compliance with applicable laws, ethical standards, and codes of conduct;
working with humility, cultural sensitivity, and respect for all involved; and
accountability for actions."
Healthier Lives Worldwide: CMMB's Commitment
In line with the Brocher Declaration, and the values of those who support it, CMMB believes in decolonizing global health practice, research and education, and ensuring that volunteerism is pursued in the most responsible and impact-driving way. That's why we are committed to ethical, legal, and regulatory standards that inform our efforts and reduce disparities in health and well-being around the world.
"Shift the paradigm from viewing host communities as the 'other' to viewing themselves as 'outsiders', while acknowledging the differences in needs, culture, and practices."  – Brocher Declaration
Our goal of achieving health equity, and our devotion to our Jesuit roots, commit us to put community needs at the center of our work. We understand that global health engagements should be sustainable, bidirectional, adhere to appropriate legal standards, and be adequately evaluated. We have also steered short-term engagements to focus on building local health workforce capacity.
"We aim to prepare volunteers to respect the culture, history, strengths, and limitations of the communities they are visiting, recognizing the expertise and experience of host country health professionals, and strengthening health systems by empowering host country communities." – Marcia Grand Ortega
It's for these reasons that we support the Brocher Declaration and commit to its ethical principles and guidelines.
Join us as we continue to reflect on the importance and implementation of these principles in our global work at CMMB and extend the call on the international community. Let's make every effort to maximize value of short-term engagements in global health.
To learn more about how we applied these guidelines to our volunteer program, see the CMMB Volunteer Program Principles.