The Promise of Hope
August 25, 2023 •
By Sarah Rubino, CMMB Volunteer •
South Sudan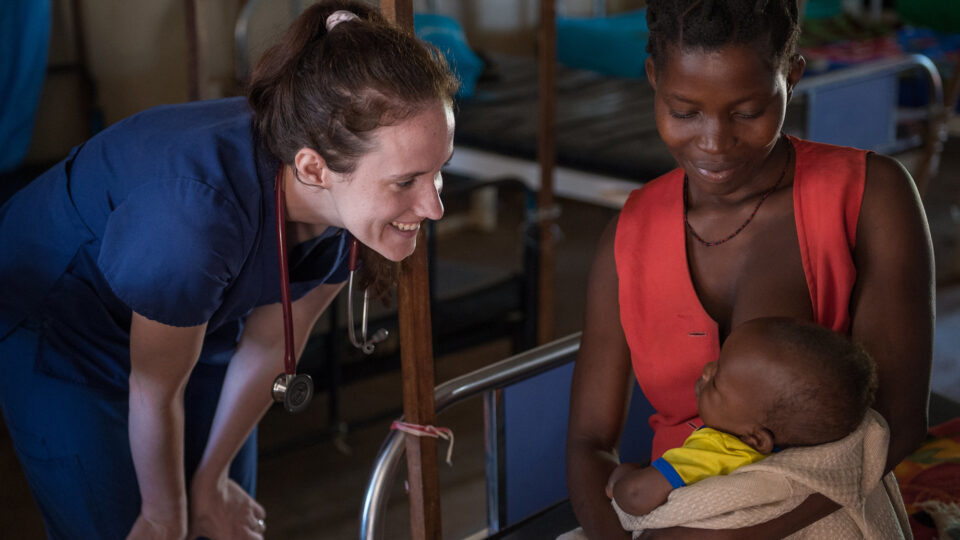 I remember peering through the glass window of the door to the new operating theater. One of my patients, a mother, was receiving a critical transfusion in preparation for an operation we hoped would save her life. I'm not an overly emotional person, but as the surgeon, anesthesiologist, and surgical staff whirled around, I couldn't help feeling overwhelmed. In the little village of Nzara, South Sudan, this was the day that a mother had hope.
Our Journey Begins
It was a long journey to get here—one that started decades ago. The Aurora Foundation awards $1 million each year for Awakening Humanity, "on behalf of the survivors of the Armenian Genocide and in gratitude to their saviors… to an individual whose actions have had an exceptional impact on preserving human life and advancing humanitarian causes." The award is modeled on the conviction that kindness and hope, passed down, will reach further than hate. I believe it is this same kindness, the same hope, that eventually extended to this South Sudanese mother.
In 2017, Dr. Tom Catena, CMMB's longest-serving volunteer doctor in the Nuba Mountains of Sudan, won the Aurora Prize. CMMB was one of the three organizations he chose to support with his award. CMMB then used his donation to start the Aurora Fellowship for volunteers and help fund the expansion of St. Therese Hospital in Nzara, South Sudan.
As newlyweds, my husband Martin (an engineer) and I (a newly graduated nurse-midwife), applied to CMMB through the Aurora Fellowship program, which supported our year-long service in Nzara. Martin assisted in the construction of new health facilities, while I worked in the primary healthcare center, assisting mothers during pregnancy and delivery.
Struggles of Nzara's Communty
It was an extremely challenging time for people in Nzara. South Sudan had not yet reached lasting peace from its civil war, and the instability limited access to roads, created supply chain issues, led to food insecurity, and manifested itself in a general sense of uncertainty that was tangible within the community. All of these issues, in turn, led to an increased risk of death for Nzara's mothers and babies.
There were times when the midwives and I would be caring for a newborn who desperately needed oxygen while the limited solar power was out. We attended some deliveries by the light of a single flashlight. When there was a doctor available for emergencies, we performed C-sections in a tiny room lit by one lightbulb, if there was power. And when there was no doctor available, we sent patients to the next town, over challenging roads filled with potholes as deep as three feet. One cool night, we even warmed a premature baby with blankets in a carboard box.
During the rainy season, it could easily take over an hour to reach the nearest doctor, a nearly impossible feat that I once saw completed by a mother on all fours while she experienced an obstetric emergency called an umbilical cord prolapse. Often, the midwives and I would pray that the roads would be safe from the instability and fighting so we could get vital supplies and medication—all the while, watching and waiting while our inventory diminished to a single pair of gloves.
Hope Within Sight
Throughout the struggles, we watched as the new maternity ward and operating theater were being built. There was hope in that construction. Hope here in Nzara that one day soon the fighting would stop, the buildings would be constructed, the medications and supplies would come, and more lives could be saved.
After a year of service and witness to the many struggles of Nzara's people, my husband and I returned to the United States to deliver our son. Shortly after, we were given an invitation from the Aurora Initiative to come to the 2019 Aurora Prize ceremony in Armenia and speak about the far-reaching impact that Dr. Tom Catena's initial award had made on St. Therese Hospital and CMMB's volunteer fellowship. Our son Max turned four months old while on that trip, and I felt a profound sense of gratitude at his reaching that milestone as I stood clutching him during a ceremonious visitation of the Armenian Genocide Memorial, atop a small mountain overlooking the beautiful Armenian countryside.
It was an incredible and humbling experience to meet the men and women who were present that day because their family members had survived the Armenian Genocide. Their kindness and gratitude were being felt all the way in Nzara, South Sudan, as the finishing touches were being completed on the new hospital buildings. It was also there that we got to meet Dr. Tom, whose hard work, perseverance, and quiet sense of joy brought about the honor of receiving the Aurora Prize and allowed him to reach further, and in different ways, than he could have alone.
Several months later we were able to return to Nzara with our then 7-month-old son to witness the opening of the new buildings, as the community and CMMB prepared for this momentous occasion. Sadly, the opening had to be delayed due to COVID-19, a worldwide pandemic causing a new level of insecurity and supply chain issues that again fell hard on the people of Nzara. Then, after months of driving supplies over dirt roads, the newly constructed buildings were supplied with lifesaving equipment and provisions, and St. Therese hospital was able to open the doors of the new buildings to the community.
The Promise of Hope Fulfilled
Now our family is back in Nzara, South Sudan once again. This time my son is almost four years old, and our daughter is just turning two. My husband and I have had the honor and privilege to witness the complete cycle of the incredible hope that has been brought to Nzara. There is now surgical care for all mothers who need lifesaving operations. As a constant stream of reliable solar power fuels the hospital, premature babies now have incubators, newborns have access to oxygen, midwives have light during deliveries, mothers have round-the-clock access to a C-section if there is an emergency, and countless others  can receive surgeries that, in the past, would never have been possible.
Our doors are wide open as we welcome countless referrals from neighboring hospitals for our lifesaving services. The midwives are now able to provide improved care to mothers and babies, and they get to witness the joy on so many mothers' faces as we dance in celebration when their premature babies are strong enough to go home, Amazingly, just a few years ago, this was not always the case.
I cannot put into words how incredibly thankful we are that this chain of hope has reached as far as Nzara. Thank you to all who are survivors of the Armenian Genocide. And to the lives lost, may your souls rest in peace.
Thank you from Nzara, South Sudan. Our work here is not done. But there is joy here. There is peace. And there is hope.