Addressing the Hidden Crisis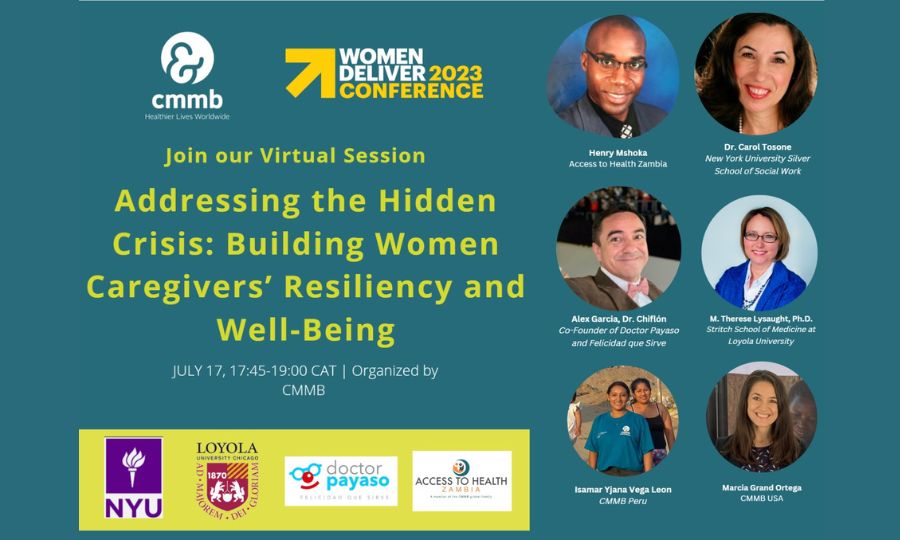 Building Women Caregivers' Resiliency and Wellbeing
By Marcia Grand Ortega, CMMB Volunteer Program Senior Manager
In many ways, the COVID-19 pandemic was a wake-up call for the health sector. One of those ways, which I feel most personally connected with, is an acknowledgement of the importance of caring for the mental health of our healthcare workers. As a global health professional, manager to a Human Resources for Health program, and with a background in psychology, I was deeply honored to co-lead the Building Resiliency program. As a virtual training series launched at the height of the pandemic, the program aims to support the mental health and wellbeing of CMMB colleagues at the frontlines in Africa, the Caribbean, and Latin America.
This is an honor because, as we know, health workers were particularly affected by the pandemic. We're familiar with the saddening reports of that time. Health workers found themselves working long shifts without breaks and limited supplies. Women account for  67% of the global health and social workforce. They witnessed the loss of patients, colleagues, and loved ones, and provided emotional support not only to patients, but to their families and their own colleagues. This reality was far worse across low-and-middle income countries (LMICs), like those where CMMB serves. In these regions, resources for mental health are scarce and interventions extremely limited. The combination of these factors has led to a mental health crisis among health workers.
2023 Women Deliver
I had the opportunity to share some of this work and advocacy. In July of this year, I organized and moderated a panel discussion at the 2023 Women Deliver conference on this important topic.

Our panelists worked throughout the pandemic to offset global mental healthcare disparities in multiple countries across the Global South and shared their diverse experiences with a tuned-in audience. Embracing their own personal reflections, as well as vetted research, they presented how key interventions can support healthcare workers psychosocially and spiritually. And, in doing so, empower women and build community among the health workforce.
Among our speakers was Isamar Yjana Vega Leon, who began as a CMMB community health worker when she was 25 years old, just before the pandemic, in Trujillo, Peru. She shared how she witnessed the pandemic as caregiver for her community and a young mom.
"By working together, we collaborate so that our community can get ahead to help each other overcome uncertain difficulties during tough times."
–Isamar Yjana Vega Leon
Dr. Therese Lysaught, a professor at Loyola University, theologian, and ethicist, joined CMMB as a volunteer when pandemic travel bans were just put in place. Jointly with Beth Reece MDIV, BCC, manager of spiritual care at the Shirley Ryan AbilityLab, the virtual Building Resiliency Program was born. Dr. Lysaught shared her experience as a volunteer and a leader of the virtual workshop conducted for CMMB staff, as well as challenges and achievements.
"Making space for caregivers to share their story leads to the deepening of community while fostering creativity, hope, faith, and post-traumatic growth."
– Dr. Therese Lysaught 
My colleague and project manager from Access to Health Zambia, Henry Mshoka, shared his experience as a participant to the Building Resiliency Program. He spoke of how the learnings and resources helped staff and, in turn, the community.
"The Nampan radio program has been a foundational building block in Zambia providing connection, hope, and wellbeing to those serving in rural communities."
Dr. Alex García, or "Dr. Chiflón" (Dr. Whistle) as he is best known, is the Co-Founder of Doctor Payaso and  Felicidad que Sirve (Happiness that Serves). He brought this perspective around working with clinical healthcare professionals in organizations across Latin American.
"When we connect from the heart, we become medicine to one another."
– Dr. Alex García
Finally, Dr. Carol Tosone, a distinguished professor and researcher at New York University, helped us better understand this global phenomenon and the concepts of shared trauma and resiliency—and the role of organizations can have to support their staff.
"People who feel supported by their organization's do better work, are less burnt out, and are less traumatized resulting in innate resiliency."
Together, we recommend global health institutions develop self-care and post-traumatic growth programs. We advocated for the importance of creating accessible, inclusive spaces where healthcare workers can share their stories with colleagues, build community, gain personal awareness, foster creativity and hope, encourage self-compassion, and intentionally integrate faith and spirituality into personal self-care and organizational cultures. We also believe it's important to improve platforms for virtual and hybrid cross-border cooperation and learn to fill current gaps in mental health human resources and knowledge in LMICs.
We see action in this arena as a commitment to human dignity and to integrated healthcare worker development.