"Doctor, is my child going to die?"
January 23, 2017 •
Harry Owens, Jr., MD •
South Sudan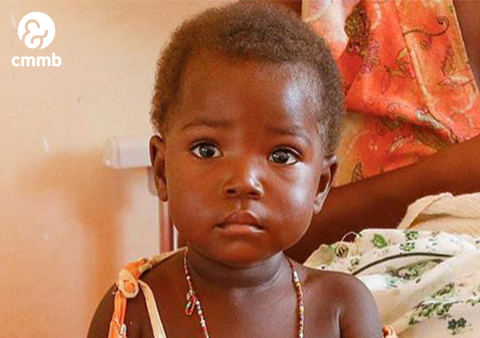 It was around 4 pm on a Sunday afternoon and Joseph, the Clinical Officer – the term used in Africa for a Physician's Assistant – and I were seeing emergency patients at St. Theresa Hospital in Nzara, South Sudan. A man carrying a young girl in his arms came hurriedly into the exam room, and I could see at a glance that the little child was seriously ill. Her name was Nathalia, and she was four and a half years old.
We quickly put Nathalia on the exam table, placing her gently on her back. She was barely conscious. I took a quick medical history, and it sounded very familiar and very typical for this African region. James, Nathalia's father, spoke fairly good English, so I was able to talk directly with him and did not have to rely on my interpreter.
Nathalia's temperature was 104 degrees.
James relayed the little girl's story. Nathalia had begun to have fever and headache on the previous afternoon, and then the fever became very high in the mid-evening. James gave Nathalia fever medicine, but it only helped for a few hours. She started to have a cough, and by the end of the night, she was also vomiting and had diarrhea. This morning, Nathalia's fever went very high and stayed that way. Her temperature was 104 degrees in the exam room.
As James told the story, I was examining the child, checking her temperature, getting her weight, starting intravenous fluids, and beginning to write orders into the medical record. Nathalia had malaria and pneumonia, and had become seriously dehydrated.
Nathalia was very sick with malaria, pneumonia, and severe dehydration.
As James watched me add quinine to the IV fluid bottle he asked:
"Doctor, is my child going to die?"
I answered him. "James, Nathalia is very sick with malaria, pneumonia, and dehydration. We will do our best to give her medicines and fluids to cure these problems. But we won't know for a day or two whether she will get well."
Though clearly concerned, James said he understood, and thanked us for all we were doing.
Nathalia was transferred to the 65-bed pediatric ward. The ward was already about two-thirds full with sick children, many of whom had similar illnesses. James began his night vigil. He sat on the edge of Nathalia's bed and held her hand while she slept fitfully through the night. By sunrise, her fever was down, though her cough was worsening a bit.
James left in the early morning to go home to care for his other young children, and to give his wife a chance to be with their daughter at the hospital.
During the first few days of Nathalia's hospitalization, there were some medical "ups and downs." James and his wife Francesca took turns staying at her bedside, and Nathalia was constantly attended by one of them.
By day five, the fever had stopped, and Nathalia showed definite signs of recovery. She regained her ability to take food and liquids, and slowly began to get out of bed, walk a little, and sit outside in the shade for brief periods of time. Her brothers and sisters, some younger and some older, were also able to come spend time with her.
On day seven, Nathalia was well enough to go home, and together with her parents and siblings, she shyly said her goodbyes to the nurses and staff.
Malaria (often complicated with pneumonia in children), is a big problem throughout the global equatorial region.
Nathalia's medical illness, malaria (often complicated with pneumonia in children), is a big problem throughout the global equatorial region, and Africa is heavily hit by it – Nzara especially. Children are especially vulnerable and susceptible. Nathalia is blessed to have attentive parents and a good hospital in her town, and with these, she was able to survive this serious illness.
I feel privileged to be able to serve here for a short while and to assist St. Theresa Hospital in the good work they are doing to improve the health of the community, especially the children. I am thankful to CMMB for making it possible for me and other volunteer health care workers to participate in these health projects and programs in under-served areas of Africa, Latin America and the Caribbean.
I am also grateful to my family and friends who have donated to CMMB to assist them in this important humanitarian work.
---
ABOUT THE AUTHOR: Harry Owens, Jr., MD holds degrees in Biology and Medicine from St. Louis University, and a Masters in International Management (MIM) from the Thunderbird Garvin Graduate School of International Management. Currently a CMMB medical volunteer assigned to Nzara Hospital in South Sudan, "Dr. Harry" has spent many years working in family and emergency medicine, and international health, first in the Alaskan Arctic with the Eskimos, and then extensively overseas in remote, developing world countries including the Brazilian Amazon and jungles of Africa. Dr. Harry makes his home in a little cabin on the McKenzie River, located in the Willamette National Forest a short distance from McKenzie Bridge, Oregon. In any given year, he makes time for wilderness hiking and camping and occasionally participates in group wilderness trips, teaching wilderness medicine and survival.