Five Months in South Sudan: Reflections from the Maternity Ward
November 23, 2022 •
Brooke French •
South Sudan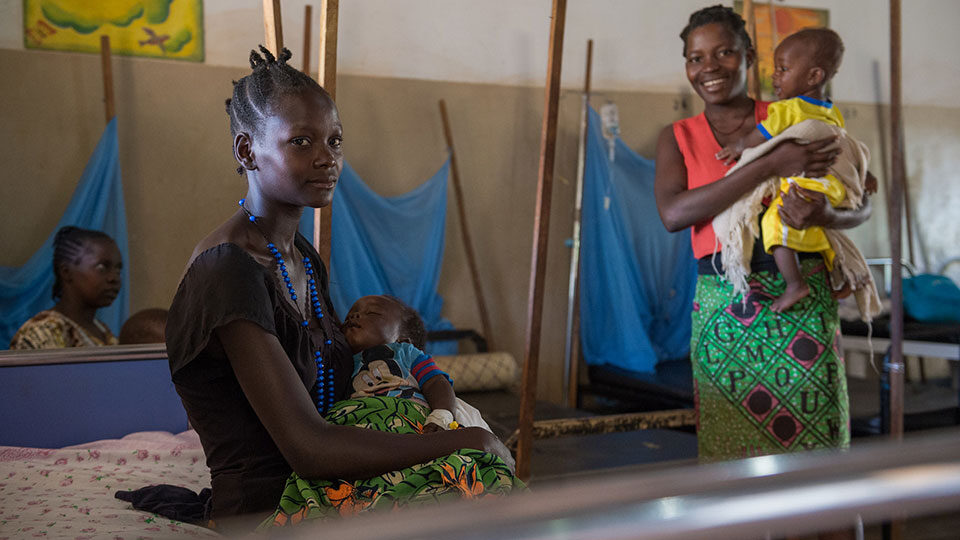 CMMB Volunteer Brooke French shares reflections from her fifth month of service at St. Therese Hospital in South Sudan. Here, she reflects on her time caring for patients in the maternity ward.
---
During my fifth month of volunteering at St. Therese Hospital in Nzara, South Sudan, I spent two weeks in the outpatient department and two weeks in the maternity ward seeing babies less than 28 days old. I worked with a clinical officer in the outpatient department, who was in charge of the malnutrition program. I have observed patients experiencing malnutrition in the outpatient, pediatric, and maternity departments.
I have seen how vital breastfeeding is to have healthy babies here. I remember seeing emaciated children to varying degrees in the malnutrition section of the inpatient pediatric unit. For many of these children, there was a lack of breastmilk. I observed this situation a few times when siblings were very close in age, sometimes less than one year difference. The malnourished child would have a younger sibling who was bigger than them. The mother may only be able to breastfeed one child. Sometimes, the parents report the child got sick and had a poor appetite or did not tolerate food well since their illness.
I have seen a few babies in the maternity department that stay longer or are admitted back into the hospital because they have difficulty breastfeeding. Most babies eventually start to breastfeed once their mother's milk is in, and the mother is comfortable breastfeeding. I saw a baby in the outpatient department who was eleven days old. The mother said she had no breastmilk. The clinical officer said there was only one formula that could be bought at the bigger market in Yambio, about 45 minutes away depending on the roads. The parents were going to try and get the formula.
I started in the maternity department the next week. This same baby was admitted for developing diarrhea from drinking the formula. The baby eventually had a nasogastric tube placed and was fed a diluted medical formula called F100. Unfortunately, this baby developed abdominal distention and died shortly after. This poor baby was so small and emaciated. His parents tried so hard. It was heartbreaking.
There are very complex protocols for managing malnutrition. The degree of malnutrition is measured. The patient is started on a medical F75 or F100 formula. The patient is weighed each day. Input and output are measured. Once the patient starts eating and gaining weight, they are transitioned to an outpatient nutrition program where they will get the formula and supplements they need.
It seems like we have so many different types of formula available for babies in the US. Although, breastfeeding is best, it is not required for life, as there are alternatives for feeding babies. I have seen a few babies cared for by other family members when the mother is unable to care for the baby. Breastfeeding has sustained babies since the beginning of time. It is an absolute lifeline for a baby here.