With Time We Understand – Your Weekly Reflection from CMMB
By CMMB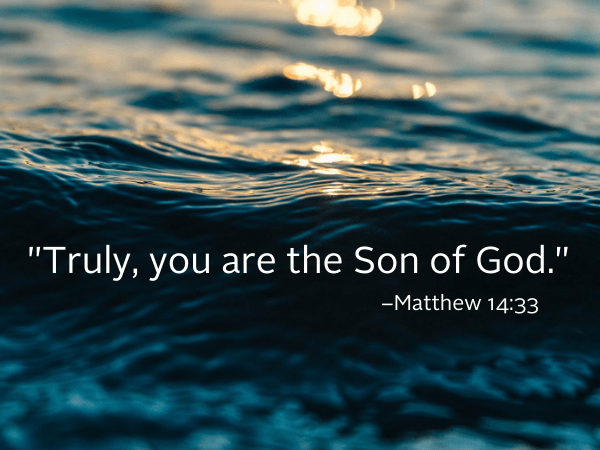 Today's Gospel follows the events of last week's reading, where Jesus multiplied five loaves of bread and two fish into enough food to feed a crowd of 5,000.
When the crowd disperses, he sends his disciples to journey ahead of him by sea. Jesus then continues his search for solitude and retreats to the mountain to pray.
On their journey the disciples encounter a strong storm. Battling the winds and the waves they see something appear before them on the water. Frightened, they mistake the figure walking toward them as a ghost. But Jesus calls out to them and their fears begin to ease.
Peter asks for proof that the figure is indeed Jesus and is called out onto the sea. He walks on the water but is overcome with doubt and begins to sink. Jesus reaches out to Peter and saves him. As the pair returns to the boat, Matthew recounts for us that the storm then calms. It's in this moment that the disciples proclaim their belief in Jesus as the Son of God.
There are many ways to connect with today's reading. Peter's walk on water and the multiplication of bread and fish teach us that with faith in Jesus, we are able to do as he does—with faith we can follow in his footsteps.
At CMMB, we also draw connections from the disciples and their journey to fully understand Jesus as the Son of God.
Our volunteers go off to serve knowing that they'll touch the lives of others. What's harder to understand is how much they will change themselves. Just as the disciples came to understand Jesus, our volunteers come to understand their experience over time.
We end this week's reflection with the words of former volunteer Rose Paneno, who shared with us where her journey has led her since returning home. You can find her full story on our blog.
One of the changes I have noticed in myself, which I have reflected on deeply, is the importance of gratitude in my life. Working in Zambia exposed me to all levels of society and resources and as an outsider, it was easier for me to examine myself and reflect on the ways that I have been blessed. Framing my life in terms of gratitude helps me to overcome difficult situations. It allows me to look at the tools that I have access to, including my resilience, education, supportive family and friends — to name a few.
Too often, I feel that while at home I am overwhelmed with the media's suggestions that I don't have enough — that I need something in order to be successful, beautiful, happy, strong, good enough etc. However, this is a lie that I have since learned to reject.
In grace and peace,

Bruce Wilkinson
President & CEO, CMMB