Your Palm Sunday Catholic Reflection From CMMB
By CMMB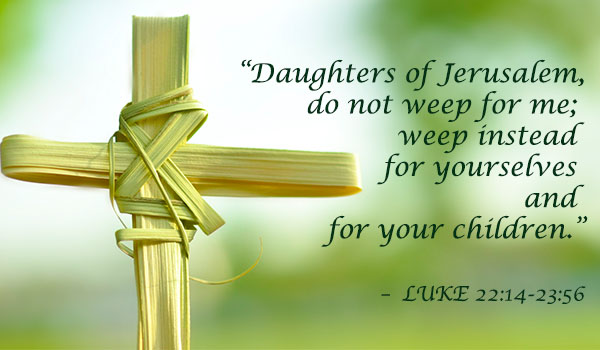 Today is called Passion or Palm Sunday. It is the first day of Holy Week. Holy Thursday, Good Friday, and the Easter Vigil on Holy Saturday are called the Triduum, the three days that are the highlight of the Church year.
In today's second Gospel, when Luke describes the Way of the Cross and Jesus' crucifixion, he calls to our attention many events that are not reported in the other Gospels of Matthew, Mark and John. It's interesting to note that throughout his Gospel, Luke pays attention to the women who accompanied Jesus. On the road to Calvary, Jesus speaks to the women who mourn and cry as they walk with him:
Jesus turned to them and said:
"Daughters of Jerusalem, do not weep for me; weep instead for yourselves and for your children for indeed, the days are coming when people will say, 'Blessed are the barren, the wombs that never bore and the breasts that never nursed.'"
Of course, the most important woman accompanying Jesus on the Way of the Cross was His mother. Even before His birth, Mary was an example of complete obedience to the will of God; she did not waver or question. Mary stayed with her Son every agonizing step of the way toward the Cross, never turning from her child's horror and pain. Mary was a mother's love personified. In our work and in our visual identity, the image of mother and child always remind us of their perfect love. We strive to follow the example of Jesus as we support mothers and children who struggle to survive poverty, hunger, illness and indifference.
Throughout Holy Week, it's important to reflect on the events of Jesus' passion and death. As we meditate on the cross, let's ask ourselves again what it means to make the statements of faith that Mary and Jesus did. Both were completely obedient to the Lord. In Jesus' suffering and dying, He revealed Himself to us as God's Son and brought to fulfillment the Kingdom of God.
Read more about people in our community follow His mission here.
*Today's reflection in inspired by and adapted from Loyola Press Sunday Connection.