Blessed Are the Servants – Your Catholic Weekly Reflection from CMMB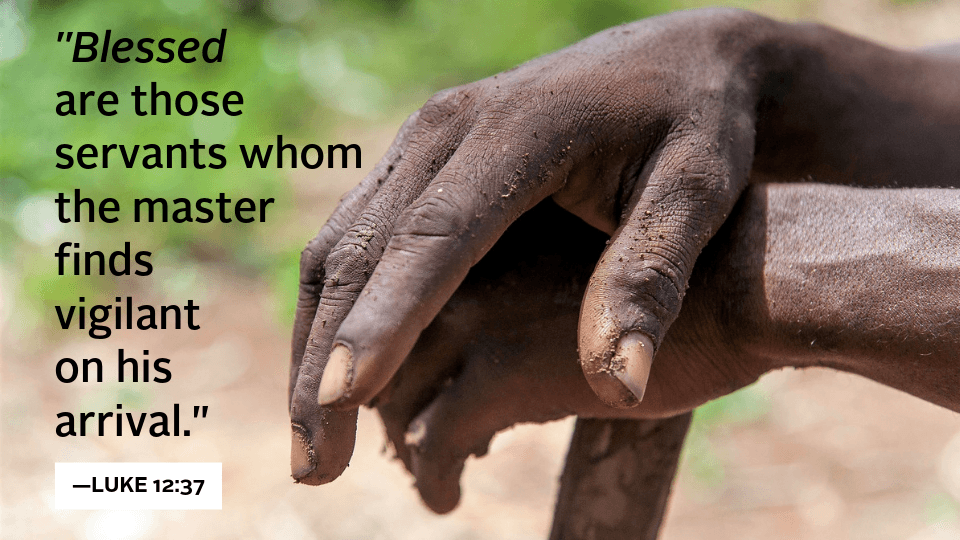 In this Sunday's Gospel, Jesus uses two parables to remind us that we need to be doing our jobs in preparation for his return. One parable talks of watchfulness, in the other we hear about the reward for the faithful follower.
How can we prepare for the Lord's coming? Jesus wants us to love one another the way he loved us—selflessly. He wants us to be alert to the needs of others and notice how we can help them so that when he returns, he will find us acting like true disciples.
One of CMMB's partners in the Dominican Republic, Fundación Hospital Buen Samaritano, is caring for the health of a vulnerable, oppressed community largely unknown to most of the world. Hoping to escape poverty and lack of opportunities, many Haitians flee to the Dominican Republic in search of a better life. Some are able to find jobs in the tourism industry, but those who lack proper documents to apply for legal residency have few options but to do the back-breaking work of harvesting sugar cane.
In the sugar cane fields, the migrants live in bateyes, which are villages constructed exclusively for Haitian laborers. A dry and dusty heat hangs in the air surrounding clusters of bare, crumbling buildings scattered among massive swaths of land—this is where they live and raise their families, isolated from everyone and everything. The men are paid $5 per day to harvest enough sugar cane to fill a wagon about the size of 2 flatbed pickup trucks with walls 10 feet high. This takes an adept harvester between 12 and 14 hours. The $5 a day goes to pay for food and water, which can only be purchased from company stores. The residents are prohibited from growing their own food.
The sugar cane industry, which makes up a large share of the Dominican Republic's export market, depends on the labor of hundreds of thousands of Haitian migrants.
There is no government or employer-supported health care for the people of the bateyes, leaving the residents' health problems to go untreated. If a worker is injured and unable to continue working, they are expelled from the batey—with no way to provide for their family.
Fundación Hospital Buen Samaritano is changing that. The hospital was founded by a Haitian, and many of the community health workers that do outreach for the bateyes are Haitian as well. They know all too well the structural oppression that their countrymen face, having lived through it themselves. This is what drives them to want to provide the residents of the bateyes a foundation for basic dignity.
From their central facility in La Romana, the hospital supports community health workers who regularly visit 126 different bateyes to give regular checkups, distribute free medicine, and reinforce health-seeking behaviors. Their services reach over 100,000 workers, women, and children.
In 2018, CMMB's Medical Donations Program deployed $100 million worth of medicine and medical supplies for the poor and impoverished in the Dominican Republic, a large portion of which went to support people living in bateyes.
For residents like Teresa Vicente, and her 9-month-old son Javier, there would be no possibility for medical care without the work of Buen Samaritano. She brings him to the clinic whenever the Community Health Workers come to visit to ensure that his development is progressing normally.
"When Javier got sick, I brought him to the hospital's mobile clinic and was able to get medicine for him. Because of Buen Samaritano, I'm thankful that I can provide my son the chance for a healthy life."  —Teresa, Haitian migrant
Buen Samaritano also coordinates medical mission trips from the US every year. The medical volunteers set up stations in the small school buildings to perform checkups, dispense medicine, and refer patients to outside facilities if necessary. Additionally, they educate children on issues such as dental hygiene, and ensure that pregnant women plan to deliver in health facilities where they have access to care in the event of any life-threatening complications. The volunteers do their best to pack a year of medical attention into 6 short days.
Through their service, Buen Samaritano and its staff are faithful and vigilant servants, caring for a community in desperate need. By living the Christian life, following Jesus' call to love our neighbors, and doing our daily tasks as part of our duty to God, we are preparing ourselves for what is to come. Let us reflect on our lives today and make things right with God so that we may become ready for the promise of eternal life.
In grace and peace,
CMMB/Healthier Lives Worldwide