Catholic Medical Mission Board Ships Medical Relief to Earthquake Survivors in Syria and Turkey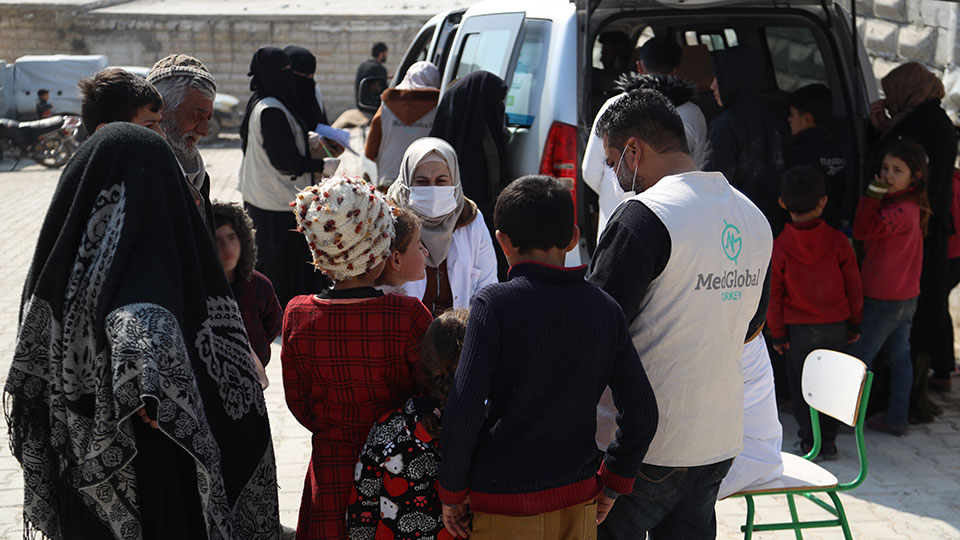 Medical donations will be distributed by long-term, local CMMB partner MedGlobal, providing on-the-ground medical support to those impacted by the earthquake in Syria and Turkey. (Photo courtesy: MedGlobal)
Medical Donations Depart from NYC CMMB Distribution Center
NEW YORK, NY, March 1, 2023 – Catholic Medical Mission Board (CMMB) has shipped urgently needed medicines and medical supplies to Syria and Turkey following the historic magnitude 7.8 earthquake that struck the region on February 6, 2023. Shipments of medications, medical supplies, and hygiene necessities departed from CMMB's Long Island City distribution center for delivery by local partners managing emergency relief efforts in Syria and Turkey.   
Among the priority items donated by CMMB are surgical supplies, pain medications, bandages, medical gloves, and other hospital resources. In addition, CMMB will ship hygiene supplies including soap, toothbrushes, washcloths, and more.   
"The toll this earthquake has had on human life in Syria and Turkey is hard to comprehend," said Mary Beth Powers, president and CEO of CMMB. "Among the survivors, there continues to be a need for medical care and trauma support, but the healthcare system on which people relied is badly damaged and, in some cases, non-functional. Thanks to our trusted local partners, and the support of compassionate and generous donors, CMMB will be able to extend care to communities who were extremely vulnerable even before this catastrophic tragedy struck." 
An additional shipment of specialized trauma supplies purchased by CMMB is expected to depart and arrive in Turkey to assist quake victims. 
CMMB has been providing medical donations to local partners in Syria since 2017. Its trusted partners include Gift of the Givers, Multifaith Alliance for Syrian Refugees, Syrian American Medical Society, and MedGlobal.   
"From the moment news of the earthquake broke, CMMB has been acting on need assessments provided by long-standing, local partners in Syria and Turkey," said Darnelle Bernier, vice president of CMMB's Medical Donations Program. Our partners are based in Turkey and serve people displaced by the ongoing war in Syria. They are living through this disaster and responding to it at the same time. There are none better suited to advise on the real-time needs and ensure that supplies are readily available in clinics, where they're needed most." 
People can donate to CMMB's emergency relief efforts in Syria, Turkey and around the world at cmmb.org or by calling 800.678.5659.
###
Catholic Medical Mission Board (CMMB): CMMB provides immediate and long-term medical and development aid to communities affected by poverty and unequal access to healthcare. Inspired by faith, and with a special focus on women and children, we deliver sustainable health services in Haiti, Kenya, Peru, South Sudan, and Zambia. We also have healthcare partners on the ground in some of the world's most challenging places. For over a century, we have worked to strengthen and support communities through the distribution of medicines and medical supplies, healthcare programs and initiatives, and the placement of skilled volunteers. Over the last 10 years, thanks to generous supporters, CMMB's Medical Donations Program has distributed more than $5 billion worth of medicines and medical supplies to 83 countries across the globe—ensuring healthier lives worldwide.