Catholic Women in Global Health, featuring Mary Beth Powers, President and CEO of Catholic Medical Mission Board
By CMMB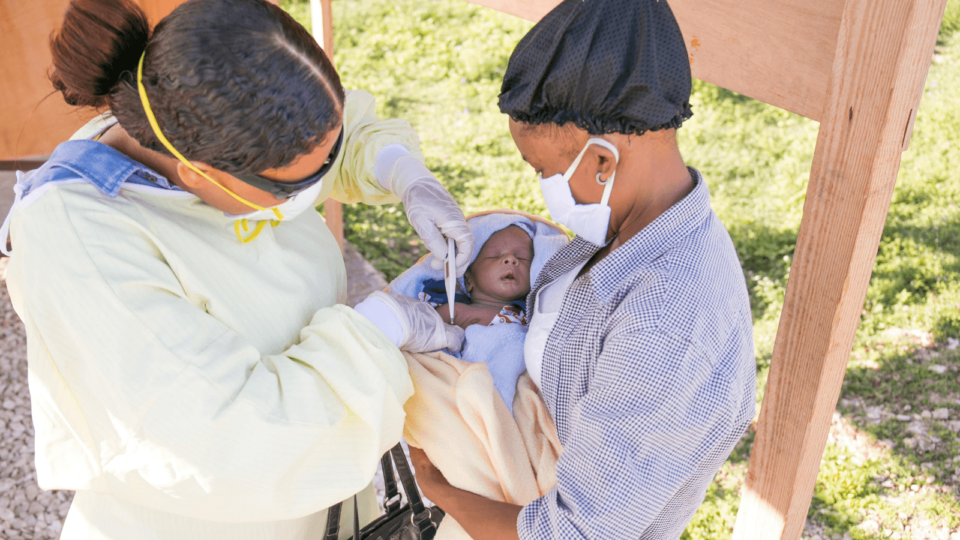 Catholic Women in Global Health, featuring Mary Beth Powers, President and CEO of Catholic Medical Mission Board
Presented by St. Ignatius Loyola parish church, join this insightful discussion as a panel of Catholic women and global health professionals discuss their faith as they work to meet the needs of women and children in developing countries.
NEW YORK, NEW YORK — Friday, February 5th, 2021
Mary Beth Powers, President and CEO of CMMB (Catholic Medical Mission Board), will lead a panel discussion of Catholic women as they work to bring increased access to healthcare to poor, vulnerable communities around the world. Hosted by St. Ignatius Loyola parish church in New York, this webinar will be held on Monday, February 8th at 7PM EST. The event invites visitors to explore the important role of women as agents of peace and trust in the world during the COVID-19 pandemic.
Many of the most at-risk mothers and children in developing countries live in rural settings with limited access to even basic health care. CMMB works with community health workers, village health committees, local clinics and hospitals to ensure that care is delivered to families living where the road ends. Engaging community members in this process has proved especially critical during COVID-19. Women are on the frontlines of this community-based approach.
"Women have always been at the forefront of global health. Women continue to lead today at CMMB," said Mary Beth Powers. "Our community health workers in the countries where we work are primarily women. In all the countries we work, women are on the frontlines of our COVID-19 response. They are distributing PPE, educating their communities on how the virus spreads and ways to prevent infection, and maintaining service delivery during the pandemic through telehealth and telecounseling."
Mary Beth Powers will be joined on the panel by Dr. Claudia Llanten, senior specialist in maternal and child health at CMMB, and Darnelle Bernier, Vice President of CMMB Medical Donations Program. The panel will be moderated by Jana I. Cuggino, CMMB Board Member and Head of Strategy and Marketing at KPMG Healthcare and Life Sciences.
"Our Catholic faith is rooted in CMMB's mission to deliver quality health solutions to women and children," Mary Beth Powers said. "We are inspired by the example of Jesus. He comforts us so that we may comfort others by providing hope and healing to women and their communities around the world."
"I've spent a lot of time working on how we can better listen to women in our communities," said Mary Beth Powers. "The lessons learned and the perspectives given may be totally different on the community level. What we presume might be the answer requires a lot more dialogue and a lot more listening than telling."
Mary Beth Powers has over 30 years of experience, increasing her leadership roles with global health organizations. She began her career with Catholic Relief Services in Pakistan after receiving a Bachelor's degree in Foreign Service at Georgetown University. She received her Master's Degree in Public Health at the University of Michigan. Learn more about Mary Beth Powers' biography by clicking here.
For more information or questions, please contact Luke Dougherty, Director of Communications, at LDougherty@cmmb.org for more information.
---
Event Details
Date: Monday, February 8, 2021
Time: 7:00pm – 8:30pm EST
Register at: https://cmmb.org/st-ignatius-loyola-mary-beth-powers-event-rsvp/
About CMMB
CMMB (Catholic Medical Mission Board) provides long-term community-based medical, preventative, and development aid to women and children who are disproportionately affected by poverty. Their work focuses on improving access to proper healthcare to the most vulnerable populations in targeted parts of Zambia, Kenya, South Sudan, Peru, and Haiti. CMMB utilizes three pathways to providing care; through their Children and Mothers Partnerships (CHAMPS) program model, their Medical Donations Program (MDP), and Volunteer program.
With over 100 years of experience, their MDP program deployed medicines and medical supplies to 31 countries last year alone. CMMB volunteer doctors, nurses and other healthcare professionals are paired with medicines and medical supplies in remote communities, providing access to care and building local capacity. CMMB's CHAMPS program makes long-term commitments in communities, addressing and working to change the root causes that restrict women and children from living healthier lives. Learn more at: cmmb.org
About St. Ignatius Loyola
St. Ignatius Loyola is a Roman Catholic parish church and vibrant faith community administered by the Society of Jesus (Jesuits) under the authority of the Archdiocese of New York. Located on the Upper East Side of Manhattan, the church has been declared a New York City Landmark for its neoclassical and Baroque Revival architecture and was added to the National Register of Historic Places in 1980. Learn more at: ignatius.nyc