CMMB Responds to the Cholera Outbreak in Lusaka, Zambia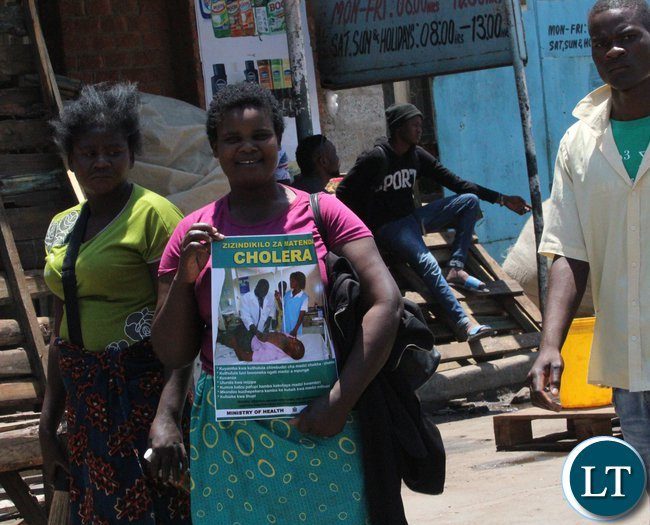 January 10, 2018
LUSAKA, ZAMBIA – In response to the recent outbreak of cholera in Lusaka, the capital of Zambia, CMMB has launched an emergency relief initiative to stop the spread of infection, particularly in the three epicenters of outbreak: the neighborhoods of Chipata, Kenyama, and Matero.
Cholera is a serious contagious disease, transmitted by the ingestion of food or water contaminated by the bacterium Vibrio cholerae, and can kill within hours if left untreated. Treatment is often through oral rehydration and antibiotics, while ready access to safe water and sanitation facilities is critical to stop cholera's spread. It is estimated that between 1.3 and 4 million cholera cases occur every year worldwide.
With nearly 3,000 cases and 67 deaths, the situation demands swift action. According to the World Health Organization, the case fatality rate for cholera should be less than 1%. The case fatality rate of this outbreak currently stands at 2.3%, similar to the case fatality rate of the Spanish Flu of 1918, which affected nearly 500 million people worldwide.
In collaboration with Procter & Gamble (P&G), the Zambian Ministry of Health and other partners, CMMB is deploying P&G water purification materials to 9,000 families, to reach approximately 54,000 people with 6.3 million liters of clean drinking water. The first shipment of P&G product has already reached Lusaka, with a second shipment to be received within days.
In addition to distributing water purification supplies, CMMB will provide key water, sanitation, and hygiene (WASH) information to targeted families, as well as refer suspected cholera cases to local health facilities.
CMMB is focused on areas with high concentrations of cholera cases, and intentionally prioritizing families, particularly those with young children, who are most at-risk. CMMB will utilize trained volunteers, linked to local health facilities, to distribute the materials and relevant supplies.
Batuke Walusiku-Mwewa, CMMB's country director in Zambia says, "As a country, we are facing a very difficult time, one that creates a level of shame. While acknowledging that there are actions that we may have benefited from doing much earlier, before we were hit by cholera, the fight needs to start with us, community members, at the household level. We need to keep our environment clean, work on policy that provides short and long-term solutions and implement it. We are in a state of public health emergency and we recognize that there is a lot we can do, but we cannot do it alone. We need all hands on board so we can have clean water, acceptable sanitation and behavior that supports a cholera-free environment. We cannot afford to lose another life! It is my humble plea that people, organizations and governments who have stood by us will continue to join hands with us as we fight this epidemic."
Bruce Wilkinson, CMMB President & CEO says, "Our partnership with P&G is essential. P&G provides smart investments that stop the spread of cholera and provide solutions through education and access to clean water. This disease can be eliminated quickly. Prevention starts with the basics: clean water and hygiene education. Investments in sanitation and clean water are the pathway to healthy communities, especially for the most vulnerable."
CMMB is joining a consortium led by the Zambian Ministry of Health that will implement an immediate anti-cholera vaccination campaign in the most affected urban and peri-urban areas of Lusaka. In addition to management and implementation efforts, CMMB is immediately engaging key pharmaceutical partners, including Johnson & Johnson and Merck, that manufacture oral cholera vaccines.
---
About CMMB – Healthier Lives Worldwide
CMMB (Catholic Medical Mission Board) is an international nongovernmental not-for-profit providing long-term, community-based medical and development aid to communities affected by poverty and unequal access to healthcare. For over a century, CMMB has worked to strengthen and support communities through healthcare programs and initiatives, the deployment of medicines and medical supplies, and the placement of volunteers. Now in its second century and as part of its new global strategic platform, CMMB is focusing on health issues facing women, children, and adolescents. CMMB's emergency relief program quickly responds to dangerous situations, from conflict to natural disasters, by supporting affected communities with donated medicines, volunteers, and medical personnel, and by meeting emergency medical needs at partner health facilities. CMMB works in collaboration with hundreds of local and international partners to deliver sustainable health services in targeted communities within Africa, Latin America, and the Caribbean. To learn more, visit cmmb.org.