CMMB South Sudan Recognized With Certificate Of Excellence Award
By Angela Namaku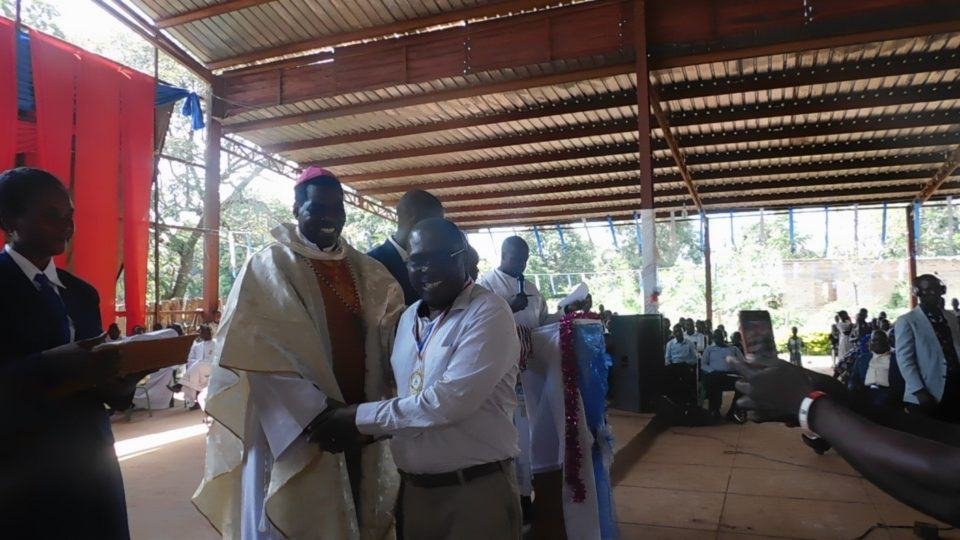 CMMB Recognized for its hard work and service to the people of Western Equatoria Region by the Catholic Bishop of Tambura/Yambio diocese.
On November 18, 2018 CMMB Yambio was recognized for its hard work, commitment, creativity, determination, respect, trust, and exemplary performance on behalf of the people and communities of the Catholic Diocese of Tambura/Yambio and the republic of South Sudan.
Program Director, Benson Wakoli, accepted the Certificate Of Excellence on behalf of CMMB Yambio at the ceremony from Bishop Eduardo Hiiboro Kusala, the Catholic Bishop of Tambura/Yambio Diocese and presiding bishop of Sudan.
The award recognizes the hard work of CMMB staff and their efforts to touch and inspire the communities we work with.
Justice Honorable Oran Lam Tut, the National Minister of Higher Education Science and Technology attended the event and said, "It is my first time attending such an amazing and gracious conference and I'm so happy and privileged to be here. It is an honor to join the Bishop in giving thanks for the hard work and dedication of his followers, to better the lives of others. Helping others is something God calls on us to do. I am telling you today, if we continue with this culture of giving thanks, generations after will be motivated to do good work, and they too will be great people. Being acknowledged for the good you bring to the world, can change the world."
Some History about CMMB's Work in South Sudan
CMMB has been working in South Sudan since 2009. In Yambio, our efforts focus on strengthening local healthcare through supporting the Yambio State Hospital and other community-based healthcare facilities.
Our work includes: HIV/AIDS prevention, testing, treatment and prevention of mother-to-child transmission, maternal and child health programming, education, and psycho-social counseling for victims of sexual and gender-based violence, and child protection activities.
Being acknowledged for the good you bring to the world, can change the world. – Justice Honorable Oran Lam Tut, National Minister of Education Science and Technology
South Sudan's violent and long-term civil war – December 2018 marks six years since the onset of war – has left individuals, families, and entire communities displaced. Among the most vulnerable are children who have grown up knowing nothing but war.
Tragically, it is not uncommon for children to be taken from their families and recruited as child soldiers. While this past year saw the release of hundreds of child soldiers, there are still 19,000 in captivity. The road to recovery is long and not without its challenges. These children have seen so much. Many of them have done things you can't possibly imagine. CMMB, is stepping up to help children find their families and reintegrate back into their communities. CMMB and partners support what are called Child Friendly Spaces (CFS) through which children are encouraged to join others in games, activities, and crafts.  They are encouraged to be children again.
I am proud to be part of this team.
---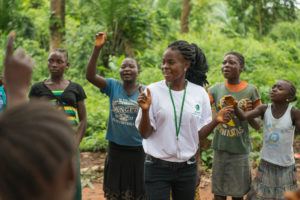 Angela Namaku is a CMMB employee in Yambio, South Sudan. She works closely with former child soldiers through her work and facilitation of Child Friendly Spaces. She is the author of the piece above and a critical member of our CMMB family. We thank her for her commitment and hard work. She helps to make our work possible.