Community Health Workers Promote Better Nutrition for Children in Zambia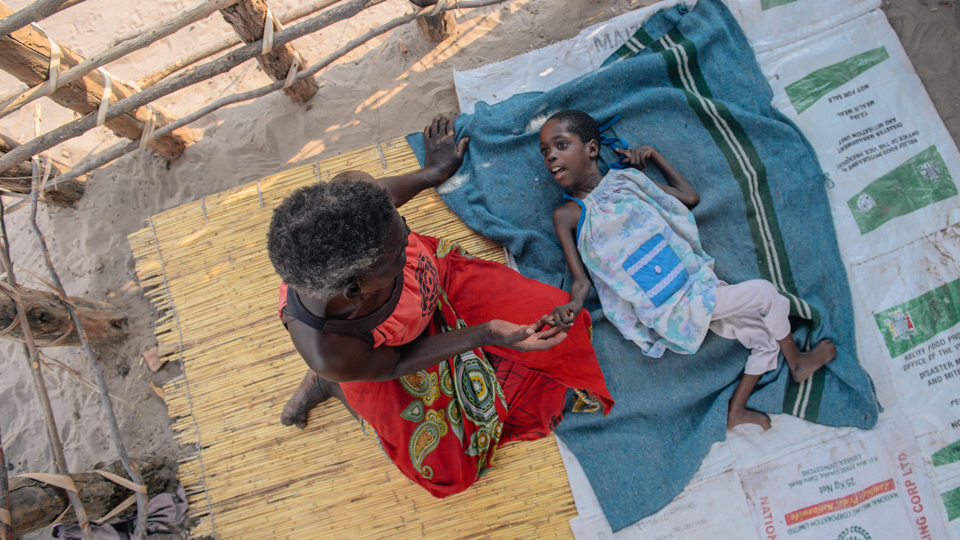 CMMB and SPOON are leading the Improving Nutrition and Safe Feeding Practices project in Zambia. The project is working to improve the nutrition and feeding practices for children with disabilities and those currently in, or leaving, residential care. Learn more about SPOON at: spoonfoundation.org
---
Children with Disabilities at High Risk of Malnutrition and Long-term Consequences
Early nutrition is fundamental for all children to grow, develop, and thrive. Proper nutrition powers children's growth and brain development, and leads to life-long benefits including good health, better social outcomes, and increased productivity. Poor nutrition in early childhood can cause irreversible delays. Improving child nutrition in Zambia is a major public health priority, with a survey finding that 35% of children were stunted.
Children in alternative care, many of whom have disabilities, have some of the highest rates of malnutrition. Children with disabilities in alternative care are at particularly high risk of malnutrition and its long-term consequences. Globally, children with disabilities are three times more likely to be malnourished.

Baby Ing'utu suffering from severe malnutrition at Mwandi Mission Hospital, Zambia
Using Digital Tools to Identify and Treat Nutrition Problems
Specialized nutrition and feeding techniques can help caregivers respond to the unique needs of children with disabilities and children without family care.
In the Improving Nutrition and Safe Feeding Practices project, CMMB and SPOON have trained service providers in nutrition and feeding at 13 facilities in Zambia. This included three residential care facilities, seven community-based rehabilitation centers, one clinic, and two schools.
Service providers have been trained to carry out growth monitoring, detect and respond to feeding issues, and detect and respond to anemia. Over the life of the project (2017-2020), 225 children have been assessed in Count Me In. Count Me In is a digital tool that supports caregivers to identify and treat nutrition and feed problems. It make makes specific recommendations to support caregivers to use specialized techniques for feeding children with disabilities.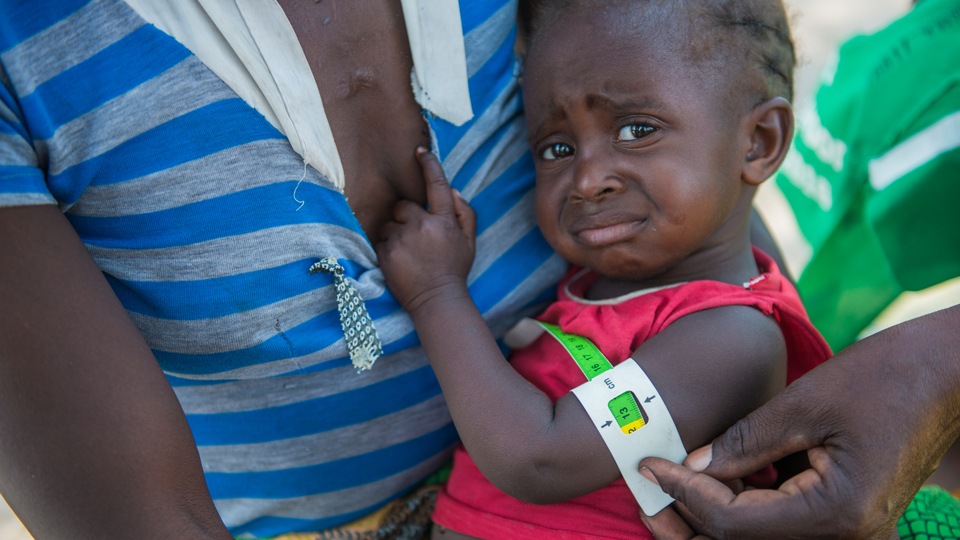 Mwangala weighed 6.3 kg in her 9th month (average should be 8kg), Mwandi
Reducing Malnutrition in Children
Baseline data indicate that 78% of children screened at least once by Count Me In showed one or more indicators of malnutrition (anemia, wasting, stunting, underweight). Preliminary Count Me In data show that safe positioning during feeding improved for all infants and children without disabilities and for 57% of children with disabilities and all indicators of malnutrition improved for children who had two or more assessments.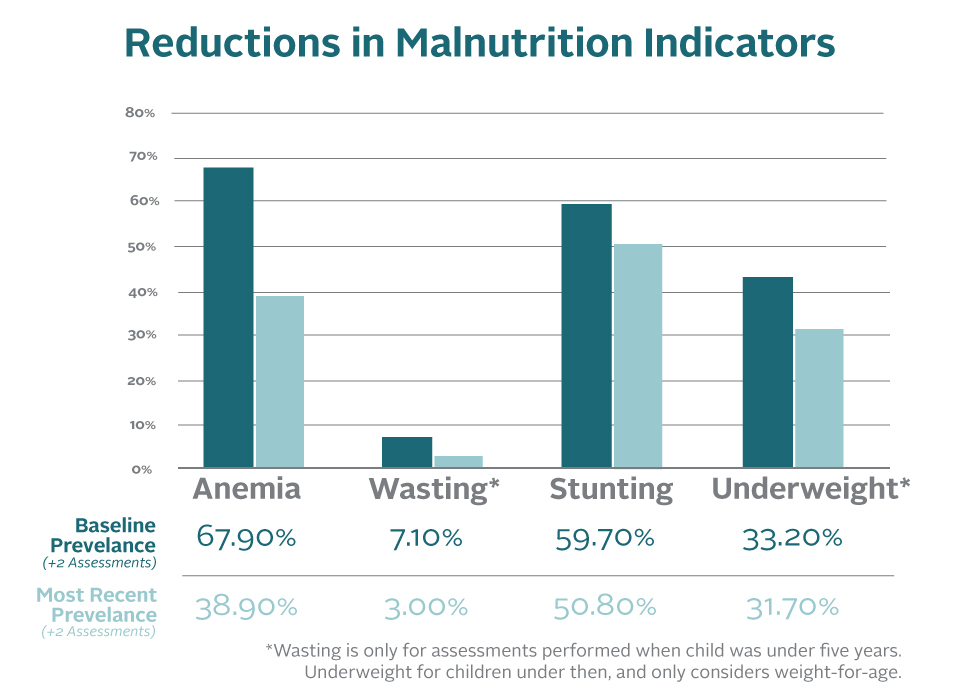 Solutions and Recommendations
Malnutrition is a significant concern for children with disabilities, children in residential care, and children at risk of family separation. Improving nutrition outcomes for these groups of children will protect their health and contribute to their development. It will also contribute to keeping children in family-based care, or managing the transition to family-based care.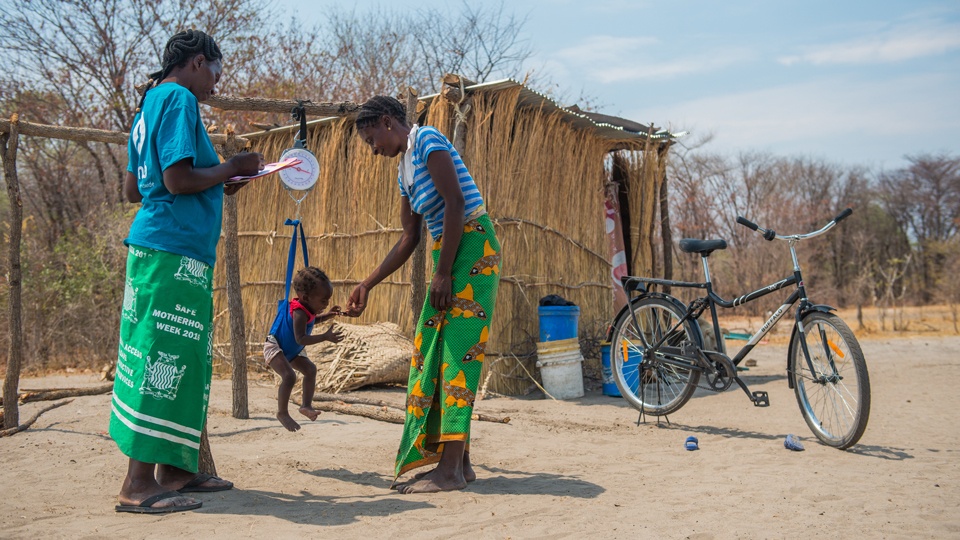 Mwangala being weighed by a CMMB community health worker, Mwandi
These actions can help program implementers, policy makers, and service providers advance and advocate for progress towards improved nutrition and feeding for vulnerable children in Zambia:
Prioritize nutrition in efforts to provide family-based care by reflecting its role in policies, programs, tools, and community participation mechanisms. Share information and best practices on the specific nutrition needs of children with disabilities and children outside family care.
Support caregivers to implement best practices in feeding and nutrition. Alternative care and nutrition professionals can support caregivers to adopt and sustain positive practice through training, follow up, and links to services when needed. This effort should also engage communities to support caregivers and reduce stigma.
Develop an inclusive environment for vulnerable children by prioritizing the needs of children with disabilities and children without family care in nutrition strategies and programs; linking the alternative care, disability, and nutrition sectors; collecting and using data on nutrition for vulnerable children; and targeting resources towards children in need.
---
ABOUT SPOON – SPOON is leading a global movement to create a world where children without families and those with disabilities are seen, nourished, and given a chance to grow and thrive. Learn more at: spoonfoundation.org