Delivering Hope to Sri Lanka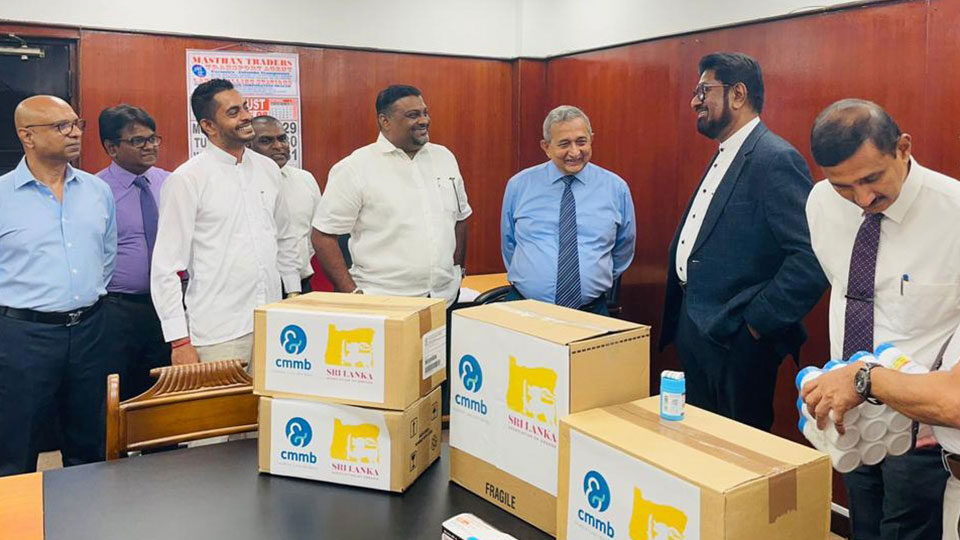 Your generosity allows CMMB's Medical Donations Program to deliver life-saving medicines and supplies all over the world. Right now, CMMB Medical Donations are having a life-changing impact in Sri Lanka, thanks to our partnership with the Sri Lanka Association of Oregon (SLAO) and close coordination with the Ministry of Health. Here, we dive into the factors contributing to the growing need for support in Sri Lanka and CMMB's response.
---
A Crisis Grows
Sri Lanka is an island of more than 21 million off the coast of India. Since the conclusion of its civil war in 2009, many had pointed to it as a success story of the developing world. Between 2012 and 2016, the poverty rate fell from 16.2% to 11%. This was accompanied by increased access to electricity, improved housing conditions, and greater asset ownership. However, these figures didn't reflect the reality on the ground, and simmering below the surface was a crisis waiting to happen.  
A lot of the economic growth that the country saw was attributable to tax cuts for the wealthiest citizens and businesses. To balance this out and continue large scale public improvement projects, the government raised taxes on poorer segments of society and took out a series of international loans. 
In March of 2022, the draining of the country's foreign currency reserve caused a default on the loans, which was quickly followed by rapid inflation. Necessities including food, fuel, and medical products immediately skyrocketed in price. By May, prices had increased an average of 400% from where they were before the default. 
An Impact on Daily Life
Samurdhi, Sri Lanka's principal social protection program designed to disperse cash to the lowest income households, has been under global scrutiny. According to a 2021 World Bank report, the process of selecting recipients for the program was mostly based on political allegiance, and less than half of the nation's low-income households were even enrolled. This stark reality was laid bare as families across the country suddenly couldn't afford basic staples. 
The situation continued to deteriorate, and in July, protestors stormed the capital building in Colombo demanding the President, Gotabaya Rajapaksa, resign. He fled the country on July 14 and formally resigned after landing in Singapore. While the scene in the streets stabilized somewhat following his departure and replacement by Prime Minister Ranil Wickremesinghe, ordinary citizens have found little relief.  
The accounts of the impact on day-to-day life are harrowing. Families are being forced to reduce their daily meals, with parents going hungry so their children can get some nutrition. Banks only operate two days a week and people have been barred from accessing their savings. Many families cannot afford to send their children to school anymore, and with the forecasts of widespread layoffs in the coming months, a mass of professionals are fleeing the country. 
The Dire State of Healthcare
The impact on access to healthcare has been dire. Most pharmacy shelves remain empty due to a lack of foreign currency to import. Even when international shipments of medical products arrive, it can be days or weeks before they are transported to health facilities due to the need for severe fuel rationing. As a result, many patients have been told they needed to bring medical supplies and hygiene items with them because the facilities could not guarantee their stocks. There has been an increase in home births, especially in rural areas. In 2019, a group of individuals in Portland founded the Sri Lanka Association of Oregon (SLAO) to 'promote the general welfare of Sri Lankans residing in the Greater Portland Area and those interested in the nation of Sri Lanka.' Their work was initially focused on Sri Lankan communities in the northeast US, however when the economic crisis took place, they knew they had to act. 
The staff was frustrated that the dire situation of their family and friends on the other side of the world was only receiving nominal news coverage, with aid efforts falling substantially short of the need. They used their connections to get in touch with the Ministry of Health and learn the greatest needs. Once they had a list of the medicines and medical supplies that were in the greatest demand, then they began searching for partners who could help. 
Our Essential Response
SLAO reached out to CMMB in May to describe the outsized need for medical products. After going through all aspects of screening and understanding the disaster response planning, CMMB provided an initial donation containing medical supplies and medicines to support all manner of ongoing treatments, including high blood pressure, cancer, psychiatric conditions, arthritis, and more immediate curative medications such as antibiotics and antimalarials. 
Upon arrival in the country, SLAO staff oversaw the handoff to the Ministry of Health (MoH) and worked to diligently document the process of distribution. They were in close touch with CMMB while fuel rationing delayed some legs of transportation and immediately reported as the products reached their destinations.  
Ultimately, thanks to the problem-solving dedication of SLAO, the feedback from the first donation grew into an action plan. Working with individuals in Sri Lanka, they set up lines of communication with facilities in greatest need, coordinated closely with the MoH to plan the most efficient transportation, and ultimately are working to build a database to track needs and capabilities across the country. 
Unfortunately, the crisis in Sri Lanka is a long way from ending. However, CMMB looks forward to continuing to support SLAO, and locally driven efforts to help the most vulnerable.