Dignity, Respect, and a Set of Wheels for Mary
By Alex Hladick
Mary's Story
Our team in Kenya can't help but smile when they visit Mary. Born with cerebral palsy, Mary is nonverbal, and cannot walk, but her sweet disposition and ready smile brings joy to her family. Although Mary is just eight years old, she has already endured a lifetime of suffering.
Like many children with disabilities born into extreme poverty, Mary has never had access to the special care or services she needs to improve her quality of life. Her disability also makes her an outsider within her remote community and an easy target for mistreatment. A year ago, Mary's mother, Susan, left the little girl in their mud and thatch home while she went to look for food. Mary lives far from town, and Susan needed to walk many miles to reach the market. There was no way she could carry Mary there and back. She had no choice but to leave Mary at home.
As her mother walked to the market, a man from the community entered Mary's home. Unable to run away or defend herself, seven-year-old Mary was raped. The little girl with a sweet smile suffered a horrific attack that no person should ever have to endure.
When Susan returned home a few hours later, she noticed that things were not quite right. After returning home from a trip into town or to gather water, Susan was usually greeted by Mary's giant smile and happy screams. However, on this particular day, Mary did not react when her mother returned. Her smile was nowhere to be found.
Susan realized that Mary had been brutally attacked while she was gone. The attack on the little girl was so vicious that she suffered a broken leg. The realization shocked and horrified Susan. What kind of person would violate and brutalize a helpless child like Mary? Susan brought Mary to the local clinic where staff treated her broken femur, tested her for sexually transmitted diseases, and assessed her for any further physical damage. The entire ordeal was traumatizing for both Mary and her family. Mary's rapist was never found.
After this terrible attack, Mary was identified by a CMMB social worker as an especially vulnerable child needing access to healthcare and special services. Mary is now a part of our angel investor program.
Children with Disabilities in the Developing World
Over one billion people live with a disability in the world today. Of those billion people, almost 80% live in developing countries.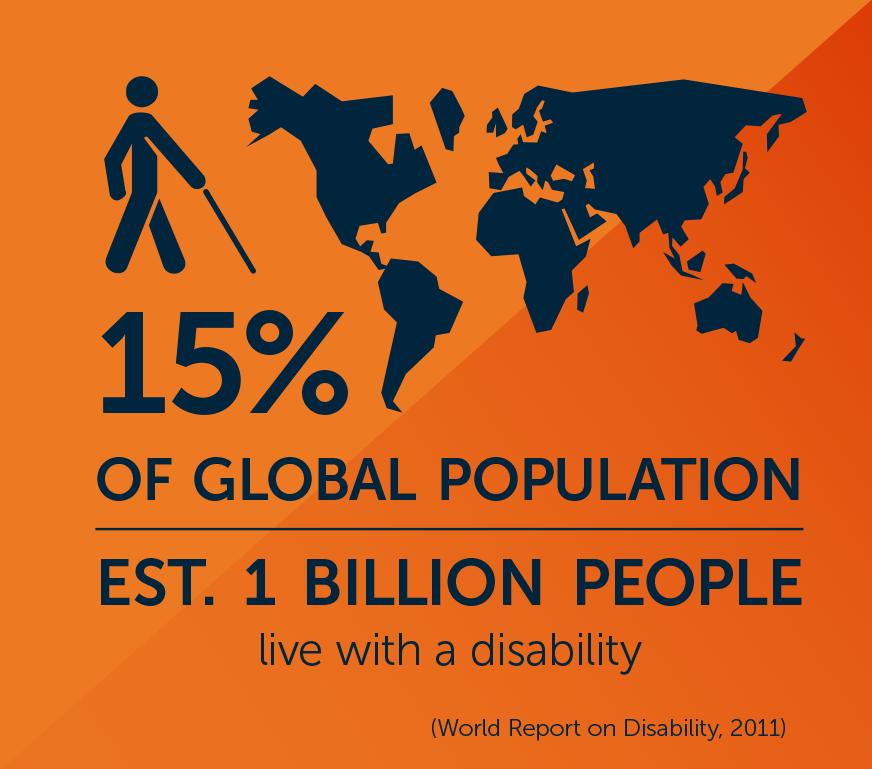 In poor communities around the world, children with disabilities are too often forgotten. Many people believe conditions like cerebral palsy are caused by witchcraft, evil spirits, or even a family's bad luck. As a result, many children with disabilities are treated unkindly. Children like Mary are three times as likely to be sexually abused than children without special needs. Often without a voice or the ability to defend themselves, these children are truly the most vulnerable.
We first met Mary this past May, about nine months after her assault. Mary's leg had healed but it was clear that her family was still struggling to deal with the heartbreaking event. Susan told us: "I am always scared for Mary. She can't tell me when she is in pain or if she needs something. I lose sleep over this."
After meeting Mary's family, it was clear to our team in Kenya that she was loved by her family, but very misunderstood. Her parents knew very little about her disability, how to make life more comfortable for her, or how to react to discrimination from their community.
Taking Action
In early June, Mary became an Angel in our Angel Investor program. CMMB's Angel Investor program allows donors the unique opportunity to directly support a child living in extreme poverty. One of CMMB's generous board members was particularly touched by Mary's story and decided to support her healthcare needs. Our team had lots of work to do to change Mary's life and jumped in with enthusiasm.
First, we needed to work with Mary's family to change the way her parents thought about her, and her disability. Joseph, a social worker on the team in Kenya, makes many house visits to Mary and her family every month to teach her parents about cerebral palsy and how to make life for Mary more comfortable. He also works with them to correct longstanding but untrue beliefs about children with disabilities. He's helping them realize the full potential of their daughter and to value her for all she is capable of doing.
Joseph has begun to see a real change in the hearts and minds of Mary's parents. He told us: "I am happy for Mary. Her parents did not understand her condition and thought she was not capable of living with dignity. Today, they no longer hide her. They have learned to appreciate her they way she is."
With the generous support of Mary's Angel Investor, our team was able to purchase Mary's very first wheelchair.
Mary's new wheelchair will not only give her mobility but it will also keep her off the dirty floor, improving her overall health.
Our team will continue to work with Mary's family to ensure she reaches her fullest potential.
We believe that all children, regardless of ability, deserve to live a life with dignity. We believe they deserve to live free of sexual, emotional, and physical abuse. It is children like Mary, who smile despite the many extreme challenges thrown at them, who drive us to continue to work with vulnerable populations in some of the most remote communities in the world.
For Mary, the right equipment and the education of her family are just the beginning. There is more work to be done to improve her life, but dignity, respect, and love are being restored little by little, day by day.
---
Alex Hladick is the Strategy & Innovation Coordinator at CMMB's headquarters in NYC. She coordinates the day-to-day operation of the Angel Investor program. Prior to taking on this position, she volunteered with the Strategy & Innovation team while she was a student at Fordham University.