On the Front Lines of the Cholera Outbreak in Zambia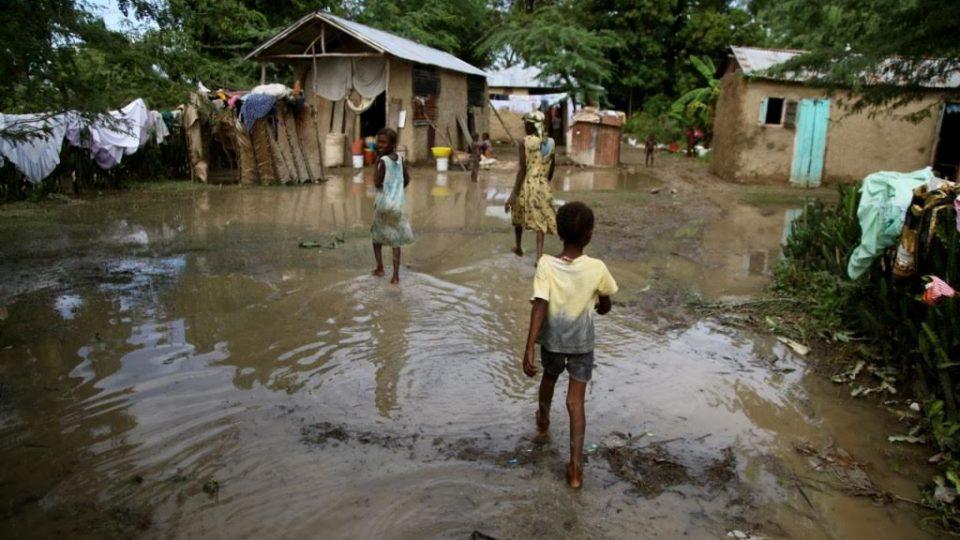 In response to the recent, deadly cholera outbreak in Zambia, CMMB launched an emergency relief initiative to stop the spread of infection, particularly in the three epicenters of outbreak in Lusaka, the nation's capital: the neighborhoods of Chipata, Kenyama, and Matero.
Cholera is a serious contagious disease, transmitted by the ingestion of food or water contaminated by the bacterium Vibrio cholerae, and can kill within hours if left untreated. In collaboration with Procter & Gamble (P&G), the Zambian Ministry of Health and other partners, CMMB is deploying P&G water purification materials to 9,000 families, to reach approximately 54,000 people with 6.3 million liters of clean drinking water.CMMB is also providing key water, sanitation, and hygiene (WASH) information to targeted families, as well as referring suspected cholera cases to local health facilities.
We spoke with CMMB Zambia country director, Batuke Walusiku-Mwewa for an update from Lusaka.
---
Can you explain how "a lack of options" among the poorest communities is impacting behavior during this outbreak? Specifically a lack of community compliance with some government initiatives to minimize risk and spread of infection?
The expansion of the compounds (slums) in Lusaka has been driven by urbanization. People move from rural areas to the city primarily looking for economic opportunity. They want to set up small businesses, but it can be frustrating. Small business owners buy wholesale, and then sell at retail among the various compounds. The goods bought and sold include fresh food. If a designated market place does not have sufficient foot traffic, make-shift stands will appear along roadsides or in other high traffic areas. The resulting refuse is a combination of food remains and human waste. There are no toilets close by and nowhere to put discarded plastic bags or paper containers. It's a recipe for disaster.
The demand for housing means neighborhoods are not planned; water and sanitation are not mapped out. People build houses in places where there are no existing water networks. There is no system to respond to the grow of the population in these areas. As a result, the government and water storage companies create water tanks to give communities access. Of course, these tanks are not adequate. Tanks may be drained in as little as an hour, leaving everyone living there without water for the rest of the day. People dig shallow wells to fill the gap and when they are too close to pit latrines, contamination occurs. A solution might include increasing the number of times the tanks are filled so that families can access clean water. We also need generators to pump water, but there is no funding. It is a vicious cycle.
Even with the fear of cholera, people will continue to sell goods and food on the streets. Vendors reject the cleaned area that the government has assigned as a market space because there is low foot traffic and fewer customers. People don't want to sell their goods here. Zambians don't have a "savings" mind set.  When people earn money, they use it for immediate needs, including food and household level needs.
How is the cholera outbreak affecting the local economy in poor areas of Lusaka?
The cholera outbreak forced the closure of markets. Going out to shop for something like vegetables, is not possible. With the markets and small stands closed, the only option is the large shopping centers. However, these are generally too expensive for the poorest communities. The entire food supply system is threatening to break down.
In the compounds, families do not have savings. The money they earn is the money they use.  If you take away a family's ability to sell at their stand, they react. There really is no option when the choice is between purchasing food from a stand that's not hygienic or have no access to any food at all. These families need to eat, and they will eat what is available. It is a very difficult situation.
The Zambian government can see how these health measures are impacting the economy. Making sure areas and markets are clean takes time. They must be closed to be cleaned, but at the same time, the community loses valuable trade and income. The cleaning must be done quickly so businesses can reopen.  People must have a place to sell and a place to buy essentials, especially food.
How is the government continuing to respond to the cholera outbreak?
The government has set up a committee to respond to cholera including theminister of health, minister of Lusaka province, minister of water and natural resources, minister of local housing, and minister of the disaster mitigation  unit. The committee meets two to three times per week, updating how many cases of cholera have been recorded in the last 24 hours, and the number of people who have died.
As of today, the government has identified 28 new cases of cholera in the last 24 hours. The cholera outbreak epicenters – Kanyama and Chipata compounds – are receiving CMMB emergency response donations, including water purification materials from Procter & Gamble. These two compounds used to have 30 new cases of cholera per day. In the last 24 hours, Kanyama identified eight new cases, and in Chipata there were five. Unfortunately, the George compound has become a new epicenter, with 16 new cases identified in the last 24 hours. The George compound has a water system that was installed by the Japanese government in the 1990s, so an outbreak in this neighborhood is unusual.
The government has identified shallow wells as a significant factor in the cholera outbreak. With inadequate access to piped water, communities dig shallow wells, often very close to pit latrines that are shared by multiple households. Contamination has led the government to shut down or cover these shallow wells to prevent people from drinking contaminated water. But when they do not have any other options for clean water – or water of any kind – communities will just dig another shallow well.
In the short term, with the support of the donation of water purifier materials from P&G, it doesn't matter where the water comes from because it will be purified for safe drinking. The long-term solution is to create a sustainable system to deliver clean water to communities, but how long will this take? Where will latrines be located in relation to water systems? It is critical that water systems do not become contaminated. But people will continue to dig shallow wells as long as they don't have access to clean drinking water.
CMMB Zambia had a beautiful handover ceremony, presenting the water purification materials donated by P&G to the government. We are working to sensitize households and families living in the Kanyama and Chipata compounds have been a two-month supply of water purification materials, and we'll be receiving more. To date in Zambia, 3,314 cases of cholera have been identified and 75 people have died. Lusaka accounts for 3,138 of those cases, and 69 of the deaths.
As part of CMMB's economic empowerment programs, women participate in village savings and loan programs and receive microloans to start small businesses. Many of these women make food and sell it at small stalls on the streets. What is happening to these beneficiaries now that the cholera outbreak and subsequent government measures have shut down their only source of income?
We work with many beneficiaries who are supporting their families with these kinds of small businesses. They may be the breadwinners for the family. Money from the sale of fried chicken or potatoes can be enough to buy household items and send children to school. These women are finding themselves in a very dire situation. They are being told that they can't sell their food items anymore because of the cholera outbreak, but they need a livelihood to continue to provide food for their own families. This is why some women are not complying with the government ban on food stalls in the streets. We need to create options that make sense to the people most in need, most affected. I am sorry to say there is no simple solution
Have you visited the epicenters in Chipata, Kenyama, or Matero? What impact do you see on day-to-day living and livelihoods?
There are many rules in place to reduce the risk of infection, including bans. People are not allowed to gather in groups and people don't want to go out to public places. That means families don't visit one another, weddings are postponed, social events are cancelled, children miss school, and funerals are not allowed. It is affecting many people, not just the poor. However, there is a certain positivity that has come out of this health emergency. People have realized that cholera cannot be fought by government alone. Everyone is talking about cholera. It is affecting all of us in some way.
In certain areas where people can understand that the rules are meant to reduce risk, and where people can still access foods and shops, they are adhering to the bans. In many places, handshaking is no longer happening. However, hand sanitizer is not a priority at community level, and handwashing with contaminated water does not mitigate risk.
CMMB has contributed a vehicle, fuel, and a driver to assist in the fight against cholera. Trained volunteers are being mobilized to educate and sensitize communities. They will also teach families how to use the water purification tablets and how to store purified water for safe drinking purposes. We are providing families with new, ten-liter buckets for water storage.
In many places, however, it's life as usual. It is difficult for some to choose to adhere to the bans and embrace healthy behaviors meant to reduce risk. Some people feel they don't have an option. If they follow the bans, they won't survive. Within the markets, everyone who handles food has been asked to become certified by the government, and markets must be certified in order to open. You can imagine the challenges this presents. Many are afraid of the HIV testing that is part of the certification to be able to handle food so fear stops many from complying.
The Zambia Community HIV Prevention Project has suggested ways to reduce the fear of HIV testing that is part of food service certification. They suggest that testing is an opportunity for those who are HIV positive to get treatment immediately. Those who are HIV positive and certified to work in food service should be recognized as champions to show that there is no bias. Everyone who is certified will be able to work.  It's also a chance to screen for other communicable diseases, and ensure they are not being passed on by those working in food service.
What about cholera vaccines?
There are millions of people in Zambia who are in need of the cholera vaccine, approximately two million doses. At this point, 90 percent of the target population has been covered. Vaccinations are not limited to high risk population areas. Both private and government clinics are immunizing those who need the vaccine, and specific cholera treatment posts do exist.
The cholera vaccine requires two doses. It is a precautionary measure and should not create a false sense of confidence in communities. We still need to work on the many approaches to avoiding cholera, including the habits that increase risk. Once vaccinated, people must continue to keep food covered, to wash their hands with soap and clean water, to use good hygiene and safe sanitation practices.
One of the heads of mission of Doctors Without Borders said, "Cholera is endemic in Zambia and separate cases have never really stopped appearing in different areas of the country since December 2004." Can you respond to this?
The incidence of cholera in Zambia is determined by a combination of factors. If you have a clean living environment with safe water and sanitation, cholera won't be an issue. In Zambia, we need to build WASH infrastructure. We need to realize that we are responsible for the cleanliness and safety of our living environment. Investing in WASH, including education, is an investment in a better future. Unfortunately, people don't necessarily connect their own behaviors with their health.
The cholera outbreak occurred in October 2017. There were no rains in October and that made us panic. The rainy season is when cholera cases occur. If people were getting sick while it was relatively dry, how much worse would the outbreak become in the rainy season?
Cholera is a deadly illness that is tied to a water supply problem, an inadequate sewer problem, and a behavior problem. In communities that are densely populated, it is even more important to keep the living environment clean and to dispose of all waste in a safe and sanitary way. We really need to have short-term and long-term investments to avoid outbreaks like these.
When someone dies of cholera, they are buried in a communal grave, far away. The body must be handled by the government. It's painful because families usually attend to the body's last wash. But when someone has died from cholera they are not allowed to do all that. Funerals and other gatherings are not permitted, so people are alone in their grief. It's takes away the "oneness" of family; we usually come together to be there for one another in our sorrow.
These losses are very difficult for families. The loss of one life affects each and every one of us. And so far, we have lost 75 lives.
Let us never have cholera happen to us again.
---