Food for Starving Families in South Sudan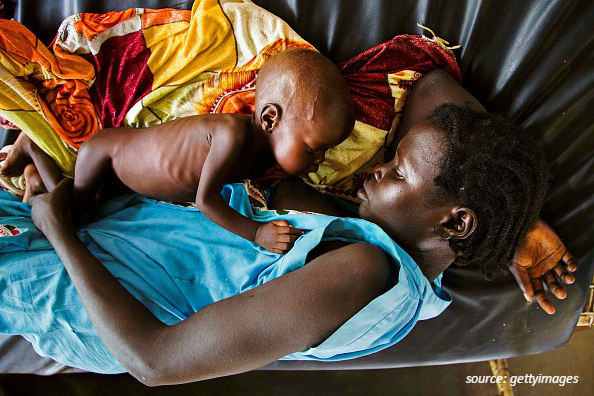 In South Sudan, mothers are used to hearing babies cry because they are hungry. It is a daily reality.  But imagine the heartbreak of a mother whose baby is too weak to cry. Imagine a mother's pain because her baby is slowly and silently starving to death.
Years of civil war have caused a refugee crisis and a collapsing economy that has taken a massive toll on South Sudan since the nation gained its independence in 2011.  In February 2017, wide spread shortages of food led the UN to declare a state of famine in South Sudan, the first in any part of the world in six years. Famine means more than hunger and the facts are shocking. According to UN agencies:
Nearly five-million people (about 40% of population) are in urgent need of food
People are already dying of hunger, and one-million more are on the brink of famine
Barani Eduardo Hiiboro Kussala, Bishop of the Catholic Diocese of Tombura-Yambio knew his people were facing catastrophe.  The bishop reached out to CMMB with an urgent call for help:
"I know personally many of these families who are now homeless and hungry. It is so sad to see this suffering imposed upon them. Please come to our aid – help me respond to immense humanitarian difficulties which have befallen my diocese."
The images of starving children from communities in South Sudan are so terrible that some people might turn away, but CMMB's mission to serve the most vulnerable women, children and communities make it impossible to ignore this kind of human suffering.
Hungry families are turning church compounds into makeshift refugee camps.  According to the bishop and local parish priests, thousands were seeking refuge and food at Catholic compounds. Women, children and the elderly began taking shelter inside churches or in classroom buildings.  Many more were setting up tarps and tents, or make-shift shelters of leaves outside.  The total number of internally displaced people seeking help from Bishop Hiiboro Kussala's diocese was hard to measure, as increasing numbers of women, children and families came out of the bush, looking for safety and food.
In response, CMMB, which has been present in South Sudan since 2009, launched an emergency response to meet the needs of the most critically affected people in the Diocese of Tombura-Yambio. Malnutrition, especially for children younger than five, can mean death, especially when food is limited or non-existent. CMMB's initial response will provide 1,700 families – nearly 6,000 people –  with three months of:
food items like beans, maize, salt, flour, and cooking oil
access to health care
nutritional screening and treatment of malnourished children
clean water, hygiene and health education
CMMB and the Catholic Diocese of Tombura-Yambio have a long history of collaboration in South Sudan. In response to CMMB's latest partnership, Bishop Hiiboro Kussala wrote:
"Allow me to thank you dearly for standing by us at this most challenging time. We promise to pray for you all."
CMMB's work with starving children is more than difficult – it is heart breaking. While 6,000 people now have hope, and a short-term lifeline, millions more in South Sudan still face famine and death.  Emergency response to the famine in South Sudan requires immediate action.
It is only with support from our compassionate and caring community that we can stand with the people of South Sudan and keep the most vulnerable women, children and families alive. Your gift to the famine relief fund will be restricted to support direct services to additional families in need.