God's Love Is For All – Your Weekly Reflection from CMMB
By CMMB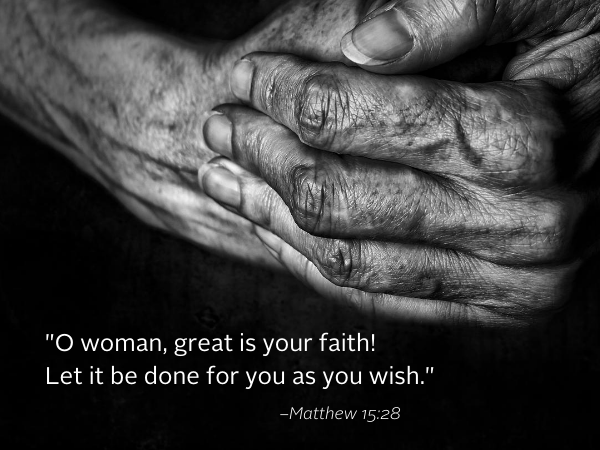 In today's Gospel, a Canaanite woman approaches Jesus with a request. Her daughter is in need of healing, and she believes Jesus can help.
The woman pleads with Jesus. To our surprise, Jesus turns her away, not once, but twice. He even insults her. Still the woman persists, turning Jesus' insult into a declaration of faith. It's then that Jesus changes his mind and heals her daughter.
For Christian's today, Jesus' early interactions with the woman seem out of character. The healing in this story is one of the few moments we see Jesus anticipate the extension of the Christian ministry that we know today. The faith of the Canaanite woman represents the abundance of God's love for all humankind.
At CMMB, we are witness to this love. We see it everyday in the mother who walks miles to collect safe water for her family, and in the community health worker who commits her life to educating others. We see it in the donors who share their blessings with the vulnerable and in our partners who extend their impact to countries around the world.
One of those partners is Massachusetts General Hospital's Global Neurology Research Group (Mass General). Their goal: "to find solutions to improve the quality of neurological care in low- and middle-income countries." CMMB's Medical Donation Program has partnered with Mass General to support their epilepsy project in Guinea. More recently, CMMB supported their Ischemic stroke research at the Muhimbili National Hospital (MNH) in Dar es Salaam, Tanzania with donations of Fluoxetine—a drug prescribed to combat post-stroke depression.
In November, the Mass General team traveled to MNH to train staff on the program plan. While there, they documented the powerful story of one patient. Though he did not qualify for the study, he was still able to receive the critical medication he needed, free of charge. It's a story that highlights the importance of leaving no one behind. Below, we share his story with you (All patient names and images are protected per Mass General policy). You can learn more about Mass General's study and their partnership with CMMB on our blog.
The patients we saw in Dar es Salaam, Tanzania, were invariably extremely sick. Patients who come to Muhimbili National Hospital, the only tertiary, public, referral hospital in the country, are there because they can access neurologists and a neurology inpatient ward. They are often poor, unable to afford premium private care, and are covered by public insurance. These patients have a great need for safe high-quality medicines.
I remember one patient in particular who had traveled over 400km to be seen at Muhimbili. He had experienced a stroke several days prior and had chosen to spend significant money and time to come to Dar es Salaam.
When we saw him, he was upright in his hospital bed, wearing a bright pink T-shirt and a peaceful expression as he napped. The ward was overcrowded and required us to navigate carefully between beds as we made our way to him. Finally reaching his side, he awoke and explained his story: this was his second stroke, upon noticing symptoms he'd immediately made plans to travel to Dar es Salaam. Although he was not eligible for our safety study, given his home being very far from Dar es Salaam, he endorsed depressive symptoms. Fluoxetine is often prescribed for post-stroke depression. The doctors at Muhimbili reported that he seemed glad, on discharge, to have received his medications free of charge.
Antidepressants such as fluoxetine take time to see effects and are best given in combination with appropriate psychosocial supports and ruling out of competing causes of depression such as low thyroid function. For this reason, it is crucial that donations are made as a part of a program that includes set goals for patient outcome and methods of ensuring a consistent supply of the drug.
CMMB is honored to work with Mass General as they endeavor to not only help stroke patients in Sub-Saharan Africa today, but build a foundation to effectively treat them in the years to come.
In grace and peace,

Bruce Wilkinson
President & CEO, CMMB