Medical Residency Program
Authority Health and CMMB: Launching a Global Health Residency Program
Forging Partnerships to Improve Human Resources for Health
The CMMB volunteer team is engaging in partnerships to create innovative programs to address global health challenges. Our newest model, a global health residency program for medical residents, was co-created with Authority Health, an industry leader in community-based medical residency training focused on serving the most vulnerable around the world.
What I am hoping to achieve as a doctor is to simply do my part in helping more people live in the best way that they can.
—Earl Carlos, medical resident at Authority Health. Served at Mutomo Mission Hospital in Kenya in July 2017
In July 2017, the first group of medical residents traveled to eastern Kenya to begin an eight-week placement. During this time, they served at the Mutomo Mission Hospital, as well as at rural health centers and in the community. They learned alongside local practitioners, while contributing valuable skills and helping build capacity. Following this first rotation in Kenya, the goal is to expand to Peru and open to new partners and locations.
It has been a pleasure partnering with CMMB and providing Authority Health medical residents with a real opportunity to serve people living in low-resource settings globally. I am honored to have Michigan State University and the University of Michigan as our academic partners and am hopeful that other universities and residency programs will join to help expand this life changing program.
—Chris Allen, Executive Director and CEO, Authority Health and former CMMB Board Member
Corporate Volunteers
In 2014, Rose Hanley of Merck & Co. Pharmaceutical Company (MSD), joined CMMB as a corporate volunteer. Merck & Co. is committed to discovering, developing, and providing innovative products and services that save and improve lives around the world. They have been working in partnership with CMMB for decades to deliver healthier lives worldwide.
Rose served with CMMB for three months and her contributions continue to have an impact today. She describes her experience: "My assignment at CMMB, along with another fellow, was to develop operating strategies for CMMB's country offices in alignment with their then new, global strategy. The work entailed developing strategy maps, initiatives and metrics for each country office, and it leveraged the skills, experiences and methodologies that I have been fortunate to acquire in my 20+ year career."
Part of Rose's experience was traveling to Peru to visit our programs in action.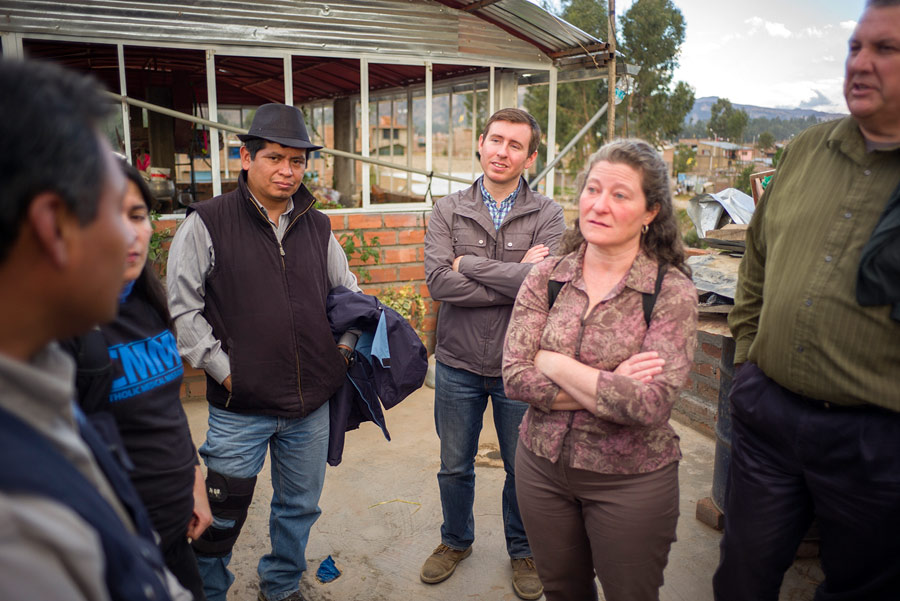 Rose Hanley in Peru during her time as a corporate volunteer at CMMB
Rose speaks about this part of her experience:
"Working with CMMB's team in Peru was one of the highlights of my experience. I met the team in the central highlands city of Huancayo, and we worked together to develop their country strategy. But the most significant impact came when the CMMB team took me to see their programs in action in the field; programs focused on the health of women and children.
I met families living in such extreme poverty, in houses that they themselves had built, using whatever materials they could find around them. They had no access to water or sewers. In this part of Peru, the most common health issues result from a lack of access to clean water, sanitary living conditions and proper nutrition. CMMB works hard to educate women about ways they can address these issues and create healthier homes for their families."
Employee Engagement Programs
Over the years, employees from Teligent, a pharmaceutical manufacturer, have joined together on Martin Luther King Day for their annual day of service. During the course of the day, the team produces and packages product for CMMB's medical donation program. Nearly all of Teligent's committed employees donate a day of service.
In 2017, this collaborative effort resulted in the delivery of over $100,000 worth of medical products to be distributed at no charge to patients served by CMMB in the developing world. The 10,752 units of topical pain medication (Trimacinolene) were delivered to CMMB's newly-opened hospital, the Bishop Joseph Sullivan Center for Health in Côtes-de-Fer, Haiti in March 2018 – arriving in time for the hospital's official dedication.
Read more about it on our blog: "Employees Producing to Donate: Now That's In-Teligent: Getting Much Needed Medicine Where it's Needed Most"
If you are interested in employee engagement opportunities, please contact us!