Impact: Words from a Corporate Volunteer
June 24, 2016 •
Rose Hanley •
New York, Peru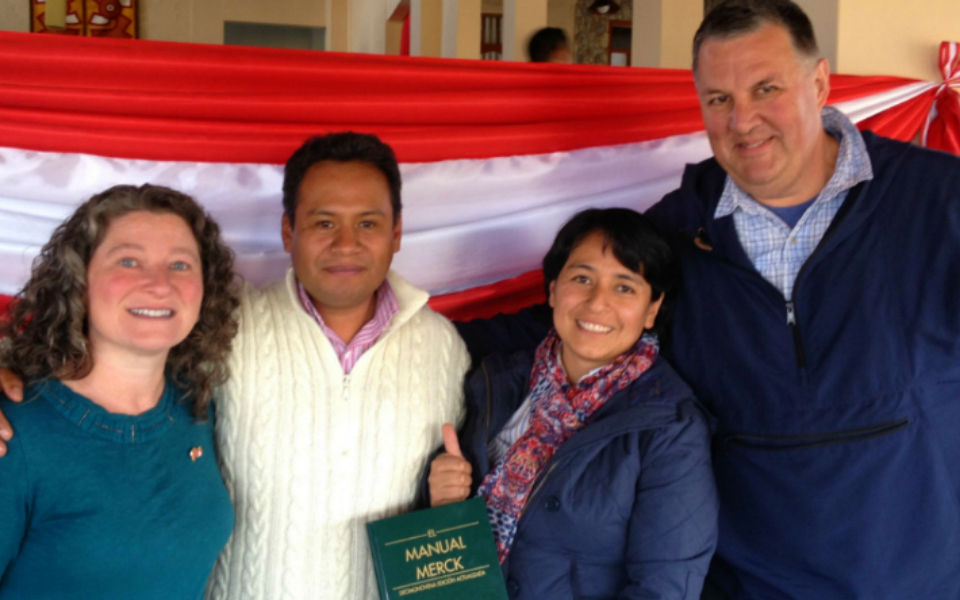 In June 2014, Rose Hanley of long-time CMMB partner Merck & Co. Pharmaceutical Company (MSD), joined CMMB as a corporate volunteer. Rose was only with CMMB for three months but her contributions continue to have an impact today. We sat down with Rose to talk about her experience volunteering at CMMB. Here she shares the impact it has had on her, both personally and professionally, and what it was like going back to her job at Merck.
Merck & Co. is committed to discovering, developing and providing innovative products and services that save and improve lives around the world. They have been working in partnership with CMMB for decades delivering healthier lives worldwide.
What prompted you to volunteer with CMMB?
At the time that I applied to volunteer with CMMB, I had been doing some significant thinking and planning about my professional and personal development. I had a strong desire to expand my leadership and experiences, and also to strengthen my impact and contribution to the benefit of others. I have the good fortune of working for a company, Merck (MSD outside the US and Canada) that has a Fellowship for Global Health program that allows select employees to work pro bono for three months with an NGO. The goals of the program are to:
leverage the skills and talents of Merck employees to strengthen the capacity and reach of non-profit organizations,
provide rich professional development for employees, and
bring learnings from the experience back to the organization.
The fellowship program provided a unique and ideal opportunity for me to achieve my goals. It allowed me to develop myself while making a positive contribution and having a more direct impact on others.
Tell us a little about your experience
My assignment at CMMB, along with another fellow, was to develop operating strategies for CMMB's country offices in alignment with their then new, global strategy. The work entailed developing strategy maps, initiatives and metrics for each country office, and it leveraged the skills, experiences and methodologies that I have been fortunate to acquire in my 20+ year career.
One of the biggest differences for me, professionally, was working remotely (via telephone, Skype and email) with the country teams in Haiti, Kenya, South Sudan and Zambia, and working in-person with the country team in Peru. All teams welcomed me with kindness, and I was surprised how quickly I felt part of the CMMB community. They are truly passionate and dedicated to the CMMB mission of "delivering healthier lives worldwide."
Working remotely comes with challenges, and I initially worried about how we would manage to get the work accomplished considering these issues. I quickly learned from their patience and persistence that the challenges were worth tackling because of what was at stake. You can accomplish great things, despite limited resources, with great people.
What was your experience in the field?
Working with CMMB's team in the field in Peru was one of the highlights of my experience. I met the team in the central highlands city of Huancayo, and we worked together to develop their country strategy. But the most significant impact came when the CMMB team took me to see their programs in action in the field; programs focused on the health of women and children.
I met families living in such extreme poverty; in houses that they themselves had built, using whatever materials they could find around them. They had no access to water or sewers. In this part of Peru, the most common health issues result from a lack of access to clean water, sanitary living conditions and proper nutrition. CMMB works hard to educate women about ways they can address these issues and create healthier homes for their families.
Yanita (right) works in the Huancayo CMMB office educating mothers, like Alina, in the community.
I remember us visiting one woman who showed us the well in her backyard (a luxury compared to the others who have to transport water from a public well miles away). The water is contaminated, but she demonstrated how her family uses the filter provided by CMMB to purify the water for drinking and personal hygiene. She explained that there had been a significant reduction in the occurrence of severe diarrhea for her  family members since getting the water filter and how happy she was that her children were healthier.
Rosa, 25, outside her ecological toilet in Huancayo, Peru.
Another mother told us about the eco-toilet that her family built using plans and materials provided by CMMB.  She was so very proud of her "Vivienda Saludable" (healthy house) sign, which CMMB gave her to recognize the progress her family had achieved, because of their hard work and commitment. This women had been in the program for four years, and now she was helping to educate other women in her community, hoping they could change their lives too. I was struck by how much the CMMB programs had to do with educating people about the basics, and witnessing first hand what a huge impact this education had on the families who received it.
What was it like going back to your regular job?
To be honest, it was a little hard at first to go back to my regular job. I was surprised that in just three months I had developed such a strong attachment to the team at CMMB and the work they do.
I worried that the busyness of life would set in, that we would lose touch and that I wouldn't get to see how things evolved with the implementation of the strategy we had worked on together. More than that, I was eager to know about the progress of the women, children and families in the communities CMMB serves and was afraid that distance would make this impossible.
But the good news is that almost two years later, we have managed to maintain regular contact. They have kept me informed about the progress of the strategy and work in different countries, and I have been able to continue being a sounding board and thought-partner to them as needed. I have also had the opportunity to visit the team at the NY office and it has been great to see the progress they have made implementing the strategy and knowing that I was able to contribute meaningfully to this work.
What impact hast his experience had on your personal career? And what would you tell people whom are considering being a corporate volunteer?
When my time at CMMB ended, I not only returned to my job with firsthand insight into the healthcare needs and challenges of people around the world, but I also met personal and professional development goals. I feel great pride in my work with CMMB, and my contribution to help the organization reach thousands and thousands of families around the world.
My experience has given me renewed energy and passion for my job, and has strengthened my connection to the mission of my company Merck/MSD to save and improve lives globally. I strongly recommend that anyone looking for an experience that is challenging and rewarding, both personally and professionally, consider volunteering with an non-profit like CMMB. You never know the positive impact you can have nor how you will be impacted by the experience.
Learn more about how you can join the movement and become a volunteer with CMMB.
Rose Hanley is Director of Strategic Planning and the Richard T. Clark Fellow for Global Health at Merck in Kenilworth, NJ. Her expertise is in managing strategic intent, leading strategy communications, and facilitating strategic initiatives. Since joining Merck in 1996, Rose has had a variety of global corporate roles including human resources, business process improvement, operational excellence, merger integration, and enterprise risk management.
Rose is on the board of the Hunterdon Land Trust, which works to preserve and protect open space and farmland in Hunterdon County, NJ. She also volunteers with Merck's Street Law – Making Positive Choices/Youth in Transition program in which she teaches teens and young adults who are aging out of the foster/public care system about important life skills.