A Peruvian Mother Learns from Her Daughter with Special Needs
By CMMB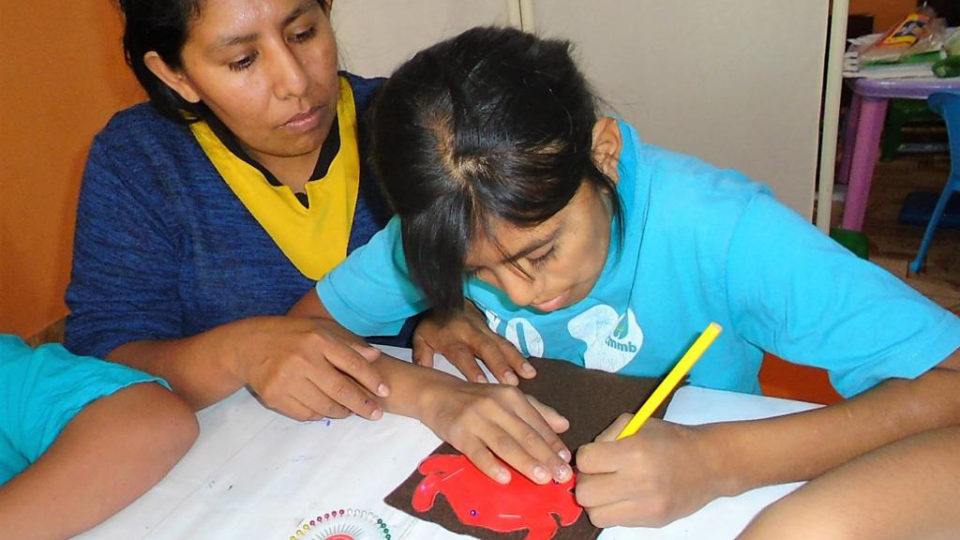 Over the last 20 years, Peru has made significant progress in improving the health of women and children. However, this progress has largely bypassed remote rural regions and the most vulnerable women and children.
---
A Peruvian Mother Learns from Her Daughter with Special Needs
CMMB's Rehabilitation with Hope assists children with physical and cognitive disabilities and their families by providing much-needed access to quality therapy. CMMB sat down with a mother enrolled in the project, Andrea, and her daughter, Leslie.
Leslie is the oldest child of three. She is special, but not because she was born with microcephaly, a rare neurological condition in which an infant's head is significantly smaller than expected. Leslie is special because she's capable of making you see things from a completely different perspective—a perspective not everyone can see.
"Our children teach us more than we teach them. I've learned a lot more from my daughter than my daughter from me."
Andrea is leader and mother in her rural village in Trujillo Province in northwest Peru. She is a community health agent and a part of the entrepreneurship workshop established by CMMB's Rehabilitation with Hope project.
The workshop brings together 28 mothers of children with special needs to create products to sell. The goal of this workshop is to support mothers so that together thay can create a small business, and eventually become economically independent. Andrea has a similar dream for Leslie: that she also become independent.
When Leslie first joined Rehabilitation with Hope, she had trouble communicating. Through the physical, language and learning therapy she received from CMMB, Leslie has improved her communication skills, and has been able to become more independent.
All this has allowed Leslie to join her mother in the entrepreneurship workshop and continue developing the physical and cognitive skills she learned in Rehabilitation with Hope. "We integrated her into the entrepreneurship project with me because she learns through imitation, by looking at me," said Andrea. Leslie helps to cut and sew the fabric to create decorative handicrafts that can be sold at market.
"We, as mothers of children with special needs, must not give up."
"We, as mothers of children with special needs, must not give up," said Andrea. "We must look ahead and see that with effort and perseverance everything can be achieved."
"Our children teach us more than we teach them. I've learned a lot more from my daughter than my daughter from me," concluded Andrea. "They teach us to see things from the other point of view, which sometimes few people see."