Students Go Inside Our COVID-19 Response
By Sandi Bajrami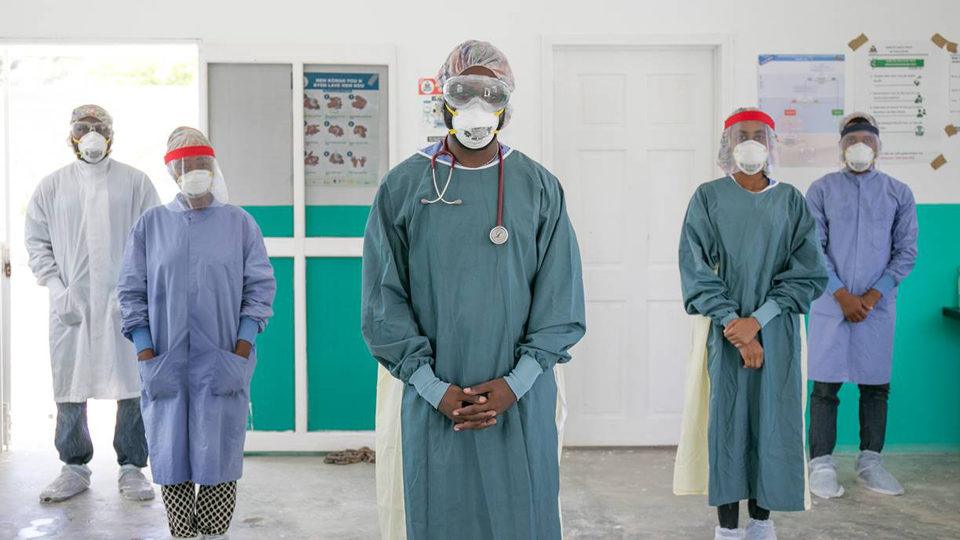 Sandi Bajrami is the vice president of CMMB x Hunter, a student led organization that partners with CMMB to raise awareness about the health disparities women and children face around the world. In the piece below, Sandi writes about a recent virtual CMMB x Hunter event that brought students behind the scenes of our ongoing COVID-19 response.
---
CMMB x Hunter
A little over one year ago, a close friend of mine came to me with a remarkable idea. It involved the elegant integration of a global health NGO and a top-ranked public college in New York City. Born from this idea was CMMB x Hunter, a student-led organization that advocates for better health for women and children in developing countries. The friend, Priya Singh, best describes our core values: "Love, collaboration, excellence, and respect."
Continuing the mission during COVID-19
Our mission faced unique challenges in the past year due to the spread of the novel coronavirus. In-person events were cancelled and our message became more difficult to extend. COVID-19 struck without discrimination. It seemed like the whole world was unraveling and the students felt a sense of powerlessness due to the limitations of our abilities to help. We persisted by hosting virtual events and found them to be powerful educational and outreach tools. After our virtual COVID-19 event, one student wrote, "During this meeting, I was very excited as I heard about the past guest that they met and the amazing outreach opportunity in which they were involved with. I wish to meet more guest speakers through this program."
CMMB's COVID-19 Response
On September 24th, Yombo Tankoano, the Technical Director of Programs at CMMB gave a virtual presentation on the large scale effort that CMMB is making to combat the novel infectious disease. He let us in on what was going on behind the scenes. In order to prevent the spread of COVID-19 and to continue ongoing treatment plans, CMMB developed a sophisticated global health strategy. It involved business continuity plans, capacity building, situational assessments, resource mobilization, and perhaps most importantly, adaptive programming. The presentation was well-received and a student wrote to us, "I really enjoyed all the information I learned regarding the topic. The charts and diagrams were especially interesting."
Step one in the Coronavirus game plan is health facility and healthcare worker assessment. In order to do anything in healthcare, proper management of resources is essential. This includes, but is not limited to, sanitation stations, personal protective equipment, waste disposal treatment and infrastructure, and isolation facilities. Tankoano explained that 253 health facilities and 8,093 healthcare workers were evaluated. Preliminary assessments found that many health facilities in the developing nations did not meet these standards. In addition to this, many healthcare workers were not adequately trained in aspects of COVID-19.
The solution to this problem came quickly, with rapid country-level coordination and implementation. CMMB was able to procure materials and build facilities that involved triage or isolation centers in Haiti, Kenya, Peru, South Sudan, and Zambia. They were able to build both triage and isolation centers in many of these countries. However, in order to fight an infectious disease of this scale, facilities are only a small portion of the procedure. 
A common medical proverb states, "an ounce of prevention is worth a pound of cure." In addition to building facilities, CMMB engaged in fruitful community outreach and delivered on this proverb with eminent technique. Behavior change communication and effective healthcare worker training were conducted in all of the countries of interest. The importance of handwashing was made clear to thousands of individuals from many developing countries. The importance of masks were also emphasized, and concepts of social distancing were elucidated. CMMB also ensured that these guidelines would be met. They were able to build ad hoc handwashing stations and procured thousands of masks for the developing world. 
It would be of great difficulty to estimate the number of lives saved due to CMMB's COVID-19 effort. While the novel infectious disease is of highest importance in the United States and other developed nations, deadlier diseases such as malaria still affect the developing world. It was thus of equal importance to prevent COVID-19 and to continue the treatment and immunization protocols for other diseases. These protocols must run continuously in order to be effective. In other words, the pandemic has the potential to reverse decades of health improvements in much of the world. The masterful technical strategy employed by Tankoano and CMMB will likely result in a great deal of lives saved, but the fight will not be over until COVID-19 is eradicated.