Have you thanked God lately? Your Weekly Catholic Reflection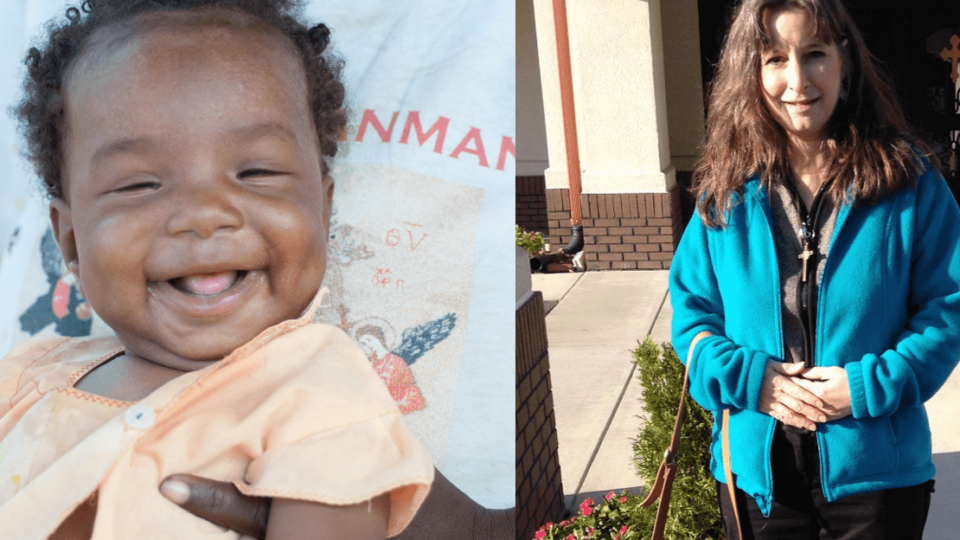 Rafaella From Haiti and Maureen from Florida
Bless the Lord, my soul; and do not forget all his gifts. Who redeems your life…and crowns you with mercy and compassion.
– Psalm 103:2-4 
This week, we are reflecting on the importance of recognizing God's gifts in our lives. As we move through our days, distracted by the noise around us, it is easy to forget all these gifts and to feel sorry for ourselves. Sometimes we need a reminder to see the good.
We recently received an inspiring message from Maureen who told us how her experience with the Angel Investor program has helped her to recognize and be grateful for all the good in her life.
Dear CMMB,
Each day is a struggle for me because I live in chronic pain. This pain brought me a lot of sadness. But then, I met Raffaela, my angel from Haiti. This baby and her family are the best medicine I could ever have asked for!
It is always a special day when I receive an email from CMMB with news and photos of my angel. I cannot imagine what a struggle it is for them each day. I tell myself, if they can live through all the challenges and struggles of extreme poverty and still find the strength to smile, then I can handle living with my pain. She inspires me to be grateful for all the beauty and gifts in my life. 
 
The last email I received about Rafaella melted my heart, as I was able to see how much she has grown. Let the family know that I love them and always have them in my prayers. Please also tell them how they help to brighten my days and alleviate some of my pain!
God bless you,
Maureen
We are thankful to Maureen for inspiring us with her story. Today, we pray that God's blessings reach all of you. May you continue acting on His behalf with mercy and compassion.
Yours in grace,
CMMB
*This reflection was inspired by the Loyola Press Sunday Connection.
Sign Up for Our Weekly Reflection